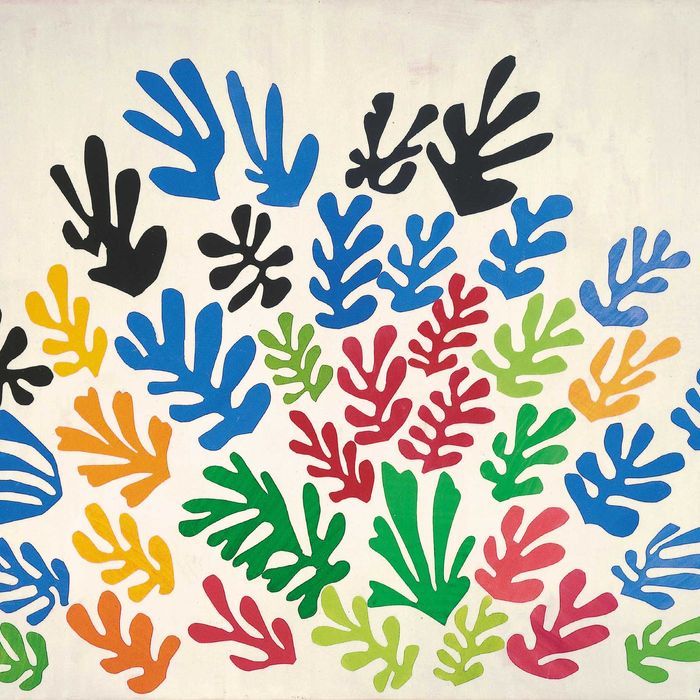 Henri Matisse, The Sheaf (La Gerbe), 1953. © 2014 Succession H. Matisse / Artists Rights Society (ARS), New York.
Last week, as part of our year-in-culture extravaganza, our art critic Jerry Saltz named his picks for the 19 best gallery shows of 2014. Here, he follows that up with his favorite museum exhibitions of the year.
1. "Henri Matisse: The Cut-Outs" at MoMA
To the last, I grapple with thee, MoMA … for hate's sake, I spit my criticisms at you in hopes that you will get out of your own way, create usable galleries for temporary exhibitions, and double the space for the permanent collection (rather than, as you've promised to do, double-down on useless event- and temporary-exhibition space). I'm not alone in my MoMA odium. In ten years, I haven't met a single person in the art world who isn't thoroughly frustrated by and furious with MoMA — although I may be the only one who's gone the full-Ahab about it.
But at year's end, let us set aside the glum past and observe a truce. MoMA may be troubled, but it is having a golden year, with three fantastic concurrent shows (Matisse's "Cut-Outs," Robert Gober, and the Sturtevant exhibitions) doing exactly what temporary shows at an institution like MoMA should do.
But let's begin with the revelation of Matisse's "Cut-Outs." This show is an oceanic trip down an imaginary Nile, allowing us to behold one of the greatest artists of all time finally finding the artistic estuary he'd been looking for his whole life. Before our astonished eyes, Matisse finds a way to make physical the painted flat space of his early 20th-century invention Fauvism, making objects that fuse painting, drawing, collage, sculpture, and bas-relief. In "The Cut-Outs," Matisse crosses a mystical bridge to magisterial realms. He was right to muse after one of Picasso's many visits to his studio at the time, "He saw what he wanted to see … He will put it all to good use in time."
2. "Chris Ofili: Night and Day" at the New Museum
While MoMA's architectural spatial problems have to be judged as historically more damaging than any other American museum's, the New Museum has surely the worst architectural interior exhibition spaces for rotating shows of contemporary art I've seen in this century. But the museum's director, Lisa Phillips, has saved her institution by more or less handing the organizational and philosophical reins of this crushingly claustrophobic boxy space to artistic director Massimiliano Gioni, maybe the living master of large-scale-themed group shows centering on contemporary art. This year, the museum staged three shows (a Chris Ofili show, a survey of art from the Arab world, and one devoted to the work of Pawel Althamer): Each fought back against this awful space and won.
The best of the three was the building-filling Chris Ofili show — a sensuous plunge into one of the most optically alive painters of the 1990s and one who, as this survey showed, evolved his style into ever more complex, risky places, always coming up with painterly pay dirt. The top floor of the Ofili installation featured walls painted like some mystic violet garden and was one of the most beautiful installations anywhere this year.
3. "Here and Elsewhere" at the New Museum
Gioni organized "Here and Elsewhere," a great three-floor extravaganza devoted to contemporary art from and about the Arab world. Rather than packing the place with politically correct, Manichean, neo-liberal, neo-conceptual works with long texts about the goodness of the Arab world and the badness of the West, Gioni delved into various isms and outlooks. With cogent eye-opening art more or less unknown here — we saw artists whose work is as original of form as it is activist and pathos-filled of subject matter. That was the key. It was great to see a region not being reduced to a curator acting like Anderson Cooper flying in to set things right.
4. "Garry Winogrand" at the Metropolitan Museum of Art
The Met's tremendously dense Garry Winogrand retrospective gave us an American genius in a prolonged state of photographic grace. Better yet, the curators took the bold step of printing a handful of the over 6,600 rolls of undeveloped images that Winogrand left at the time of his death. Hopefully, other curators will follow in these brave footsteps and print all of the 250,000 images he left behind but did not print.
5. "Robert Gober: The Heart Is Not a Metaphor" at MoMA
MoMA went all out giving this melancholy master of modern sculpture almost the entire second floor and the atrium to present his Proustian probings of endless internal amplitude. The first few galleries of this show especially ravished me, the extended sight of contorted sinks evoking inanimate beings, anomalous anatomies, secret selves, and hybrid bodies in pain, which conducted viewers through a house possessed, stripped down, and roughed up. Gober's home, ours, America's.
6. "Jeff Koons: A Retrospective" at the Whitney
With the buildup to this show behind us, it's hard to remember the rancor and hatred in the air in the days just before its beginning. Many in the art world thought that the Koons show had caused the sky to fall on the Whitney Museum of American Art or that the museum had committed an egregious sin and had to pay in blood. With Koons at a point in his career where his work is snapped up for huge prices by collectors and featured in every news story about the excesses of the market, and his sculpture not that influential in terms of art, the art world nevertheless got its dander up over this longtime whipping boy.
Luckily, the show was done impeccably. As curated by Scott Rothkopf, Koons met his equal in control-freak levels of presentation and exactitude. Rather than being a circus of shiny objects and obscene speculation, the show opened with a magisterial installation of some of the more complicated sculptures made in the last 50 years — Koons's stacked in Plexiglas vacuum cleaners — and from there proceeded, without fail, to elucidate the long, winding road of this artist's career. At no time did Koons appear like a Howdy Doody–Mitt Romney–Teletubby cartoon character. Except for that pic in Vanity Fair of him lifting weights, naked. (Which I loved.)
Not only did the Whitney say good-bye to its storied building in the grand manner of the Koons show, but it had a pretty great year of temporary exhibitions featuring a probing show of the museum's permanent collection (an art-world-wide shout-out is due the museum's chief curator and deputy director of programs, Donna De Salvo, for overseeing this excellent extended series of shows).
7. "Sturtevant: Double Trouble" at MoMA
I finally gained some purchase on this amazingly canny artist and sensed that in presenting replicas of famous art by men that this artist opened the cosmic space between memory and nothingness, conjuring an aesthetic juju that sucks the life and aura out of this art while at the same time, Sturtevant's implied presence steps up and stands in front of and for this art. She cracks a psychic-material chrysalis and her invisible, invasive will becomes the object of our perusal. A metaphysical transformation of one thing takes over the soul of another, changes that soul, making it hers, and then vaporizes all that into interrupted life. (She's like those odious wasps that plant their pupae in the bodies of other living insects in order to draw life from them.) All of Sturtevant's enthusiasts maintain that no one really understands this artist. They may be right, but this show did Sturtevant justice.
8. "Judith Scott — Bound and Unbound" at the Brooklyn Museum.
The museum with the worst new entrance in America and beautiful Beaux-Arts space (that isn't used well enough and that contains great promise in the hands of whatever director takes over at this untapped gold mine of a museum) also had one of the best shows of the year. The first survey of Judith Scott's bound, gathered, tied, twisted-bundle sculptures, shapes that speak an almost primordial language of form before words, awed. Born in Columbus, Ohio, in 1943 with Down syndrome, Scott was introduced to the art world by the amazing Oakland, California, organization Creative Growth. The show was organized by the museum's Catherine Morris and another New York visionary in his own right, Matthew Higgs, artist and director of White Columns, New York.
9. "Charles James: Beyond Fashion" at the Metropolitan Museum of Art
I fell in love with the sculpturally elegant sexy dresses, garments, and drawings in "Charles James: Beyond Fashion." American genius is not too strong a term for James's curvilinear elliptical gift for dressing women in ways that are at once structural, sexual, and magical. I drifted on air through this magnificent show, asking dresses to dance with me in my mind. "Yes, I will, yes," they seemed to whisper.
10. "2014 Whitney Biennial"
The biennial, with its three floors each organized by a different curator, was a bit of a jumble but having three minds sifting through the art world delivered up enough different information, and a smattering of excellent art – notably the bizarre mash-up of painting on the fourth floor – that it proves that these shows can shoot sparks. And now, as something of a tease, all signs point to the Whitney's new downtown space as being good for art, the permanent collection, and the Whitney. When it reopens next May, all eyes will be upon the Whitney. Until then, no one need naysay the museum. Yet.*
11. "Gauguin: Metamorphoses" at MoMA
This exhibition lets us see this great post-Impressionist painter as a greater and visionary printmaker. What I learned in this show I hadn't known before — and it is now foundational fact.
12. "Cubism: The Leonard A. Lauder Collection" at the Metropolitan Museum of Art
Big collectors can trust that when they make a gift of their collection to the Met, the art will not end up in storage, as often happens at MoMA because of the lack of space in the galleries for the permanent … well, you know the rest. For decades, the Met has lagged behind MoMA when it comes to the 20th century's most epic style. In one fell swoop, "Cubism: The Leonard A. Lauder Collection," the most influential art movement of the early 20th century, evens the playing field. Thanks are owed to Lauder for making New York an even greater place for art. May his largess be a lesson for the many collectors who today amass great art only to sell it off to the highest bidders at auctions.
13. "Christopher Williams: The Production Line of Happiness" at MoMA
This show was too brainy by half for me — being slick pictures of ads for photography in photography magazines and photographs of cross sections of cameras. Yet, as laid out here, I pleasured in this super-cerebral maybe even non-artist who in the end isn't my cup of tea but in whose show I gleaned wonderful contradictions and a museum being at the service of art.
14. "Grand Design: Pieter Coecke van Aelst and Renaissance Tapestry" at the Metropolitan Museum of Art
The third in the Met's incredible tapestry shows staged since 2002, "Grand Design: Pieter Coecke van Aelst and Renaissance Tapestry" displayed woven pictures as big as barges and as mind-blowingly detailed as the tiniest insect seen under a microscope. This show wowed with its giganticism while stunning us with its minutia, single threads telling amazing tales of history and violence.
* This article originally stated that performances by Sarah Michelson were featured in the 2014 Whitney Biennial. Michelson's work was performed at the Whitney this year, but not as part of the 2014 Biennial; she was also included in the 2012 edition.