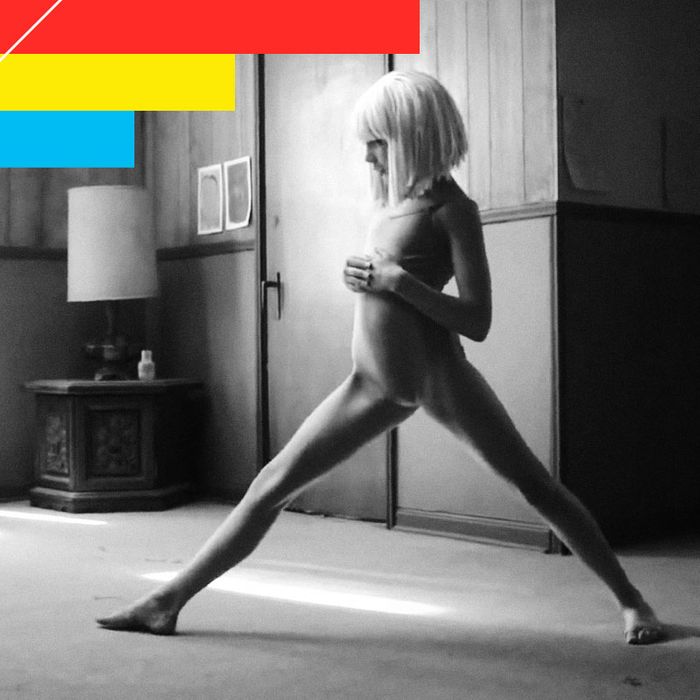 1. Perfume Genius, "Queen"
Directed by Cody Critcheloe, the video for Perfume Genius's first single off Too Bright is so strange and wonderful that it requires multiple viewings to fully comprehend. Even after all that, you still might end up with nothing, and maybe that's the point.
2. FKA Twigs, "Video Girl"
It was nearly impossible to pick just one FKA Twigs video for this list. "Two Weeks" flirts on the line between sexy and scary, a twisted version of Michael Jackson's "Remember the Time." But "Video Girl" is straight-up scary, with Twigs gyrating atop the body of a recently deceased prisoner minutes after watching his death by lethal injection. If you're anything like me, I'll bet you haven't felt uncomfortable like this in quite some time.
3. Sia, "Chandelier"
Maddie Ziegler (previously of Lifetime's Dance Moms fame), the young girl who stars in Sia's "Chandelier," was everywhere in 2014: She danced on Kimmel, on Dancing With the Stars, on Ellen. (Hell, even Lena Dunham performed her dance on Late Night With Seth Meyers.) If there were any actual memes this year, that blonde Sia wig was one of them. But the real focus should be on Ryan Heffington's choreography — which perfectly captures a controlled chaos.
4. Flying Lotus and Kendrick Lamar, "Never Catch Me"
In Hiro Murai's breathtaking video, two kids rise from their respective caskets and dance their way down the aisle and out the door. The adults sit around, mid-cry, as the young pair escape into the schoolyard, Lindy Hop–scotching their way into eternity. Forever young.

5. Hozier, "Take Me to Church"
"I was born sick, but I love it / Command me to be well," chants Hozier in this not-quite-religious song about worship alternately centered around the ongoing attacks against the LGBT community in Russia. The resulting video is a chilling scene of a young gay couple fleeing an angry mob comprised of people who are literally wielding torches. Intercutting the terror of the chase with the embrace of the two lovers only adds to the drama.
6. Iggy Azalea and Charli XCX, "Fancy"
Before the song claimed its throne as the much-overplayed Song of Summer champion, one of the coolest things about "Fancy" was its concept: a really, really good re-creation of 1995's Clueless. Iggy has Cher Horowitz's exact haircut, her '90s wardrobe, and even a version of her BFF, Dionne. They re-create the freeway scene, the party in the Valley ("Cher, everywhere in L.A. takes 20 minutes"), and even the tennis-court lineup. The mimicry is so good, we'll forgive the fact that Charli's Tai Frasier is way cooler than the original.
7. Jennifer Lopez and French Montana, "I Luh Ya Papi"
Jennifer Lopez's "I Luh Ya Papi" isn't worthy of a Best Songs list, but its video is shamelessly good, objectifying hot dudes one by one and calling back to the tropical landscape of J.Lo's "My Love Don't Cost a Thing" days.
8. Vic Mensa, "Down on My Luck"
A night out with an Edge of Tomorrow spin (disaster is avoided at every turn), "Down on My Luck" has Vic Mensa rewinding and fast-forwarding through almost-fights, almost-arrests, and almost-drama in this fun play on fate.
9. Frankie Cosmos, "Art School"
Bieber Fever is real. And here is what it might look like.
10. Orange Caramel, "My Copycat"
So many music videos are filled with the same concepts repeated over and over again (strippers and pool parties on one end, or somber scenes on the other) that it's exciting to see something genuinely different. Even if it's a music-video knockoff of Highlights magazine. Leave it to K-Pop to be so oddly inventive: "My Copycat" will have you pausing again and again, trying to figure out the difference between "Scene A" and "Scene B" — a game called "Hidden Catch" that they introduce from the start. What a cool way to get someone to listen to your song at least twice.
11. Nicki Minaj, "Anaconda"
"Anaconda" is an absurd song; surely you must know that by now. But if that's news to you, just check out the video. It's so strange, so full of comical innuendo, that it's practically unsexy in its utter silliness: A butt is played like a bongo, a turntable spins a banana in circles, and there's a finale where Nicki laughs and laughs as she grinds up on Drake, comically torturing everyone's favorite Nice-Guy Rapper.
12. Weird Al Yankovic, "Foil"
Props to Weird Al for his 2014 publicity-grabbing weeklong run of music videos. It was a complete (and effective) spectacle: From the grammar-mocking "Word Crimes" to a cameo-filled "Tacky," Weird Al took his classic style of G-rated parody song to a whole new level. His best was definitely a spin on Lorde's "Royals," called "Foil," which has a perfect (and topical!) surprise ending.
13. Röyksopp and Robyn, "Monument (The Inevitable End Version)"
If you have yet to see Robyn live, this is what it's like to see Robyn live. Basically: life-affirming.
14. The National, "I Need My Girl"
This is No. 2 on the list of Top 10 Things That Made Vulture Senior Editor Jesse David Fox Cry in 2013. (No. 1 is Blended.)
15. Blake Shelton, "Doin' What She Likes"
The best country music video of 2013 was the one that starred Blake Shelton doing chores around the house. You just can't argue with that.
Honorable Mentions: Taylor Swift's psychotic "Blank Space"; the Pains of Being Pure at Heart's Jem and the Holograms–inspired "Until the Sun Explodes"; Yelle's Tumblr-wave "Complètement Fou"; St. Vincent's eccentric "Digital Witness"; Janelle Monae's free-spirited "Electric Lady"; Raury's teen-bohemian "God's Whisper"; Childish Gambino's cloning "Sweatpants" …
… and the Worst Music Video of 2014: Avril Lavigne's "Hello Kitty."
There are not enough sad faces in America (let alone Japan!) to equal the appropriate reaction to this mess of a music video.