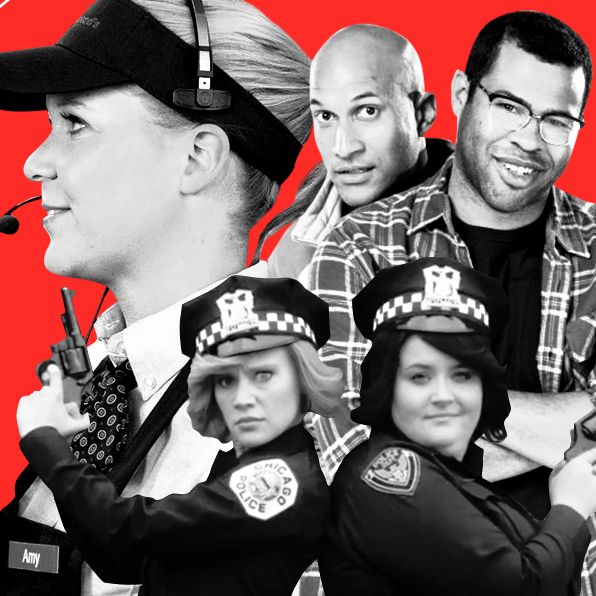 Photo: Maya Robinson and Photos by Comedy Central and NBC
1. Key and Peele, "Family Matters"
I've always liked Key and Peele, but also found it a little frustrating. Their sketches were so tightly constructed (often sticking to a very Upright Citizens Brigade school of comedy, which makes sense since the theater's co-founder Ian Roberts is one of K&P"s co-showrunners) that they failed to be surprising. In season four, however, K&P solved that problem handily. The sketches became darker, stranger, and a bit looser. "Family Matters" pushes a simple idea — Family Matters' shift from a humble family sitcom into the wacky Steve Urkel show — and turns it into a brilliant, surprising, hilarious, supremely dark sketch.
2. Inside Amy Schumer, "A Very Realistic Military Game"
Amy Schumer really put herself on the map in 2014. She did it by being viciously funny and totally fearless. Rape in the military does not sound like the most hilarious subject, but Schumer and her team were able to use it as a jumping-off point for some of the strongest satire of the year. It's all about the tone, which they had to nail for this sketch to work.
3. Saturday Night Live, "Dyke and Fats"
With all its history, there is arguably as much interest in the making of Saturday Night Live as there is in the show itself. That's why sketches clearly based on Studio 8H inside jokes feel so exciting. As Kate McKinnon told Vulture after "Dyke and Fats" aired, the sketch was born out of exhaustion. "We were both really tired one night," McKinnon explained. "And I just said to Aidy [Bryant], 'Man, dyke is tired,' and Aidy said, 'Fats is tired, too.' And then it became our beautiful thing that we had together and we wanted to make something out of it." That sense of friendship and camaraderie can be felt in the sketch.
4. Saturday Night Live, "Black Jeopardy"
Jeopardy is, of course, the setting of one of SNL's most famous recurring sketches ever: "Celebrity Jeopardy." Written by current Weekend Update co-anchor Michael Che, back when he was solely a writer, "Black Jeopardy" is equally as funny, but also a great deal more affecting than its predecessor. After it aired, Questlove tweeted, "#BlackJeopardy is an INSTANT classic." He was correct.
5. Inside Amy Schumer, "The Foodroom"
This is the Aaron Sorkin parody to end all Aaron Sorkin parodies. Well, not really, as Late Night with Seth Meyers did an Aaron Sorkin–parody parody recently. Still, parodies don't get much better than "The Foodroom."
6. Saturday Night Live, "Monster Pals"
Mike O'Brien, who was a cast member last season and has since moved into a role of writer/occasional video-maker (he was also responsible for "Whites," further down on this list), has a specific sort of grounded weirdness. "Monster Pals" displays his willingness to let things get sad, to have real pathos, even when a character is dressed like a monster in an oxford shirt
7. Saturday Night Live, "Morning News"
Unfortunately cut from the telecast, this sketch shows what SNL, as a weekly live show, has a unique ability to do: address news while it's still happening. Some remarked that this sketch was uncomfortable and a bit awkward. It is — that's the point.
8. The Birthday Boys, "The Affair"
A pitch-perfect romcom parody, which showcases the Boys' tendency for extremely low-concept comedy.
9. Comedy Bang! Bang!, "Tear Down"
"Tear Down" is a perfect HGTV parody. It's also a master class in repeating a joke so often that it goes from funny to unfunny to very unfunny to very funny.
10. Saturday Night Live, "Back Home Ballers"
If you went on social media over Thanksgiving, you know how impactful this sketch was. Like with their "Twin Bed" last year, the show's writers took a commonplace phenomenon — returning home for the holidays — and so completely nailed it that the term "Back Home Baller" has already entered the lexicon.
11. Friends of the People, "Gentrify Rap"
This sketch puts a fresh spin on gentrification: rapping from the perspective of a guy in a bad neighborhood who can't wait for hipsters to move in. Watch here.
12. Saturday Night Live, "Nest-spresso"
SNL has gotten real weird this season. There are plenty of obvious examples, but for me "Nest-spresso" is the best. It could've been a simple urban-farming parody, but it is filled with so many strange beats that a potentially good sketch is elevated to the status of a great one. Watch here.
13. Portlandia, "The Best Part Is Going Home"
This is such a hard truth: The further away you get from 20, the more enjoyable leaving a rock show is than being at one. Watch here.
14. Key and Peele, "Gay Wedding Advice"
K&P gets the tone just right here. They aren't as much mocking the willfully ignorant as they are making fun of the awkwardness that might arise when people try to educate themselves. Watch here.
15. Saturday Night Live, "Whites"
The gleeful earnestness of the video perfectly contrasts the biting critique that lies just underneath. Watch here.
16. Kroll Show, "Oh, Hello — A Medically Inadvisable Amount of Tuna"
Kroll Show does an excellent job of not just redoing characters for the sake of redoing them, but actually heightening the situation each time. Watch here. 

17. The Birthday Boys, "Before the Internet"
Sketches that make fun of the internet aren't new, but The Birthday Boys take such a clever angle. Watch here.
18. Portlandia, "Social Bankruptcy"
This sketch, in which Carrie Brownstein abandons all social media, gets at our simultaneous addiction to, and legitimate need for, the internet. Watch here.
19. Inside Amy Schumer, "Animal Rescue Hotline"
Inside Amy Schumer differs from other sketch shows in that the best character is usually just Schumer being a version of herself. Watch here.
20. Saturday Night Live, "Campfire Song"
"Campfire Song" could've been just a strange, forgettable sketch, but the affable energy Woody Harrelson brings to it grounds it just enough to become something special. Watch here.