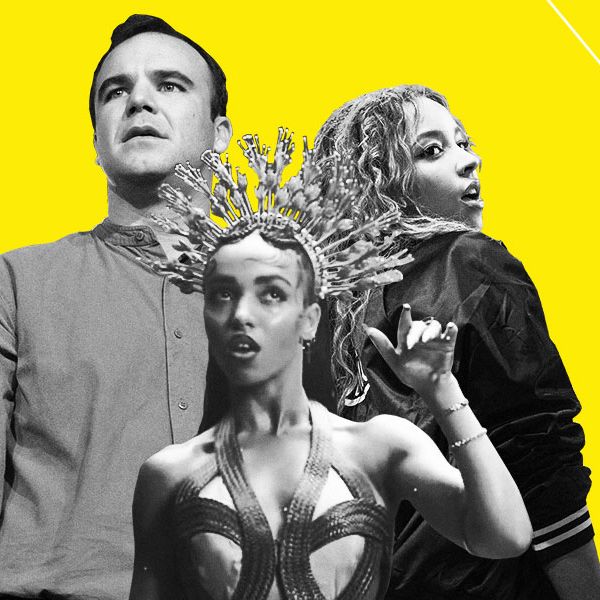 This week, Vulture will be publishing our critics' year-end lists.
1. Tinashe, "2 On"
A slab of twinkling midnight sky cut (by the expert hand of DJ Mustard) into the shape of a perfect pop song.
2. Taylor Swift, "Blank Space"
A subliminal Starbucks ad dressed like a single? A cheekily misandrist meta-commentary on Being Taylor Swift? Maybe all of these things, or, more simply, the very best song on the world-conquering 1989.
3. Charli XCX, "Boom Clap"
A John Hughes prom-scene anthem from a self-styled '90s baby: What could be more millennial than that?
4. Sia, "Chandelier"
Divisive, throat-bruising, vocally acrobatic ode to bad decisions from pop's most (begrudgingly) famous paper bag.
5. iLoveMakonnen, "Club Goin Up on a Tuesday"
A based, weirdo-pop curio that catapulted an Atlanta nobody to overnight stardom, rearranged the entire logic of the calendar, and, perhaps most impressively, compelled Drake to practice his falsetto. Weekends are so 2013.
6. Nicki Minaj/Rae Sremmurd, "No Flex Zone (Remix)"
In between releasing a number of more polished (and not terribly exciting) pop singles from her forever-delayed Pinkprint, Nicki simultaneously stayed close to her mixtape roots by hopping on remixes of more underground hits like Young Thug's "Danny Glover" and PTAF's "Boss Ass Bitch." I'll take her verse on the remix of Mississippi duo Rae Sremmurd's inescapable single over 100 "Anaconda"s.
7. FKA Twigs, "Two Weeks"
Google Glass enthusiast and possible vampire Tahliah Barnett earns her spot as heir to the Queen of the Damned's throne.
8. Perfume Genius, "Queen"
A nervy, wobbly anthem crafted out of haunted pauses.
9. Future Islands, "Seasons (Waiting on You)"
Thanks to their front man's rubber-legged dance moves and the operatic sadness of this synth-pop breakup anthem, 2014 was the year that Baltimore's Future Islands — the hardest-working band in indie rock — finally got their due.
10. Katy Perry, "Birthday"
A fizzy, transcendently cheesy disco throwback. Even though it failed to reach the chart heights of Prism's other singles, in an alternate universe, this was the song of the summer.
Runners up:
Beyoncé and Nicki Minaj, "Flawless Remix"
Demi Lovato and Cher Lloyd, "Really Don't Care"
Father John Misty, "Bored in the USA"
Robyn and Röyksopp, "Monument Remix"
Parkay Quarts, "Content Nausea"
Jenny Lewis, "Just One of the Guys"