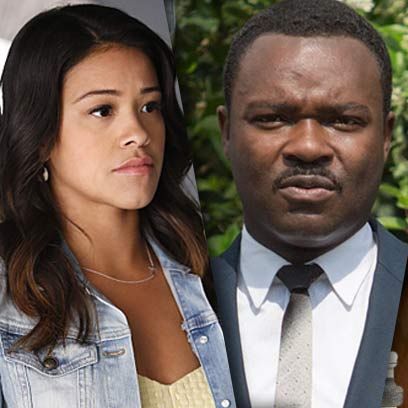 Photo: CW, Paramount Pictures, Cinelou Films
It's that time again. Awards organizations never get things quite right — which is more than half the fun of the whole endeavor — but the Golden Globes are particularly quirky, often skipping over major hits in favor of smaller, and sometimes odder, selections. Sometimes this means otherwise-ignored shows and films get a moment in the spotlight, but sometimes it means we're left scratching our heads. Here are the notable snubs and surprises from this year's nominations:
MOVIES

Team Jen?
Jennifer Aniston has worked the awards circuit tirelessly this season, and on the back of her SAG nomination for the indie Cake, she scored another nod today with the Globes. Unexpectedly, though, Angelina Jolie was completely shut out for her World War II epic Unbroken, failing to score a Best Director nomination (or any other nod, for that matter). Jolie has won three Golden Globes and been nominated three other times on top of that (even for The Tourist!), so the cold shoulder from the HFPA was a shocker.

Redemption for Selma
After a SAG shutout yesterday (due largely to the film's lack of screeners), Ava DuVernay's Martin Luther King movie got a shot in the arm this morning, scoring nods in Best Drama, Best Director, and Best Actor in a Drama for David Oyelowo. The question now becomes: Can it pull off a win in any of those categories?

Pride surprised in Best Comedy or Musical
This adorable little gay-activist movie never quite marshaled any awards-season momentum, and it topped out at the box office with an unremarkable $1.4 million. How lovely, then, to find it among the Best Comedy or Musical nominees this morning. Still, it's surprising that the Globes would be so indifferent to an actual musical-comedy, the Mark Ruffalo–Keira Knightley starrer Begin Again, which seemed tailor-made for these categories and yet walked away without even a nomination for Best Original Song.

Still no Laura Dern
Many pundits thought Wild's Laura Dern was one of the five leading Supporting Actress contenders, but she missed yesterday with SAG (where Naomi Watts managed a shocker nod for St. Vincent) and again today with the Globes (where the cigarette-flicking Jessica Chastain snuck in for A Most Violent Year).

David Fincher gets a Best Director nod, but …
… Gone Girl couldn't score a Best Drama nod, even with contenders like Birdman, The Grand Budapest Hotel, and Into the Woods shuttled off to the Best Comedy or Musical category? If you say so, HFPA.

Who the hell is going to win Best Actress in a Comedy or Musical?
I really want to know! I don't expect any of the five women in this category to get Best Actress nods from the Oscars, so without that ultimate indicator of awards-season heat, it's sort of a free-for-all to predict who will triumph at the Globes. Amy Adams may be the weak frontrunner for her muted work in Big Eyes, but could Julianne Moore prevail for David Cronenberg's Maps to the Stars, which won her a Best Actress prize at Cannes? If so, she'll likely go two for two, since she's the odds-on favorite to win Best Actress in a Drama for Still Alice.
TV

What do the Golden Globes have against Mad Men?
No nomination for best drama. No nomination for Jon Hamm. Or Elisabeth Moss. Inexplicable.
The Americans gets no love.
Keri Russell and Matthew Rhys are crushing it on that show, and the series itself continued its impressively tense, increasingly humane stories in its second season.
And yet The Affair does.
Ruth Wilson was thrilling on Luther. But her intermittent American accent on The Affair should disqualify her for contention, and the idea that she's a better nominee than Tatiana Maslany or Elisabeth Moss or Lizzy Caplan is madness. Dominic West is also a terrific actor in other roles, but mostly The Affair calls for his mouth-slightly-agape panic-face. The show itself is not robust enough, and certainly isn't more dramatically engaging than Mad Men, Hannibal, The Americans, Bates Motel, Masters of Sex, or Rectify.
Are we watching the same Downton Abbey?
Downton hasn't been good good since its first season, and its continued prominence in awards situations boggles the mind. It's not even close to the best drama on TV.
Orange Is the New Black is a comedy now. Or … still.
The show competed as a comedy at the Emmys, but at last year's Golden Globes, Taylor Schilling was nominated in the drama category. This year, she's nominated for lead actress in a comedy, with Uzo Aduba nominated in the genre-neutral supporting-actress category.
Jane the Virgin and Gina Rodriguez!
And this is why the Golden Globes are secretly fun: because wonderful shows and emerging performers sometimes get out-of-the-blue nominations. Jane was one of the highlights of the fall TV season, and Rodriguez's grounded, radiant performance anchors all the show's delightful whimsy and loopiness. (If there were a way to recognize Anthony Mendez's brilliant narration, that would be a real bonus.)
Transparent made a splash.
The show was nominated for best comedy — in remarkably eclectic company — and Jeffrey Tambor for best actor in a comedy. (That category, too, is full of surprises: Ricky Gervais for Derek? Uh, okay.) This is a big piece of mainstream recognition for a show that, while critically beloved, has perhaps not broken into mainstream consciousness.
Four out of the five best comedies are female-driven shows.
Girls, Jane the Virgin, Orange Is the New Black, and Transparent are all focused on female characters and are also all fully populated with female supporting characters. Odd (wo)man out: the extremely dude-centric Silicon Valley.
Brooklyn Nine-Nine fell out of favor.
Somehow last year's winners Brooklyn Nine-Nine and Andy Samberg didn't get nominations this year. The bigger crime is Andre Braugher not being nominated at all for supporting actor. Bill Murray is in Olive Kitteridge for five seconds. Andre Braugher is killing it every week.
Fargo and True Detective both have strong showings — bumping out American Horror Story from the best miniseries category.
Both earned nominations for best miniseries (the category where TD actually belongs, EMMYS), with Fargo picking up performance nods for Allison Tolman, Billy Bob Thornton, Martin Freeman, and Colin Hanks. TD racked up noms for Matthew McConaughey and Woody Harrelson, and also, somehow, Michelle Monaghan. AHS's only noms this year are for Jessica Lange and Kathy Bates.