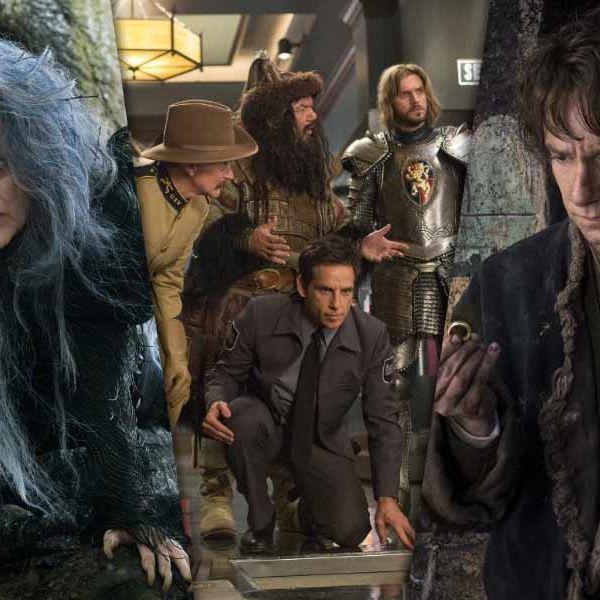 It's fitting that Christmastime would bring presents in the form of half a dozen or so new releases. Whether it's one of Robin Williams's last performances on the big screen or Amy Adams's turn as the idiosyncratic painter Margaret Keane, there should be plenty of preexisting and new treats for you and your family to indulge in before 2015 rolls around. Here's a preview of the holidays' forthcoming titles, mashed up with what our critics thought about some of the movies out now and on their way.
Two Days, One Night (out December 24)
David Edelstein calls the Dardennes brothers' latest project, which is one of our best movies of 2014, a triumph. Of the film, a workplace drama about a woman (Marion Cotillard) and her husband trying to convince colleagues to forsake bonuses for the sake of her job, he writes: "A spirit of compassion permeates all. It's more in sorrow than in anger."
Into the Woods (out December 25)
Rob Marshall's cinematic treatment of James Lapine and Stephen Sondheim's musical is ingenious — before, Edelstein says, it takes a hairpin turn into the apocalyptic. Edelstein writes: "In a Disney movie opening Christmas Day and pitched to the whole family, the wave of awful things just seems bewilderingly mean — a sucker punch to kids who did nothing except hope for a story in which wishes do, after the requisite pain and sacrifice, come true. I'm only half-kidding when I suggest that you see the movie but leave (especially if you have kids) at what's obviously the end of the first act."
Unbroken (out December 25)
Angelina Jolie's "no swear"–zone look at Louis Zamperini's life follows the true events that ultimately led to the Olympic athlete's grueling stints in — and eventual release from — Japanese POW camps. Although there's no dearth of death and beating, the director's second feature effort rolls as an inspiring preservation of a true American hero's legacy.
American Sniper (out December 25)
Clint Eastwood's latest directorial effort tells the story of Navy SEAL Chris Kyle, the deadliest American sniper in history, according to Pentagon records. Played here by Bradley Cooper, Kyle struggles on the battlefield to save the lives of his brothers-in-arms, and at home to save his marriage.
Selma (out December 25)
Of Ava DuVernay's moody MLK movie, Edelstein writes: "The film is about long-lived injustice, short-lived politics, and how to make the latter serve the former. It's sensational in the open air and subtle in smaller, enclosed spaces. It has sweep and intimacy. And, yes, we need this movie now."
The Gambler (out December 25)
In Rupert Wyatt's most recent film, Mark Wahlberg plays a lit professor who moonlights as, well, what the title meekly states: a gambler. In more ways than one, Wahlberg's character rolls the dice with a loan shark, his mother, and one of his students — more a love interest than a mentee.
Big Eyes (out December 25)
Tim Burton chronicles the artistic surge of the idiosyncratic painter Margaret Keane, who found success in the mid-1900s with her jumbo-size-eyed portraits of women and children. Amy Adams stars, with Christoph Waltz playing Keane's husband who tried to claim credit for her work in the 1960s.
Tales of the Grim Sleeper (out December 26)
Edelstein calls Nick Broomfield's documentary about a notorious South Central serial killer incendiary. He notes: "It's a portrait of a ravaged community in which some abetted the killer, some looked the other way, and some stood helplessly by. Driving around in the company of residents (some crack addicts, some ex-prostitutes, some homeless), Broomfield finds out more in days than the LAPD did in 25 years."
Annie
Of Will Gluck's reimagined Annie musical, which stars Jamie Foxx and Quvenzhané Wallis, Edelstein writes: "In all the ways that matter it's a missed opportunity to take a flawed musical and transform it into a powerful new myth with a particular African-American slant. The black angle is neutered, and the movie not just a dud but a humiliation."
Night at the Museum: Secret of the Tomb
For Bilge Ebiri, Shawn Levy's third museum endeavor is all dumb but still fun. With regard to the late Robin Williams — who gives one of his last performances here — however, Ebiri writes: "His final farewell here is gentle, reflectively and almost unbearably moving. It lends the film a retroactive grace."
The Hobbit: The Battle of the Five Armies
Of the movie's titular clash, Ebiri writes: "It is terrible, and it is elaborate, and it is long. The action is handled relatively smoothly — Jackson may have lost his soul as a filmmaker, but he hasn't lost his proficiency — but it's all in the service of an empty cause, as we're asked to care about characters these films have done very little to develop."
Exodus: Gods and Kings
Ridley Scott's sweeping take on the Moses tale starts slow, Ebiri says, but after the first third, picks up considerably. "I spent much of (the) first hour alternately confused, sleepy, and bewildered at how low the great Ridley Scott seemed to have fallen," Ebiri writes. "The film finally becomes what it's been trying to be all along: the first honest-to-goodness biblical epic since the days of Cecil B. De Mille and George Stevens."
Top Five
Of Chris Rock's breakout Toronto Film Fest hit, Jada Yuan writes, "It's a very funny movie, but it's not just a funny movie. Rock's distinctive voice as a filmmaker emerges, and he has a lot to say (no surprise) about what drives people to drink, the pains of sobriety, the craft of comedy, the absurdity of celebrity culture, Obama, George W. Bush, Tyler Perry, rigorous honesty, vulnerability, forgiveness, and the legacy of hip-hop."
Wild
Of Cheryl Strayed's best-selling memoir turned movie about an 1,100-mile hike on the Pacific Crest Trail, Edelstein writes: "Wild is not the sort of book — or movie — in which the heroine strives to achieve 'oneness' with the natural world. The aim is to put the pieces of her past into a coherent order and, in doing so, turn a screwed-up life into something more positive (writing a book about how she turned her screwed-up life into something more positive, for example)."
Horrible Bosses 2
Ebiri, like most people, isn't keen on dull, monotonous sequels. With regard to the second Horrible Bosses installment, which is no exception, he writes: "I'm not even sure why it's called Horrible Bosses 2. It's not really about bosses or office politics. Its only allegiance seems to be to the law of the sequel: It puts the same characters into a vaguely familiar situation, with diminishing, tepid returns. They should have just called it 2."
The Imitation Game
For Edelstein, Benedict Cumberbatch's captivating strangeness as the biopic's subject, Alan Turing, elevates the film. He writes: "Cumberbatch is the one freaky touch in an otherwise conventional movie, but the conventions in this case work handsomely."
Foxcatcher
Of Bennett Miller's true-crime story about the downward spiral of weirdo rich-boy John du Pont (Steve Carell) and American wrestler Mark Schultz (Channing Tatum), Edelstein writes: "The movie's take at times is fascinating. But it's basically one long, sick joke played at half speed. It's a ponderous, sick joke. After that first meeting between Schultz and du Pont, Miller directs the next two crawly hours in exactly the same key."
Birdman
Edelstein contends that Alejandro González Iñárritu's meta film about a superhero actor (Michael Keaton) trying to reprove himself as an artist on Broadway is the very definition of a tour de force. It's "the sort of film that wins standing ovations from audiences, and they're not unwarranted. How can you not be in awe of the sheer physical achievement, of the intricate choreography of the actors and the camera, of the gung ho performances? When it ends you go, 'Whew!' It's a triumph of vacuous ­virtuosity."
Big Hero 6
Of Disney's animated Marvel endeavor, about a tech whiz kid who transforms his robot and friends into a clique of crime-fighting superheroes, Ebiri writes: "In its broad strokes, Big Hero 6 has a plot that's mostly indistinguishable from a Saturday-morning cartoon. It's fun, action-packed, and adorable. The devil is in the details with this sort of thing, and the film's ability to patiently work little moments of slapstick is endearing."
Interstellar
Christopher Nolan's movie about space travel and saving the human race has its requisite confusing — and surely absurd — moments. Edelstein elaborates: "In his florid sci-fi opera Interstellar, Christopher Nolan aims for the stars, and the upshot is an infinite hoot — its dumbness o'erleaps dimensional space. It's hugely entertaining, though … The mix of wonky physics, mysticism, and genetically modified corn is so clunky it's … fabulous."
The Babadook
Did you think a modestly packaged Australian horror movie would be in the running for Edelstein's favorite movie of the year by 2014's end? If not, read it and weep — of Jennifer Kent's bedtime chiller, he writes: "The greatest horror stories have little to do with bogeymen from hell and everything to do with bogeymen from inside us … What's on top is too marvelous: oodles of ghoulish images that feel as if they've leapt from the hearts of horror and fantasy buffs. The Expressionism is subtle, the look just realistic enough that you could be sitting on a sofa leafing in wonder through a coffee table book on old suburban houses when — SOMETHING POPS OUT!"
Nightcrawler
Of the Jake Gyllenhaal–starring Nightcrawler, in which an insatiable entrepreneur takes tabloid crime videography to new lows, Edelstein writes: "Writer-director Dan Gilroy seems to think that Louis (Gyllenhaal) is a fascinating specimen — a symbol of conscienceless capitalism in an economically desperate society — and that the movie also functions as a macabre media satire. But after a few minutes you know everything about Louis you're going to know; the only surprise in Nightcrawler is the level of grotesqueness it achieves."
Whiplash
Edelstein admires Damien Chazelle for pushing the limits of not just his artistry, but his soul, in his films. With regard to the jazzy netherworld portrayed in Whiplash, he writes: "As a go-for-it music movie, Whiplash is just about peerless. The fear is contagious, but so is the jazz vibe: When Andrew snatches up his sticks and the band launches into a standard — say, Hank Levy's 'Whiplash' — it's hard not to smile, judder, and sway."
Citizenfour
Edelstein is a fan of Laura Poitras's history-making documentary, which plays like an avant-garde paranoid conspiracy thriller. He concludes: "You should see this movie if you're naïve enough to think you have a right to privacy. But don't buy your ticket online or with a credit card."
Penguins of Madagascar
Ebiri notes that this Dreamworks movie's most nuanced joke is its existence. He adds: "There's actually something refreshing about an animated film these days that doesn't try to pull your heartstrings, that doesn't put you in the position of having to determine if it has earned its emotions or merely manipulated them. All Penguins of Madagascar wants to do is make you laugh at its silliness. It succeeds."
Mr. Turner
Mike Leigh's biopic about the English landscape painter J.M.W. Turner further proves why critics love the director — at least for Edelstein, who writes: "The artist biopic is the most laughably overexplanatory of subgenres, but Leigh would rather glide over details than be caught spoon-feeding. He's arrogant about such things … The first scenes of Mr. Turner prepare us for a portrait of the artist as a stunted human. But what we finally see is more complicated — irreducible."
Inherent Vice
Even after two viewings, Edelstein is still semi-baffled by Paul Thomas Anderson's take on Thomas Pynchon's 2009 novel of the same name. He writes: "Inherent Vice, which is set in 1970 in a beach town south of L.A., is like a gorgeous stoner art object, and maybe you need to get baked to be on its dissonant, erratic wavelength. It's groovy, distant, funny — funny strange and funny ha-ha. It's drugged camp. It's like nothing else."
Winter Sleep
In Nuri Bilge Ceylan's ambitious, 196-minute film, a hotel turns into a wintry shelter, boiling with familial and marital tension. Ebiri writes: "It may not always succeed, but the lovely, perplexing Winter Sleep is a very personal film from one of the world's foremost filmmakers. It's well worth your time."
Goodbye to All That
Of Angus MacLachlan's sex-heavy, indie rom-com about an oblivious man bouncing back from divorce, Ebiri writes: "Goodbye to All That, for all its sexual shenanigans, its episodic tales of romantic dysfunction, turns out to be a story about a man learning to be present in the lives of the people closest to him. Charming, beautiful, and sad, it goes down easy, but you might find it stays with you for a while."