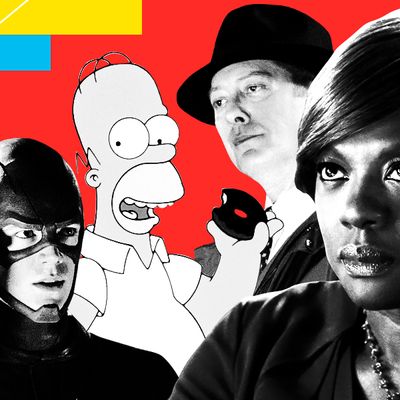 Photo: Images by CW/FX/NBC/ABC
In 2014, running a traditional TV network — broadcast or cable — was mostly about managing decline. Audiences continued to abandon watching live broadcasts in favor of on-demand options such as DVR replays and streaming. Even when networks thought they'd found a hit, viewers proved more impatient than ever — loving a show one season and then moving on the next (sorry, Sleepy Hollow, Duck Dynasty, and Agents of S.H.I.E.L.D.). And yet, while the central narrative of linear television remains gloomy, some individual networks nonetheless managed to grind out victories in the day-to-day battle for viewers. These four programming strategies were 2014's most successful:
ABC's Shonda Gambit
Ordering another new series from a successful producer is standard operating procedure in TV land, which is why ABC's pickup of Shonda Rhimes's How to Get Away With Murder last May was, by itself, no big deal. But the suits at ABC did more than just green-light the Viola Davis–led thriller: They weaponized it. On paper the move was pretty simple, with existing Rhimes hits Grey's Anatomy and Scandal sliding back an hour on Thursdays and the Pete Nowalk–created Murder landing at 10 p.m. But the result — on what's arguably network TV's most important night — was explosive. By turning over an entire evening to Shondaland series, ABC made what it called TGIT Thursdays an event (particularly for younger female viewers) and created the sort of powerhouse three-hour block network TV hasn't seen since the days when NBC's Must-See TV comedies and ER ruled Thursdays. It was a gutsy call on many levels. Shifting Scandal and Grey's meant tampering with the two most successful hours on ABC's lineup, with the move of Grey's particularly risky given the show's advanced age. There was also a chance viewers wouldn't embrace Murder, leaving ABC with a big hole in the key 10 p.m. time slot that serves as a lead-in to local newscasts and Jimmy Kimmel Live. Plus, if the new show flopped, the network's call to blow up Thursdays on its behalf would've made its failure all the more embarrassing.
That didn't happen, of course. While Grey's has suffered some modest erosion, Scandal is as powerful as ever and Murder is now network TV's No. 1 drama among viewers under 50, doing even better than its lead-in. ABC has also dramatically improved its 8 p.m. ratings on Thursday, fixing a problem that had vexed the network for years (and possibly weakening CBS's The Big Bang Theory just a little bit in the process). And by laying claim to 9 p.m. Thursdays with Scandal, ABC has made life harder for NBC's Blacklist, which is scheduled to shift to the time slot in February. ABC's Thursday maneuver isn't perfect, and its success might not be permanent. Murder will only air 15 episodes its first season, which means the network could take a big 10 p.m. hit when the non-Shonda American Crime takes over the 10 p.m. slot in the spring. And the heavily serialized natures of both Scandal and Murder make both shows more vulnerable to fickle fans suddenly turning if producers make a few wrong plot moves. But for now, ABC's Thursday gambit ranks as 2014's biggest TV strategy triumph.
FXX unapologetically embraces The Simpsons
Launched in September 2013, FXX was designed to be the younger, comedy- obsessed little brother of FX — a network designed to compete with Adult Swim and Comedy Central for young male viewers who've largely given up on broadcast TV. FXX's first-year slate was a mix of established FX hits that moved to the new channel (It's Always Sunny in Philadelphia, The League) as well as reruns of Parks and Recreation. Ratings weren't disastrous, but they weren't great. And then came Homer: In late August, The Simpsons  — having never aired before on cable— landed on the FXX lineup via an audacious, and spectacularly successful, 12-day, 552-episode marathon. FXX's ratings soared, with Simpsons episodes drawing five or six times as many viewers as the network's typical fare. On several nights, FXX even finished No. 1 among all cable networks among viewers under 50, while individual episodes beat broadcast network programming in certain demos.
But FXX didn't just pull of a one-time stunt with The Simpsons. A few days after the marathon began, the network announced that the show would become a schedule staple, with blocks of episodes airing almost every night (and as often as 24 hours per week). And later in the fall, FXX revealed its glorious Simpsons World app, which lets viewers watch just about any episode of the show on demand (as well as paid commercials sold by FX Networks's sales department). The impact of all this Simpsons on FXX has been instant and dramatic: Even though it didn't debut until the year was two thirds over, the show's halo has made FXX TV's fastest-growing cable network, with viewership up a whopping 84 percent versus the network's 2013 average. FXX paid a lot of money to land The Simpsons, and with The League and Sunny nearing the end of their runs, the network needs to find an original comedy to serve as its signature series. But thanks to the good citizens of Springfield, a network that didn't even exit 18 months ago is now a legitimate cable player. (Read Vulture's 100 Essential Simpsons Episodes to Stream.)
NBC takes a page out of the CBS playbook
One of 2014's biggest TV-industry stories was NBC's unexpected Lazarus act: The Peacock's Nielsen comeback peaked last spring when it ended up winning the 2013–14 TV season among viewers under 50, its first such triumph in a decade. But unlike NBC's last run at the top during the Must-See TV era of the 1980s and 1990s, its hot streak now hasn't been powered by an abundance of critically acclaimed comedies and dramas. Instead, NBC chief Bob Greenblatt clawed his way back to success by emulating the populist strategy that's worked so well for CBS supreme leader Leslie Moonves. Chastened by the failures of early, edgy efforts such as Smash and The New Normal, Greenblatt has now become a champion of meat-and-potatoes programming — stuff that critics often loathe but audiences embrace. The network's biggest drama hit, Blacklist, is exactly the sort of straight-ahead crime procedural that's worked wonders for the Eye since the launch of JAG and CSI. Same goes for Dick Wolf's Chicago Fire, which was joined this year by successful spinoff Chicago PD. (The speed with which NBC turned Chicago into a franchise? Another Eye hallmark, albeit one borrowed from Wolf's Law & Order expansion.) NBC has also stuck by this fall's freshman drama Mysteries of Laura, which generates meh ratings among young adults but does well with the older audiences who form the backbone of CBS's Nielsen success. And while this month's Peter Pan Live! was a Nielsen disappointment relative to last year's Sound of Music Live, the very idea of mounting a Broadway-style production on live TV is the sort of showmanship Moonves used to turn around CBS 15 years ago. Actually, it's exactly what he did: The CBS boss convinced pal George Clooney to stage a live version of the movie Fail Safe on the network in 2000.
To be sure, Greenblatt hasn't totally given up on wowing critics or targeting younger viewers. On the comedy side, he gave a shot to rom-coms Marry Me and A to Z, and he's stuck by About a Boy despite awful ratings (a sign, perhaps, that Greenblatt hopes to stay in business with producer Jason Katims, who specializes in shows, like the soon-to-be-ending Parenthood, which generate tiny-but-passionate audiences). Likewise, the fact that Hannibal has made it to season three even after its second season did even worse in the ratings than its little-seen first year shows Greenblatt's guiding philosophy is more than simply WWLD — What Would Leslie Do. But there's little doubt that CBS's winning strategy has served as central inspiration as NBC successfully marched back to victory.
Nobody puts the CW in a corner
For the first six years of its eight-year existence, the CW was all about that base, concentrating most of its energies on attracting just one sliver of the viewing audience: adult women under 35. The narrow focus resulted in almost predictably tiny Nielsen numbers, with just a few modest hits (Gossip Girl, The Vampire Diaries, maybe 90210) managing to break through. It didn't help that the younger viewers CW was targeting were among the first to abandon traditional live TV in favor of DVR replays and streaming services. But starting with 2012's successful launch of dude-friendly superhero action show Arrow, the C-Dub has been actively broadening its aim, hunting for viewers wherever they can be found. And this year, the strategy finally clicked.
The Flash has been CW's biggest winner, stunning TV-industry insiders with an October premiere that attracted nearly 7 million viewers — the network's most-watched telecast ever. The show has mostly matched that momentum since, and among younger viewers, it now often outrates ABC's Marvel-branded, Disney-boosted Agents of S.H.I.E.L.D. Other successes have been less, well, Flash-y, but impressive nonetheless. In the spring, dystopian drama The 100 built on its Arrow lead-in and gave CW its biggest 9 p.m. Wednesday audience in four years. Over the summer, the very un-CW Penn & Teller: Fool Us — a British import the network picked up on a lark — brought a ton of male viewers and built audience from premiere to finale. Smart scheduling and marketing has kept older hits Supernatural and The Vampire Diaries vital in their older years. And this fall, Jane the Virgin has given the CW its biggest critical hit ever: The comedy-drama has landed on a slew of year-end "best of" lists (including the AFI's annual tally) and gave the network its first-ever Golden Globe nominations.
To be clear, the CW hasn't suddenly morphed into a Nielsen juggernaut that strikes fear into the heart of execs at the Big Four (or even the suits at ABC Family and MTV). Jane, for example, still struggles to reach 2 million viewers every week (though it's dramatically improved the CW's performance Mondays at 9 and could yet grow as buzz about the show spreads). Hard-core sci-fi shows such as Star-Crossed and The Tomorrow People flopped. But so far, the CW seems to have struck a good balance between going broad while staying true to its roots as a network for viewers (male and female) under 35. And at a time when most networks are bleeding viewers, CW has proven it's still possible to bring them back.