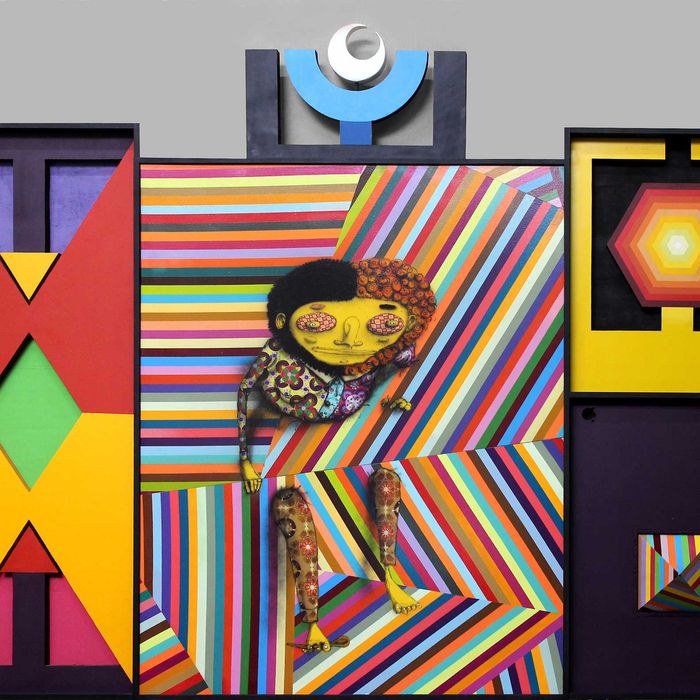 Osgemeos, Untitled, 2014. Courtesy the artist and Lehmann Maupin, New York and Hong Kong.
Photo: Courtesy the artist and Lehmann Maupin, New York and Hong Kong
Between Leonardo DiCaprio slapping a cool near-million on a Frank Stella and Ivanka Trump sauntering down the aisles with Wendi Murdoch, people are buying art. The initial first-day sales reports are brimming with major coups for contemporary heavyweights, such as Anish Kapoor, Richard Prince, Mickalene Thomas, and others. And while even our Jerry Saltz "loves that art fairs can make money for artists and galleries," the money talk can be a limited conversation, especially reserved for those power collectors who were out in full force yesterday, like Don and Mera Rubell, Peter Brant, Beth Rudin DeWoody, and Jill and Peter Kraus. From our stroll through the Convention Center — it's hard to not get lost in that thing — we bring to you the highlights from Wednesday.
Lehmann Maupin
Teresita Fernández is having an excellent year. There was her enchanting show at Mass MoCA, and now there's her upcoming Madison Square Park commission, unveiling in April 2015, titled Fata Morgana, which promises to be one of the most ambitious public installations in the small urban space to date. Her longtime dealer Lehmann Maupin split its booth via partition to dedicate one half entirely to her Kabinett commission — the furniture company selected a number of artists to render its aesthetic in functional forms. Hanging on the other side were works by Korean sheer genius Do-ho Suh (literally, he recreates appliances in sheer fabric), cinematic photographer Alex Prager, and Brazilian graffiti superstars Os Gêmeos. In walk Swizz Beatz, P. Diddy, and their art adviser Maria Brito. They gawk at the Os Gêmeos, mill about in the booth for a moment, and then leave.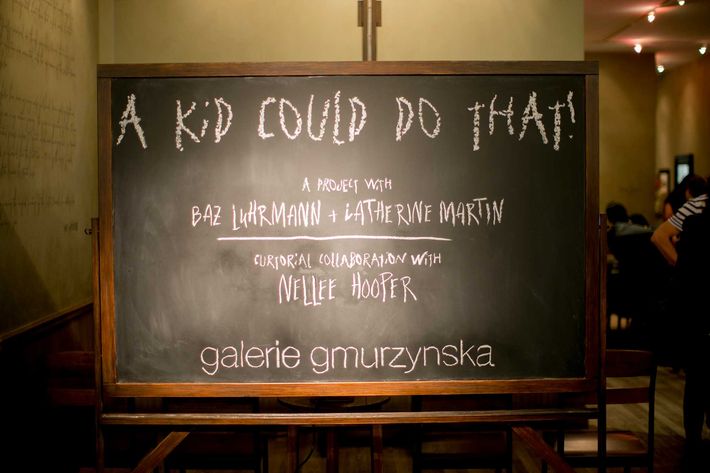 Galerie Gmurzynska
"I want to assassinate Painting," Joan Miró once said. Well, I want to assassinate anyone who ever uses the phrase "My 4-year-old could paint that" when looking at modern or contemporary art. Swiss blue-chip Galerie Gmurzynska's presentation was called "A Kid Could Do That!" The booth's sign is a chalkboard written in childlike handwriting. Within, Gmurzynska overhauled its booth to appear as a glamorous European salon with (faux-)wood-trimmed, olive-toned walls and set up a grand reading table with tomes and tomes of the 20th-century painting masters it's are offering for sale besides Miró, such as Kazimir Malevich, Francis Bacon, and Cy Twombly. Some of the works have just returned from major museum exhibitions or haven't been seen in years. But all of this leaves us asking: Does anyone in 2014 still actually think that Miró or Bacon or Malevich painted like a child?
Gavin Brown's Enterprise
From the dealer who brought you a dug-up gallery floor (Urs Fischer), an in-situ soup kitchen (Rirkrit Tiravanija), and a weenie roast with his doppelgänger Mark Ruffalo, Gavin Brown once again went for a booth that skates between the line of gimmick and punk. No dealers, no table, no nothing — just Martin Creed on his own (well, not actually the artist himself). "People," the green neon-light sign screams as it twists and turns in a continuous loop at the entrance of Hall B. After watching the booth for about ten minutes to see how the attendees (we attended during the VIP hour, so most were likely familiar with Creed) interacted with the work, we observed fewer than ten people going inside, standing under the sign, or engaged in any way other than from a reserved distance. (Video courtesy of Gavin Brown enterprises.)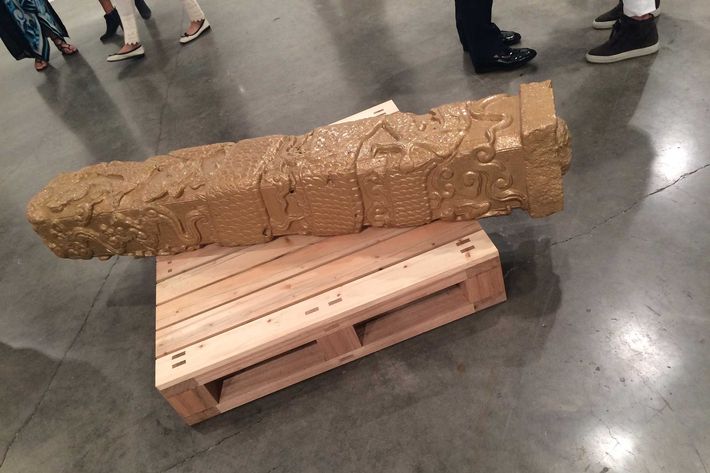 Lisson
Two large security guards paced around Lisson Gallery, where the six-foot-tall reflective Anish Kapoor tower stands alongside the Ai Weiwei Han Dynasty vases. We ask if there's been an attempted heist or defacement. "No, we're here 'cause these art works are, like, worth a couple million dollars," says one guard. Funny, we didn't see anyone standing close to the Jeff Koons ashtray-pinup sculpture. As we inspect the new Ai Weiwei Stone Pillar, which is laid horizontally onto to the floor, I turn to the gentleman next to me and say, "Wow, that looks like a Snickers bar!" He replied, "Maybe one that's passed through your digestive tract." Once you say Lisson's booth looks like shit, it's not an image that leaves your mind very easily.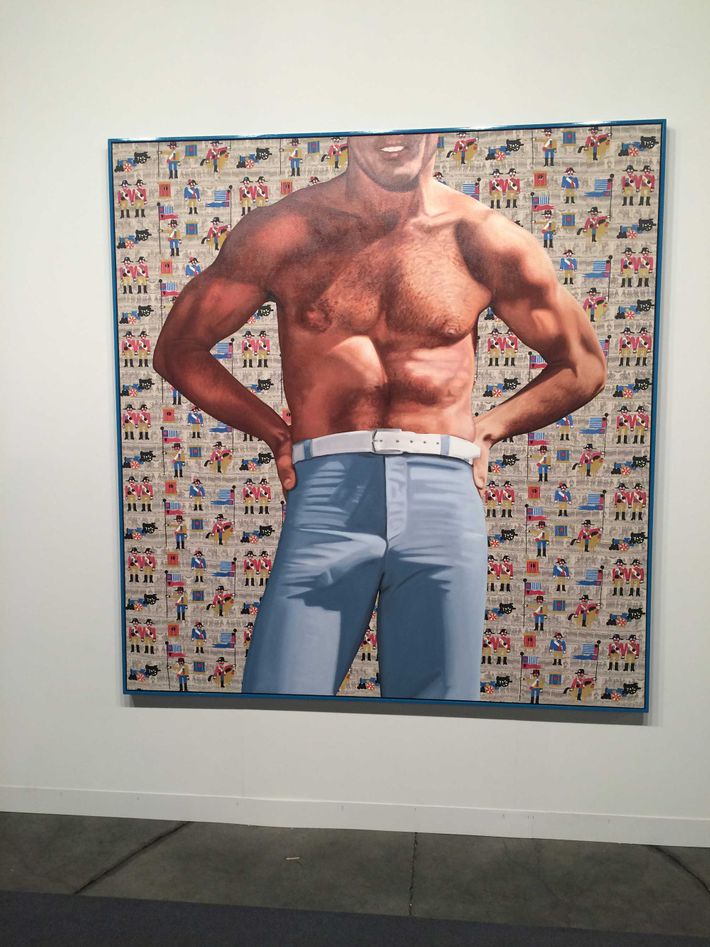 Fergus McCaffrey
Porn painting may have reached its apotheosis with Jeff Koons, but Jack Early, who by some measures is late getting his solo booth debut at Fergus McCaffrey, has acknowledged what we've all thought: that there is humor in dick pics. Early, a longtime collaborator with Rob Pruitt, pulls from the campiness of Tom of Finland and treats his portraits of male members (yes, that kind) with the self-seriousness found in good snark. Jack Early's Lifestory in Just Under 20 Minutes, as his presentation made specifically for ABMB is called, may shock and offend, just like Ilona's Asshole did at the time Koons unveiled it in 1991, but anyone who doesn't chuckle at these large-scale works is just missing the point.