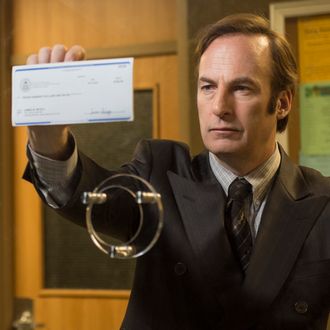 Bob Odenkirk as Saul Goodman - Better Call Saul _ Season 1, Episode 1 - Photo Credit: Ursula Coyote/AMC
Photo: Ursula Coyote/AMC/? AMC Network Entertainment LLC. and Sony Pictures Television Inc. All Rights Reserved.
On February 5, three days before the first night of the Better Call Saul premiere, the show's three stars — Bob Odenkirk (Saul Goodman), Jonathan Banks (Mike Ehrmantraut), and Michael McKean, who plays Saul's brother Chuck — will be in conversation at 92Y. You can purchase tickets here. On the off chance they're sold out or if you can't make it, Vulture will be live-streaming the event.