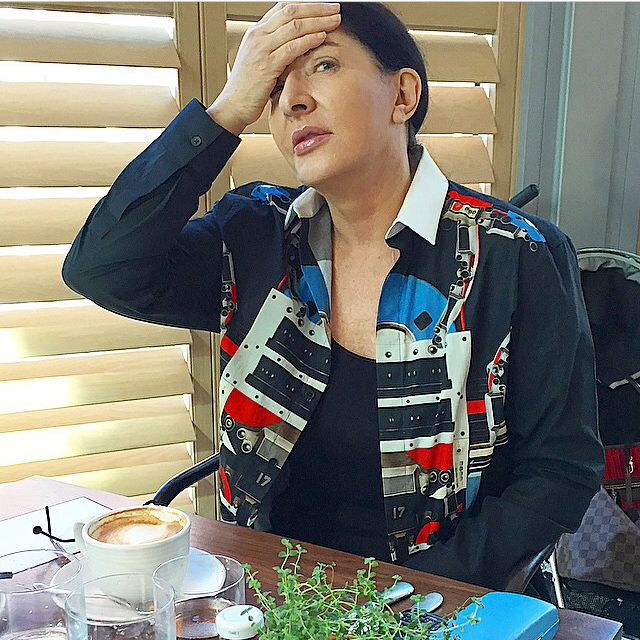 Marina Abramovic at breakfast in Miami on Wednesday, December 3. Courtesy of Klaus Biesenbach's Instagram feed.
Photo: Courtesy of Klaus Biesenbach's Instagram feed
If there is one Instagram moment that captures the wearying strut of Art Basel Miami Beach—the weeklong art-collector feeding frenzy at the convention center's "big fair" accompanied by multiple satellite fairs, parties, performances, and branding extravaganzas up and down the barrier island—it might be MoMA PS1 director Klaus Biesenbach's shot of the performance artist Marina Abramovic (above), sitting at breakfast in the just-opened Ian Schrager–ified Edition Hotel, with her hand on her forehead in a pantomime of exhaustion. It was the fair's first morning, and Biesenbach, an indomitable German with a serious Instagram-selfie habit (James Franco, Lana Del Rey, Patti Smith), captioned the photo with charmingly broken internet grammar: "OMG it only just begun." The photo wound up garnering more than 1,300 "likes," which Biesenbach pointed out to me well past midnight later that week in Miami, when he was emerging from a deli near the Edition, where he was staying, too, holding a bag of late-night snacks.
As it happened, I was there for the photo itself, having breakfast with Abramovic and Serge Le Borgne, the amused director of her Marina Abramovic Institute, a "performance and education center" planned for an old theater in Hudson, New York. Le Borgne and Abramovic had brought their show on the road here, fund-raising and awareness-­lifting. But like most things in the art world, that show is more or less always on the road—South Florida being just another stop on this sort of enlightened-world-citizen vaudeville circuit both she and Biesenbach, among others, travel almost nonstop. Art Basel Miami Beach seems like it's designed to be fun, and it mostly is, so long as you're on the list—a week at the beach in early December, when most other places are beset by winter. A week dedicated to the adoration of art and the people who make it. Or, as Abramovic puts it, "all this hell."
"All of Europe is here," she says, surveying the vast sunny breakfast room with its gilded columns and slow service. "People I have not seen all year are here. And they are not just staying for two or three days. They stay all week. For the weather and the parties. And the fishing." ("Some people go fishing while they're here," Le Borgne drolly notes.) "And then in all this kind of frenzy, after two or three days where they don't sleep and they are up in the morning with dark glasses walking," she says.
Abramovic says she'd recently been on the phone with a reporter who told her that she'd heard that Abramovic was going to make an album with Björk, which is not true, though the idea made Abramovic laugh. She says she'd met Björk through Biesenbach (a friend who is, incidentally, curating a show about the singer at MoMA) at a birthday party where only four people were present; the fourth was Susan Sontag. They watched a Pasolini film and ate a whole box of pretzels. Later, Björk attended a party at Abramovic's house. "She came with seven Icelandic girls, all in different stages of pregnancy," she says. She recalls another time they'd hung out: "Around her neck she had a birdcage. We're talking birdcage, no bird. I love her. She is so eccentric. Birdcage!"
Which is just when Biesenbach walked up, on cue, and took the photo for his Instagram. Actually, he took several, finally settling on the dramatic one, declaring, "I like this one, it's very funny. OMG!" Then he trotted off.
"We all go for free one week in this hotel," Abramovic confides. She's there, as are Biesenbach and the Swiss-born curator Hans Ulrich Obrist, co-director of London's Serpentine gallery and the master networking mascot for the art world's madcap pace (he titled one of his books Dontstopdontstopdontstopdontstop, which sounds like both an imperative and a cry for help). They are members of a cohort often referred to in press releases as "influencers," people who are invited to tart the place up with their glamour. This hotel had an opening dinner the night before hosted by W magazine editor Stefano Tonchi; guests included Linda Evangelista, Lola ­Schnabel, Cynthia Rowley, Lisa Phillips, Gavin Brown, China Chow, Ryan McGinley, Harry Brant, Barbara Gladstone, and Derek Blasberg. Influencers like them often get to stay for free; in exchange, they may be asked to Instagram PR proof positive that they were there. "God, everybody you know is here," Abramovic says.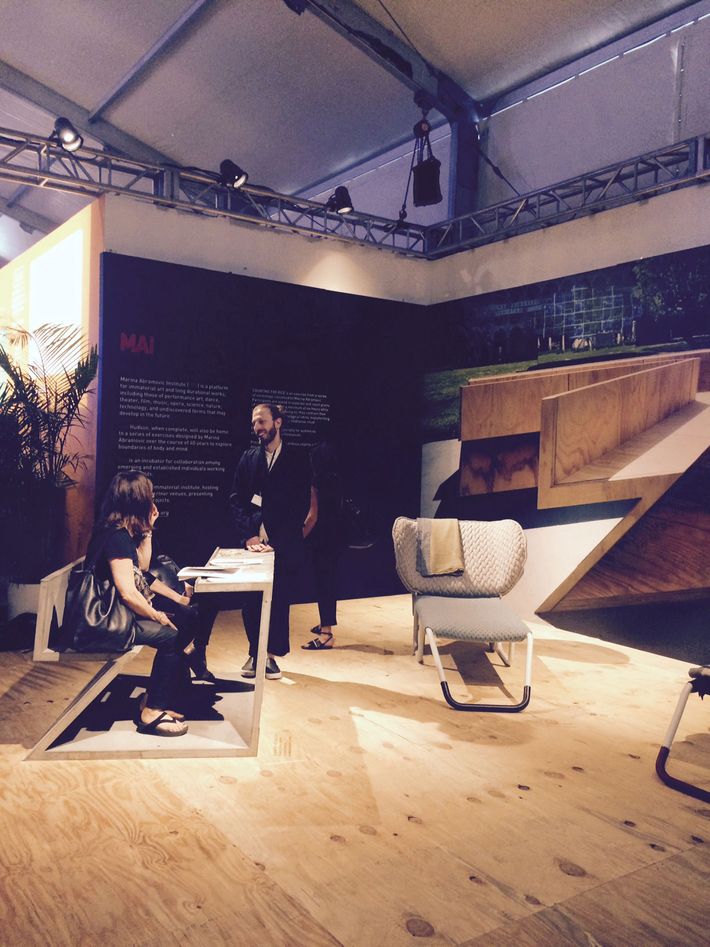 Whatever intimidating or incomprehensible thing "art" used to be taken to mean, in Miami and elsewhere it is now a crowd-pleaser, and ready to please: The art dealer and curator Jeffrey Deitch, an impresario on the global art circuit, brought Miley Cyrus down, and she performed by the pool at the Raleigh hotel one night; Kim Kardashian held forth for many of the same people another night. Other events featured TV on the Radio, FKA Twigs, James Blake, and A$AP Rocky scattered around the beach and the near reaches of Miami proper.
Abramovic is a shaman to this overstimulated crowd, and she sees it as her mission to try to ease the psychic pain that is a side effect of all their acquisitive frequent-flying. Whether you think of that exhaustion as an exquisite luxury problem or a universal one probably says something about where in the pecking order of global finance you sit. Either way, she's there to help. Her institute in Hudson will be not just a performance space for her and others' "long durational" works of art but a retreat from this busy-bee art world, a kind of spa for what used to be called your soul, in a world gone mad with technology. And in Miami, this week, she thinks the world has gone completely mad.
What she's trying to do here, too, is offer an antidote to that frenzy—"to actually stop time," she says (again, whether you find that impulse movingly or maddeningly naïve probably says something about your susceptibility to the ADD charms of planet art). Over on the mainland in the Design District (right next door to Miami's best restaurant, Michael's Genuine), Abramovic presented the intentionally boring "Counting the Rice" exercise. At Design Miami, an intensely pleasurable home-décor fair that accompanies Art Basel (and looks like a pop-up ABC Carpet & Home), there's more rice-counting, only this time on a concrete table designed by Daniel Libeskind that is for sale to benefit her institute ("You can have the rice-­counting table in your own home," she says). And at the main fair, which was opening about an hour after our breakfast, she'd taken over the Fondation Beyeler booth, where she'd installed a public nap area with cots and noise-canceling headphones. "All during the fair, everybody is running like hell, all the consumption junkies," she says. Her installation? "It's the opposite. I think it's good to show it here. Because somehow: Just stop for a moment. See what is happening in yourself."
Of course, she isn't really stopping herself. After the fair closes on Sunday, she says, she and Obrist will be off to Silicon Valley. "He invited me to be the artist to talk to the Google people."
"Not only the Google people," says Le ­Borgne. "All the tech people—Elon Musk …"
"I want to tell them that technology really sucks. Because it just took out all time. I don't know how welcome I'm going to be, but it's kind of interesting that they want to ask me. It's a new thing. It must be that something is going wrong! But this is why the institute is there," she says. "This is the big picture: Why do they want to fucking count rice for hours? There is a need, a social need," she says, for environments that allow people to stop, breathe, look away from their screens, and contemplate.
"Also, my public is not the art public anymore. In the Serpentine," where, this summer, she staged a show that was just an empty room, "I had everybody from the Bangladeshi housewife to the science-­fiction writer. The most incredible combination of people in the space, all with the most complete expression of self-­absorption. The need is there. The need is everywhere. Every single one of these guys is running, running, running. And they just can't run anymore."
The article has been edited and updated since its original publication.
*This article appears in the December 15, 2014 issue of New York Magazine.