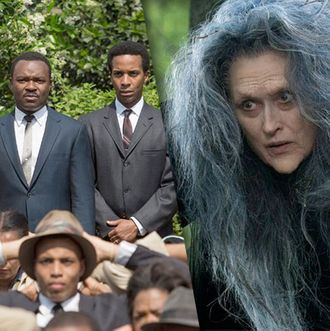 Like Spinal Tap, today's list of the American Film Institute's best American movies of the year goes up to 11. (Note: Presumptive Oscar contender The Theory of Everything was deemed too British to be eligible. The Imitation Game managed to sneak through thanks to its Weinstein pedigree.) As always, this year's selections were chosen by a jury of academics, critics, and Hollywood power players; if David Fincher wants to yell at them for leaving off Gone Girl, he can find their names here. The full list is below.
American Sniper
Birdman
Boyhood
Foxcatcher
The Imitation Game
Interstellar
Into the Woods
Nightcrawler
Selma
Unbroken
Whiplash
Though its name does not include the word television, the AFI also decided to go ahead and make a list of its favorite TV shows, too. Everyone else is doing it! This time, they went with a nice, round ten:
The Americans
Fargo
Game of Thrones
How to Get Away with Murder
Jane the Virgin
The Knick
Mad Men
Orange Is the New Black
Silicon Valley
Transparent
Many of these were obvious choices, but we're glad the AFI agrees that you really should be watching Jane the Virgin.