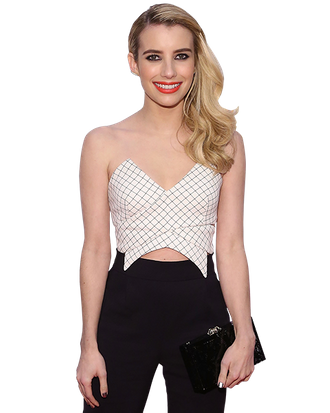 Emma Roberts.
Photo: Taylor Hill/FilmMagic
Con artist and fortune teller Maggie Esmerelda has been dealing with quite the moral dilemma on this season's American Horror Story: Freak Show. Will she betray her true love or her partner-in-crime? Will the freaks ever be able to accept her as one of their own — and trust the fact that she might actually be able to help them? This week's episode had Maggie coming clean, but who knows whether she'll stay that way. We spoke to actress Emma Roberts, who plays the not-so-magical crystal-ball reader about her very own magical tendencies and how, as an AHS superfan, the seasons are all tied together.
Your character's big moment last night seemed to be coming clean. She really decided to turn that corner. 
I think one of my favorite parts about this episode is the flashback scene with Stanley and I and how we met. What I just love about American Horror Story is you are always learning new tidbits from flashbacks and fantasies. I loved dressing up as a boy, pickpocketing.

Ryan Murphy always seems to love telling you a character is awful in some way and then changing it up by giving them an endearing history.
He is such a genius at making you love the villain. Every season of the show I find myself rooting for the bad guys. There are many more layers to why they are doing things and you don't see that on a lot of television shows. Usually you are rooting for the good guy or the underdog.
While Coven's Madison had real magic powers of persuasion, Freak Show's Maggie only acts like she does.
I love anything with magic because I grew up watching Sabrina the Teenage Witch and Hocus Pocus; there was such a witch craze when I was younger, so I was really into Coven and Maggie's crystal-ball reading. I actually have a crystal ball in a special part of the house.  
Do you think she can feel empathy for the freaks? How can they even trust her?
Maggie is the one who can blend in. She's a grifter, she's good at fitting in. So the fact that she is the odd man out in Freak Show, I think, is new to her and I think that is hard. All the freaks, they "want" to fit in and yet when Maggie wants to be a part of them, they kind of don't let her.
Right.
She is a freak to them.
We ended on quite a cliffhanger. Can you assume that now Jimmy's hands are really gone? And how will he survive?
When I read that episode I was like, "Wait, he has no hands. We still have more episodes! What do you mean he has no hands?" I was on the edge of my seat waiting for the next script being like, What is going to happen?
I want to ask you about our theory about all of the American Horror Story seasons being connected. Ryan Murphy confirmed it. One of the theories we have involves Madison [her character from Coven], and I was curious what you thought.
Tell me.
So Madison's last name was Montgomery in Coven and in Murder House. We suspect she's a descendent of Charles and Nora from Murder House.
Oh my God, I just got chills. I never even thought of that.
And that she has magical powers because of the house.
That is really cool. I'm on the show and I didn't even think of that. I have been keeping an eye out for clues and I've got nothing!
Well, tell Murphy that we're onto him.
You know, I don't even know what next season is going to be. I keep asking him and he is like, "I don't know." I was like, "You know. Tell me, tell me right now! I have to know."
Are you planning on doing the next one?
I mean I'm hoping after Scream Queens I'll be able to do a couple episodes. I would love to play any kind of character Ryan Murphy writes because it is always going to be interesting and original.
He has to put you on Glee in some guest role before it ends. If you had to sing something, what would it be?
I know, right. I'll have to look into my crystal ball and see if that is in my future. When I go to karaoke, I end up deciding on a song for two hours and not singing anything. Actually, I would be thrilled if he decided for me: Ryan, what is my karaoke song?