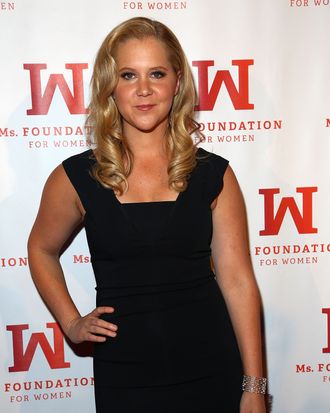 Comedian Amy Schumer performs during One Kid One World's 3rd Annual Night Of (At Least) 18 Laughs at Largo on April 27, 2014 in Los Angeles, California.
Photo: Astrid Stawiarz/2014 Getty Images
After briefly taking over MTV's social-media accounts, comedian Amy Schumer announced (with lots of pictures) Wednesday night that she'll step up as host of the 2015 MTV Movie Awards. "I will carry the audience with me like a Teen Mom #breaktheinternet #breakmywater," she said. The 24th annual telecast, which will feature "exclusive, never-before-seen moments from some of the most highly-anticipated summer films," will air live from L.A. on April 12. Before then, Schumer has asked that everyone prepare by taking the necessary precautions.