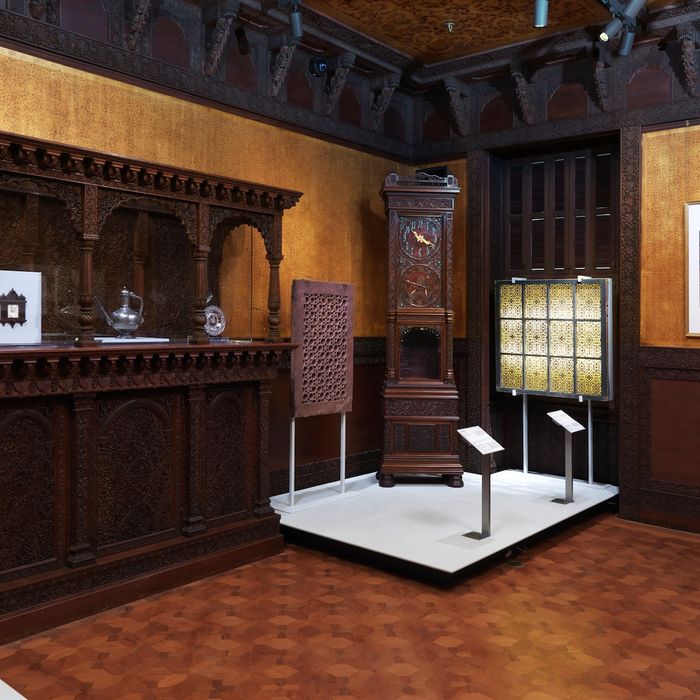 Photo: Courtesy of Cooper Hewitt
Historic renovations often require cranes and concrete; refurbishing the Cooper Hewitt, Smithsonian Design Museum also demanded more sophisticated tools, like Q-tips and distilled water. When the national design museum, a branch of the Smithsonian lodged in the former Carnegie Mansion, reopens on December 12, after $81 million and three fallow years, returning loyalists may have a hard time picking out all the differences. You can't miss the aerodynamic new front desk, designed by Diller Scofidio + Renfro, which looks like it might have been salvaged from the Starship Enterprise. But you'd have to be pretty vigilant to find the wound where workers sliced through an ornate carved-wood wall, backed it with a 2,000-pound steel plate, and mounted it on hinges to create an opening to a hidden freight elevator.
That secret panel is the stuff of stately homes, and the overhaul has preserved the mansion's aura of antique privilege. Workers spiffed up the interior without rendering it gaudy, reproduced the original octagonal parquet pattern in vintage teak, and brought out the elaborate drama of filigreed ceilings. Aside from the obligatory sprinklers and necessary but regrettable track lighting, much of the house looks the same, only livelier. The Lockwood de Forest room, so fantastically, exotically ornate that it could have been whittled by an army of elves, has the oddly vivid look of a dream. Restorers swabbed at it millimeter by millimeter, lifting away a brown crud of cigar smoke, grease, and petrified dandruff. What emerged was a deep mahogany sheen full of shadows and highlights and a pale canvas wall-covering, ornamented with daubs of gold.
The credits on the new Cooper Hewitt (which has dropped its hyphen) resemble the roll call at the end of a major motion picture, and separating out the contributions of, say, Gluckman Mayner Architects from those of Beyer Blinder Belle would require consulting a spreadsheet. Dividing the labor prevented any single design sensibility from taking over, which means that the spirit of Babb, Cook & Willard's original design still predominates. Even so, the galleries grew by 60 percent, largely by taking over the 6,000-square-foot third-floor room that the Carnegie family used as nursery and gym. From a curator's point of view, that space was blessedly dilapidated: no graceful moldings or elaborate plaster ceilings, just an attic to be spiffed up into a neutral loft. A room with personality gets in the way of the exhibits.
But if the renovation preserved the Cooper Hewitt's physical integrity, the relaunch has provoked some soulful reinvention. A design museum is also necessarily a technology showcase. The opening exhibits include a space suit, a flying robotic bumblebee, Michael Eden's 3-D-printed vase made out of chlorophyll-colored nylon, and a scale model of a giant tunnel-boring machine. Until now, high-tech artifacts always seemed slightly out of place in the hand-tooled Beaux-Arts interiors, whose stunning effects were achieved by wrecking countless fingers, eyes, and lungs. Now the museum has transposed this analog detail into the digital world by commissioning a 3-D digital scan of the entire mansion, making the data available free and inviting the public to manipulate it at will. Care to shoot a CGI movie in Andrew Carnegie's bedroom or release Assassin's Creed: The Robber Baron Edition, or produce a buildable miniature mansion? Knock yourself out.
To update the physical experience, the Cooper Hewitt hired the interactive design firm Local Projects, which imported the touch-screen aesthetic into a don't-touch museum. In the Immersion Room, visitors can tap on a digital swatch from the wallpaper collection and see it instantly projected on two adjoining walls, which would be a useful feature in a home-decorating superstore. In the next few months, the museum will start equipping each visitor with an electronic pen. Point the breadstick-size gizmo at a wall label, and the object gets added to a personalized online album — essentially, a shopping cart of items you can't buy.
The old Cooper Hewitt treated design as a repertoire of collectible objects. The new one finds that merely looking at things is a hopelessly passive way of experiencing the world. The touch-screen tables offer visitors a closer virtual look at the museum's hidden treasures, which means that you can stand in front of a display case and see all that isn't in it. The wired Cooper Hewitt is awash in narratives, so visitors can follow the curator's thinking in the handsome new display cases, or they can bounce around a free-associative flow chart, hopping among objects that are subliminally connected by being mauve, or patterned, or sinuous. The screens expand the physical space, allow viewers to make connections between disparate objects — and at the same time undermine the story that the curators have chosen to tell. Surrounding a show with other alternatives is like serving a home-cooked meal and laying a takeout menu at each place setting, or bringing an entourage on your honeymoon. It keeps options open, softens the finality of every decision, and puts the onus on the viewer — or the interactor — to navigate the sea of marginalia.
I rebel at all this programmed interaction, this dust storm of distractions. A traditional museum show is like a story, a speech, or a proposition. Once you've experienced it as the author intended, you can like it or not, accept its argument or not — maybe even rewrite and rearrange it in your mind. This does not make it a passive experience. To me, these internal responses to a fixed narrative represent a higher form of interactivity than the ability to swipe, drag, click, and move on. Freedom is a marvelous goal, but at least in a museum setting, I would like the option not to have options.