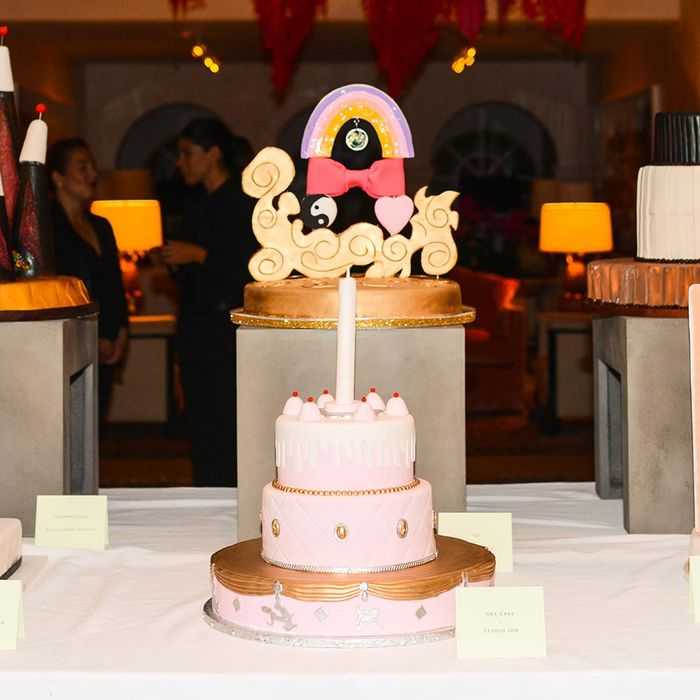 Cakes at the Pin-Up Magazine party at Casa Claridge
Photo: Madison McGaw/BFAnyc.com/BFA NYC
The first night of Art Basel's glittering subtropical satellite does not, as a general rule, pack quite the same punch as the manic evenings that follow. (There isn't even an official "first night" as such: There's just Monday, after the holiday weekend and before the previews start in earnest.) Fresh-off-the-flight art freaks and journalists tried to find some semblance of action yesterday, starting in the Design District, where a tour of the recently fabbed-up neighborhood — replete with high-end fashion retailers absent only a year ago — spotlighted a new installation by artist Paula Crown in collaboration with Theaster Gates, a hulking piece of reclaimed wood atop an artificial floor of triangular wedges titled Transposition. The piece was inspired by sketches Crown made during a helicopter tour of the mountainous interior of South Africa, bumping along at high altitude with an air-sick child in the rear, a few pens, and a pad of sketch paper. "I had these drawings which had some really interesting features, and I tore them out of the notebook," explained Crown. "I wanted to explore them. People have noted my curiosity about actually 'diving in deep,' dimensionally, into my drawings. So I started a process of magnifying them and magnifying them at high resolution." The sculptural ensemble was the three-dimensional rendering of those blown-up ink marks; how precisely such an installation ranked as "sight specific" was unclear, given its odd locale sandwiched between a soon-to-be Tom Ford boutique and a still-vacant lot, but it certainly was impressive. You might not be able to bring Muhammad to the mountains, but apparently you can bring the mountains to Miami.
Next on the thin-by-Basel-standards itinerary was a pop-up opening, under the auspices of local gallery Spinello Projects, for a new exhibition of the work of painter Kris Knight. The artist got a rather unexpected boost last year when Gucci creative director Frida Giannini cited his subdued, washed-out pastel portraits as an inspiration for her recent collection; the Canadian painter and the Italian fashion doyenne have gone on to forge a fruitful creative partnership, including a new interpretation of the brand's well-known Flora print pattern. Smell the Magic, as the Miami show is called, is a further extension of the Gucci-Knight collaboration, and Giannini was on hand to fete her friend in the Design District space alongside notables like Harper's Bazaar editor-in-chief Glenda Bailey and artist (and sometime Pharrell collaborator) Daniel Arsham. "I wanted to work with Kris because he has great quality as a painter at mixing colors and shades," said Giannini, though if there was anything in particular that drew her to Knight's demur, young male subjects — Kehinde Wylie heroes, touched up by Watteau – she didn't quite say. Knight, on the other, hand, seemed to have a very good idea: The work in the show "is about being a wallflower," he said. His figures are textile patterns in human form, literal fashion plates.
Fittingly perhaps, the show was mercifully un-packed, but the relative quietude of Basel Monday came to an abrupt end a couple of hours later at the Casa Claridge. There, Pin-Up Magazine, a surprisingly racy architecture zine with its tongue ensconced rather firmly in its cheek, hosted a pastry-themed party catered by Manhattan design retailer Chamber, who furnished towering cakes in the form of well-known skyscrapers as even more familiar phallic symbols. With attendees like Argentine developer Alan Faena — the inventor of urban-gaucho chic — and Dutch designer Marcel Wanders, the event managed to be a first-night party that didn't feel like a first-night party. Pin-Up founder (and former Butt editor) Felix Burrichter said his secret was simple: "Everybody loves dessert," he explained. "Which is funny, because I hate it." By evening's end, he was about the only person not elbowing their way toward a plate, pushing through the madding crowd that suddenly, jarringly, felt just like Art Basel.