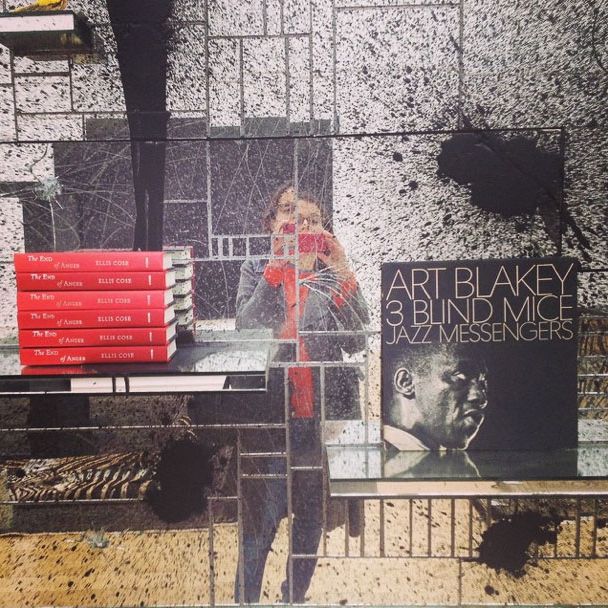 Sarah Thornton taking a selfie in front of a work by Rashid Johnson. Via Sarah Thornton's instagram feed, @eyesthornton.
Photo: via Sarah Thornton's instagram feed @eyesthornton
In her sharp art-world ethnography, 33 Artists in 3 Acts, published last month, Sarah Thornton, who previously wrote Seven Days in the Art World, continues her behind-the-scenes tour with a series of encounters and interviews with artists. Each conversation orbits a central, purposely naïve question: "What is an artist?"  She also took a bunch of pictures along the way, which she captioned for us.
In Wangechi Mutu's mother tongue, Kikuyu, there is no word for artist. The closest term is something like "magician," or, as the Kenyan-born, Brooklyn-based artist explains, "a person who uses objects and imbues them with meaning and power."
Ai Weiwei and I discuss the reaction to his Hirshhorn show over Skype. Ai experiences "no conscious difference" between being an artist and an activist. When confronted with the distinction between "great art" and "great use of the role of the artist," Ai rolls his eyes. "Art always has uses," he declares. "It is as if art were supposed to be irresponsible."
Cindy Sherman has been taking photographs of herself by herself for almost 35 years. She does all her own makeup and lighting. She once tried hiring models, but it didn't work. She so loathes delegating that she doesn't even allow her part-time assistant to help her organize her cupboards.
Sherman's studio is a teenage girl's fantasy. The main room is a large rectangle with ninth-floor views on three sides, featuring mannequin heads wearing wigs, racks of glittery clothes, and an orange-plastic cosmetics cabinet crowned with a magnifying mirror. It is dress-up heaven with a professional twist.
Yayoi Kusama, the world's most expensive living female artist, lives in an asylum across the street from her studio. "Death is just around the corner and I am not yet sure I am a great artist," she told me. "That is why I am absorbed in painting."
Jennifer Dalton's How Do Artists Live? (2006) is a series of 21 drawings, based on responses from 856 artists, collected mostly via the internet. "Will having children hurt my art career?" The graph shows that men with children are twice as likely to have gallery representation than men without. The bulging bar of the artist-fathers is almost phallic. "I think it sticks out like a middle finger," says Dalton.
"Great artists result from the sacrifices that you make to your personal life," says Marina Abramovic as she makes me gazpacho.  A woman, she claims, has to be like a man to be an artist. "One of the reasons why there are fewer women artists than men is because women don't want to sacrifice their main function to reproduce, to have a family, and the comforts of everyday life."
"The only true narrative," says Jeff Koons, "is the biological narrative." Here the artist poses with his wife Justine and five of his eight children, outside his retrospective in Frankfurt, which debuted Balloon Venus and Metallic Venus.
Maurizio Cattelan, Laurie Simmons, and Carroll Dunham with my daughter Cora at the Venice Biennale. "When you are younger, you think about eradicating self-doubt," explains Simmons. "But as you age, you understand that it is part of the rhythm of being an artist. As I get older, I have developed my ability to examine self-doubt in private, to play around with it rather than push it away."
"When I was little, I thought the New York art world was everything," says Lena Dunham. "I can't remember a time when I wasn't aware of the mechanics." Until the age of 8, Dunham wanted to be an artist. "I thought that was what people's jobs were, and I thought it was cool to be the same thing as your parents."
"Coolness is the enemy of creativity," says Grayson Perry, best known in Britain as a "transvestite potter." "Duchamp didn't choose a ceramic knickknack off his aunt's mantelpiece, but [a urinal] from a plumbing supply shop. Conceptually, the readymade gesture would have been the same, but the cultural connotations were different." Here, my son Otto, Perry, and I pose for the camera just before taking the stage at the Tate Modern in London.
Jeff Koons in conversation with Damien Hirst in Doha, Qatar. The two artists have known each other for years and share market intelligence. When the men finally part, Hirst strolls over to me and quips, "Who was that artist I was talking to?"
Isaac Julien and I in conversation at the London Review Bookshop. "I went to the opera recently," says Julien. "All evening, I watched the conductor directing all the elements, and I kept thinking, that's what I do. An artist is the person that holds things together. He may have original ideas, but he also needs the wherewithal to realize them."