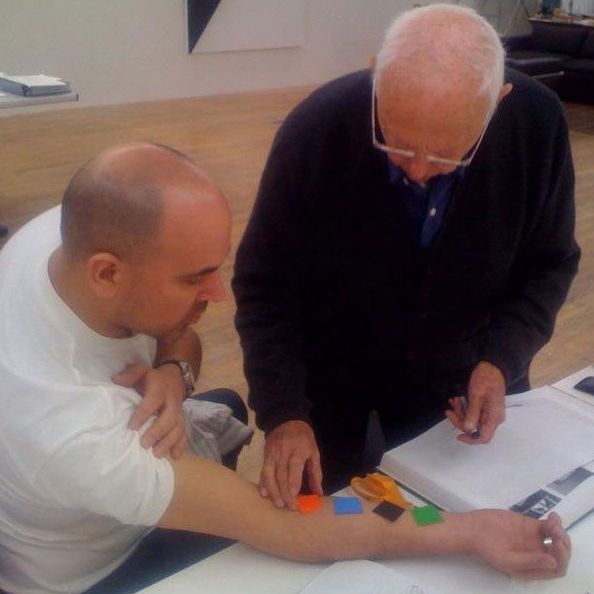 Photo: Courtesy of Ellsworth Kelly and Carter Foster
What was "the first art"? Music? Early humans humming, clucking, and sounding in scales and patterns? Maybe. But my bias makes me vote for drawing. Not just in sand and on trees and walls. But on ourselves. Body adornment and markings must have come early — scarring, scraping, and tattoos of all kinds. Tattoos are primitive, private public advertisements of self, secrets kept from the world and hinted at for all to see, signs with significance for the wearer and sometimes the world, all worn to the grave. Tattoos are tribal, cryptic, sexy, scary, or stupid. Nowadays they're all but de rigueur for a generation or two.
I love looking at them. It's like a walking museum. Although, most tattoos strike me as pretty generic with styles, colors, subject matters, scale, and placement all falling within fairly narrow parameters. This is fine. But I bristle a bit at all of them being called art. What I love most are those people who for whatever reason or calling are so moved by an actual known work of art that they appropriate this work of art and reproduce it forever on their own body. That strikes me as more than fandom and something like real art. So, a month ago I took to Twitter, Instagram, and Facebook, asking people to send in pictures of their tattoos of reproductions of actual works of art. We got hundreds of images — amazing pictures on all parts of the body. There's a definite canon out there. Pop Art is all the rage; Klimt is big; so is Dalí, Frida Kahlo, Degas, Dürer, and Picasso — every period of Picasso. Ditto Matisse and van Gogh. I love that there are a lot of Bosh tats out there, more than a few Duchamps, and some wonderful cave paintings. Take a trip with these 40 pictures and glean the tip of this skin-deep iceberg. Above is the legendary Ellsworth Kelly working out his tattoo design on Carter Foster's forearm. Kelly gave Foster's tattoo, executed by Scott Campbell, an inventory number and considers it one of his works of art. And do send your own pictures to tattoo@nymag.com.