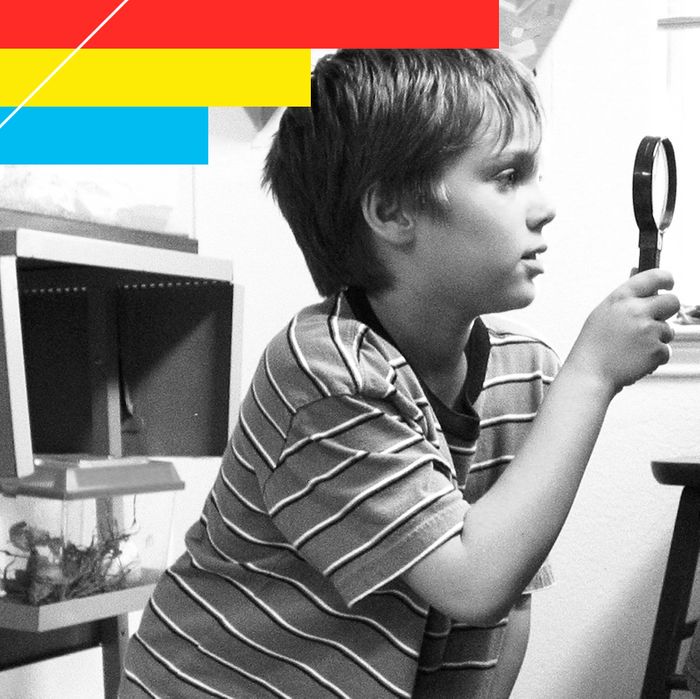 Photo: Maya Robinson and Photo IFC Films
This week, Vulture will be publishing our critics' year-end lists.
1. Boyhood
In this year, in which time weighs more and more heavily on our collective way of life — and our planet — Richard Linklater has created a film that makes time visible. He began with what sounds like just a gimmick: to shoot actor Ellar Coltrane in intervals over 12 years, beginning when Coltrane's character is 6 and ending on the far side of puberty. But the result feels like no other film. We're used to time in cinema being relative, easily manipulated. Here, as we scan Coltrane's face and body for changes, we come to think of each moment as fleeting, irrecoverable, and so, infinitely precious. Along the way, Boyhood touches on fatherhood and motherhood, on men who indulge themselves, who are allowed to remain boys into adulthood, while women bear the ultimate responsibility for parenting — and so, in the end, feel as if time has wasted them. However much Linklater mapped out at the project's inception, he clearly watched his actors (among them the extraordinary Patricia Arquette and Ethan Hawke as the boy's parents) along with his own life and let many of the details find him. Boyhood breathes. Read the full review.
2. Selma
Yes, we need it now. Ava DuVernay's drama has sweep and intimacy — it turns on Martin Luther King Jr. (David Oyelowo, in the male performance of the year) and his attempt to penetrate the stubborn wall around Lyndon Johnson (Tom Wilkinson). The sad but stark truth is that King's leadership puts the essential passivity of the current administration to shame.
3. The Babadook
Jennifer Kent's phenomenally expressive Aussie chiller (a first feature!) centers on a widowed mother (the amazingly vivid Essie Davis), her fragile 7-year-old son, and a demon out of a twisted bedtime story — literally, since it announces its presence in a rhyming, black-and-white pop-up book that appears on the boy's shelf. But it doesn't take long to realize that Kent isn't terribly interested in the Babadook as anything but the manifestation of a mother's psyche in crisis. Read the full review.
4. Whiplash
The title is dead right. Damien Chazelle's jazz drama is sizzling, smashing, gut-twisting — it gets in your bloodstream. The excellent Miles Teller is the drummer enrolled in a pressure-cooker NYC music school, J.K. Simmons the abusive, borderline-psychotic bandleader who behaves as if music school is the Marines. Does Chazelle mean to vindicate the methods of this teacher, as monstrous as he is? It's not that simple. But we can argue about it forever. Read the full review.
5. Tales of the Grim Sleeper
Nick Broomfield's incendiary doc centers on a South Central Los Angeles serial killer who murdered as many as 100 women in three decades. It's a portrait of a ravaged community in which some abetted the killer, some looked the other way, and some stood helplessly by. Driving around in the company of residents (some crack addicts, some ex-prostitutes, some homeless), Broomfield finds out more in days than the LAPD did in 25 years.
6. Only Lovers Left Alive
Are vampires (Tilda Swinton, Tom Hiddleston) — deadpan undead hipsters — the ultimate Jim Jarmusch characters? They're in Detroit, a decaying city where the underground music scene thrives and they don't look a bit out of place. Underneath the self-satire, Jarmusch is deadly serious. This is a culturally, economically, environmentally poisoned world.  So the movie is a kind of funeral service for outsider artists of his ilk. Read the full review.
7. Citizenfour
An avant-garde, paranoid conspiracy thriller that's real. You are there, in the room, as NSA contractor Edward Snowden turns over thousands of pages of classified documents to journalist Glenn Greenwald and filmmaker Laura Poitras. You might have issues with Poitras's unquestioning acceptance of Snowden, but not with this portrait of a technological infrastructure unprecedented in its ability to monitor everyone in the world. Read the full review.
8. Mr. Turner
Mike Leigh's marvelously suggestive biography is J.M.W. Turner by way of Hogarth — it's both lyrical and punchy. The compulsiveness is there — Turner troops around England, working to capture the ineffable quality of light and sea — and so is the ineffability of personality. The connection between the artist and the art is tantalizingly irreducible. As Turner, Timothy Spall is a grunter of genius.
9. Two Days, One Night
The Dardennes brothers' latest triumph, another sui generis drama in which a desperate woman (Marion Cotillard, looking like a nonactress in the best, Dardennesian sense) coming out of a prostrating depression trudges into the lives of 15 co-workers to pose a question: Will they forsake a bonus so that she can keep her job? That the workers are even placed in this position seems like capitalism's ultimate betrayal, once more pitting worker against worker. But as usual, a spirit of compassion permeates all. It's more in sorrow than in anger.
10. The Immigrant
Marion Cotillard is now the best leading film actress in the world, and she's close to her peak in James Gray's moody drama about a young Polish woman who arrives at Ellis Island in 1921 alongside her sister, who's promptly quarantined, and falls in with Joaquin Phoenix as an unscrupulous jack-of-all-sleazy-trades. The images are suitable for framing, but the feel of the movie is messy, modern, psychological; it's thick with melancholy and moral ambivalence. Read the full review.
11. The Overnighters
Jesse Moss's sorrowful, penetrating doc proves that in this culture, no good Christian deed goes unpunished. Jay Reinke is the pastor who fights for housing for the itinerant workers who flood Williston, North Dakota. Some of them are indeed unsavory and potentially dangerous, but the shitstorm that follows will make you feel the milk of human kindness has dried up at the teat.
Plus:
Tommy Lee Jones gets points for weirdness for the tonally chaotic and oddly moving The Homesman. Jon Stewart made an impressive directorial debut with Rosewater. The Hunger Games: Mockingjay — Part 1 is the best of the blockbusters — a bleak war film and witty, self-mocking essay in how to promote a heroine.
Eddie Redmayne and Benedict Cumberbatch in two biopics, The Theory of Everything and The Imitation Game. Alfred Molina and John Lithgow in the lovely Love Is Strange. John Hawkes as a junkie musician and father in the too-little-seen Low Down. Minnie Driver rocked Beyond the Lights as an abrasive showbiz mom. And I shock myself to say it, BEN AFFLECK.
*This is an extended version of an article that appears in the December 15, 2014 issue of New York Magazine.