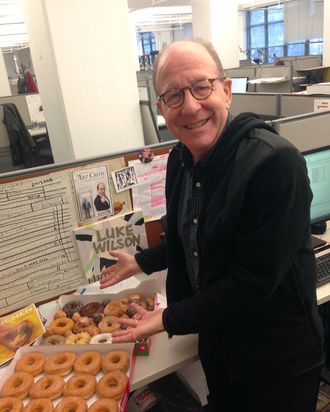 Jerry preparing his daily Dunkin' Donuts offering for the 'New York' Magazine staff.
In case you missed yesterday's chat on Facebook, below is a recap of the highlights. Our senior art critic shared everything from his favorite (of this very moment) emerging artists to why he brings doughnuts to the office to the disagreements he and Roberta have had over art. We wish Jerry could answer your questions all day, and he wishes so, too, he says — if only someone would pay him. Until then, you'll just have to find him here on SEEN (and in the magazine).
On his trip to Kmart this past Black Friday:
Regarding the Nicki Minaj leopard-print jeans: I bought two jackets at Kmart that day — Black Friday — total purchase = $49. But Roberta put her foot down at the Nicki Minaj pants with chains printed on them.
On disagreements he and his wife, art critic for the Times Roberta Smith, have had in the past:
As anyone who is reading this knows, Roberta is the better critic. She is the real deal — in my opinion, the best critic writing today. I love my work. But I think of myself as a folk-critic. We disagree often. One memorable case was in 1990, in a group show, in a now-defunct gallery. I was watching a video of a young man crawl up a rope to the ceiling and then down to the floor, putting daubs of Vaseline into all of the orifices of his body. I looked at the work of this unknown artist, named Matthew Barney, agog, saying to Roberta, "This is one of art's futures." She said to me, "It's too male." And that was that.
On the best bathrooms you can find in Chelsea's galleries:
That huge building at 508 West 26th Street, with dozens of galleries, has four bathrooms on every floor, each with a lock. Amen, that. Not surprisingly, the bathrooms at Larry Gagosian's various Niketown-size spaces have killer bathrooms (that most of you will never see, haha).
On his favorite works of art at the Met:
For me, the Met is the greatest encyclopedic museum of art in the world (sorry, Louvre — it's impossible to navigate your underground galleries at this point — change, please). As with you, my faves change all the time, but I always return to a few old-faithfuls: A late-14th-century Ethiopian Illuminated Gospel. There's the awesome painted Pompei bedroom, with perfect one-point perspective, made 1,400 years before Alberti supposedly invented it in 1414. Giovanni di Paolo's Creation of the Universe is the most beautiful painting in New York. At least today.
On why he brings doughnuts to the office:
Yes, I bring doughnuts every day to New York Magazine. I have two dozen doughnuts at my desk right now. But my weakness is cashew nuts, and no one ever brings them.
On the genius of social media:
Social media changed my work; it changed my life. Instead of a critic writing from the top of a pyramid to the base, as the one to the many, social media allows the many to speak to one another. The key is, can we do this coherently and with a minimum of rancor? Just the fact that I know your work today is proof that social media is doing something, whatever it is, in the art world.
On why Jon's friend is wrong about the Impressionists:
Your friend is a moron, Jon. Monet may have painted more masterpieces than anyone in the history of art. Think about what Impressionism did: It made every part of the graphic field equally important — it allowed viewers to see paint strokes and subject matter simultaneously, and it helped shatter 400 years of tyrannical single-point Western perspective (a system never used in Asia, Africa, or South America, and looked down upon by the Greeks, Romans, and Egyptians). Tell that to your Cro-Magnon friend. And tell him he need never look at an Impressionist painting again, as it is of no use to him (or her).
On what makes a good critic:
1) Write in English that everyone can understand. 2) Don't only describe. Describe and judge. Describe and judge. 3) Don't hide your opinion in one word in the middle of the last paragraph. 4) Please use the artist's name within the first three sentences. If you do not, you are only throat-clearing. 5) Look a lot. Look at everything. Bad art teaches you as much as good art. 6) Repeat step one for the rest of your life.
And on what will make you a good artist:
Make an enemy of envy and cynicism. Grow up. Stop feeling deprived. You will never have enough money. You will never get enough love. In your work, this will be your character. Work comes from work. Only work. Beyond that, I look for obsession, energy, and the willingness to fail flamboyantly. Again, grow up. Get to work like all of us.
And if Jerry could be a kitchen appliance, this is what he would be:
I would be a straw. I drink your art milk shake. There will be criticism.