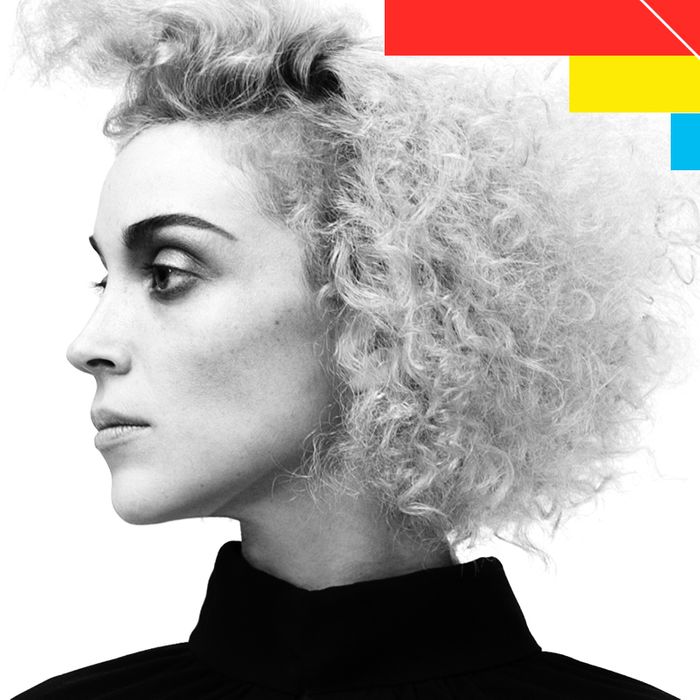 Photo: Maya Robinson and Photo by Renata Raksha
This week, Vulture will be publishing our critics' year-end lists.
1. Frankie Cosmos, Zentropy
Modern life is a shouting match. This isn't exactly news, of course, but something about 2014 felt like a breaking point — the year society's collective caps-lock button got jammed. In times like this, it seems as if the only ones we can trust are the lowercase people, like the humble but devastatingly sharp 20-year-old songwriter Greta Kline. A kind of teen-girl Ziggy Stardust, the Manhattan-bred Kline goes by the sardonically grand stage name Frankie Cosmos, and the ten songs on her first proper album, Zentropy (following years of self-recorded demos you can still peruse on her Bandcamp page), are highly articulate mumbles. When she plays live, she closes her squinted eyes tight, as if she were trying to disappear inside of herself; her drummer-boyfriend Aaron Maine (stage name: Ronnie Ronaldo, a.k.a. Ronnie Mystery) sometimes sounds like he has fallen asleep between drumbeats. But these are compliments: Its shrugging, anti-virtuosic quality makes Zentropy (run time: 17 minutes) easier to love than records campaigning much harder for your attention. The chiming, minute-long "Birthday Song" spent more time stuck in my head this year than the Katy Perry single of the same name; "Sad 2" is the wryest, most poignant breakup song I've heard in ages, even though it is about not a person but a dead dog named Joe ("I made the appointment to kill my best friend / There goes my fear of death"). Zentropy is a melodic reminder that the wisest, wittiest person in the room is rarely the loudest one but instead that unassuming girl in the corner, grinning contentedly at her untied shoes.
2. Run the Jewels, Run the Jewels 2
The year's best buddy comedy is also the year's smartest political thriller — and also the year's best rap album. Atlanta's Killer Mike and Brooklyn's El-P once again join forces for the sequel to their 2013 debut as Run the Jewels, and they once again prove themselves welcome voices of sanity in a mixed-up world. Killer Mike–El-P '16?
3. St. Vincent, St. Vincent
On her fourth album, punctilious guitar hero Annie Clark fashioned herself into a kind of cult leader and laid out plenty of reasons to follow wherever she's headed. Nobody else out there right now sounds quite like this: glacéed, diamond-cut melodies interrupted by gnarled, blurted solos. All hail.
4. Angel Olsen, Burn Your Fire for No Witness
The great second album from Missouri-born folkie Angel Olsen is like a séance with her kindred spirits: She ambles like Leonard Cohen, whimpers like Hank Williams, and warbles like Roy Orbison, but somewhere in the process she claims her own spot in the firmament of haunted dreamers.
5. Perfume Genius, Too Bright
"No family is safe when I sashay," Mike Hadreas declares on the bold, scorching single "Queen" — easily one of the most quotable lines of the year. Helmed by Hadreas's compelling, defiantly trembling voice, Too Bright moves fluidly between moments of aching beauty and darkly glittering macabre.
6. Lana Del Rey, Ultraviolence
On her billowing, bizarre, and triumphantly unnerving second full-length album, elusive chanteuse Lana Del Rey is here to remind us that the American Dream, fully realized, is actually a nightmare. "I got your Bible and your gun," she taunts in a cocksure Marlboro croak. Sleep with one eye open, America.
7. Todd Terje, It's Album Time
Norwegian DJ and producer Todd Terje has a great sense of humor. It's evident in his song titles, his album covers, and even his music itself — from the irresistible leisure-suit schmaltz of "Preben Goes to Acapulco" to the burbling neo-disco tune "Inspector Norse." Modern dance music sometimes has a tendency to be pursed-lipped and self-serious, but, refreshingly, Terje's compositions are alive with goofy joy.
8. Perfect Pussy, Say Yes to Love
This is what it would sound like if Joan of Arc's last request was not to give a speech but to cover a Sonic Youth song. A blistering half-hour of squalling noise and hard-won, almost-drowned-out koans about sex, love, and the audacity of staying alive.
9. Jessie Ware, Tough Love
Shimmering, Sade-slick torch songs from the British pop singer who, in a just world, would be even bigger than Sam Smith. More accessible than her glitchy-cool (but still great) debut, Devotion, Tough Love finds collaborators like Miguel, Ed Sheeran, and Dev Hynes pushing her sound in satisfying new directions.
10. Aphex Twin, Syro
After a 13-year absence, electronic-music pioneer Richard D. James (who's inspired the likes of Radiohead and Daft Punk) is back to show the kids how it's done. Listening to Syro is like getting lost in a black-lit fun house operated by possibly diabolical cyborg carnies. Well worth the wait.
11. Jenny Lewis, The Voyager
The whip-smart travelogue of a bruised but obstinately still-beating heart.
12. One Direction, Four
Effective trick for converting skeptics into Directioners: Tell them "Fireproof" is a Fleetwood Mac cover; the second it's won them over, yell, "Just kidding!"
13. Mary J. Blige, The London Sessions
The Queen of Hip-Hop Soul does mid-career reinvention right.
14. The Hotelier, Home, Like No Place Is There
Hoarse-throated, sharply observed, scream-yourself-clean rock 'n' roll.
15. FKA twigs, LP1
Future sex/love sounds. Recommended if you're trying to seduce a cyborg.
16. A Sunny Day in Glasgow, Sea When Absent
If members of your high-school glee club had a secret punk band on the side, it would have sounded something like this.
17. Young Thug & Bloody Jay, Black Portland
Hip-hop's most exciting new weirdo lets his freak flag fly (high).
18. Sharon Van Etten, Are We There
Subtly devastating songs of heartbreak and resilience from the cindery-voiced Brooklyn singer/songwriter.
19. Spoon, They Want My Soul
On their eighth studio album, indie rock's most consistent band once again make excellence seem effortless.
20. Parquet Courts, Sunbathing Animal
Hyperliterate Brooklyn wise-guys discover Blonde on Blonde, start writing gorgeous seven-minute slow-burners like "Instant Disassembly."
21. Azealia Banks, Broke With Expensive Taste
The Chinese Democracy of the Tumblr set finally arrives, silences the naysayers by being a lot better than expected.
22. Ariana Grande, My Everything
The Artist Formerly Known As Baby Mariah enlists a motley cast of collaborators to help her break free of that tween-star past.
23. Bitchin' Bajas, Bitchin' Bajas
Soothing, celestial-Eno vibes to quell the nerves and clear the mind.
24. YG, My Krazy Life
The debut from Compton rapper YG is a showcase not only for his knotty, psychologically dense rhymes, but also for the featherlight touch of producer of the moment DJ Mustard.
25. Ex Hex, Rips
Stomping, retro-tinged power-pop from a D.C. trio fronted by legendary guitar sorceress Mary Timony.
26. Mr. Twin Sister, Mr. Twin Sister
New Age–y, vaguely Lynchian minimalist disco recorded at a party you were not cool enough to get invited to.
27. Tinashe, Aquarius
R&B newcomer rejects predictable song structures in favor of sultry ambiance.
28. Grouper, Ruins
Liz Harris's wispy, piano-based reveries are the sonic equivalent of a crackling fireplace on a chilly day.
29. Lykke Li, I Never Learn
Representative titles from this album of sumptuously sad Swedish pop: "Sleeping Alone," "Never Gonna Love Again," and, triumphantly, "Heart of Steel."
30. Girlpool, Girlpool EP
Off-kilter harmonies and fractured feminist fairy-tales from two viciously sassy L.A. besties.
31. Isaiah Rashad, Civilia Demo
Kendrick Lamar labelmate/kindred spirit hones Da Art of Storytellin' on his debut EP.
32. Chumped, Teenage Retirement
Feedback-scorched dispatches from those years (decades?) between graduation and getting your shit together.
*This is an extended version of an article that appears in the December 15, 2014 issue of New York Magazine.