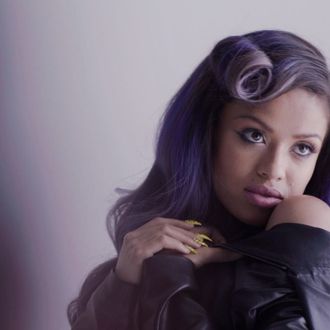 Gugu Mbatha-Raw.
Photo: Blackbird Productions
In a blog post on the Huffington Post called "Why I Make the Movies I Make," writer-director Gina Prince-Bythewood defends her film Beyond the Lights, this year's much-underlooked critical darling, which seemed to delight everyone who saw it but unfortunately was not seen by many. What's most interesting about Prince-Bythewood's plea is her focus on the industry, one that consistently offers her work but doubts her own creative decision-making:
I love movies. And I dig a great love story; the kind that wrecks me, then builds me back up and leaves me inspired. I write what I want to see. I wanted to make a love story with two people of color in the lead. Not a romantic comedy. A love story. Beyond the Lights took incredible fight to get made. Four years of writing, and two years of overcoming "no." Every studio balked. Twice. But I kept fighting. What gave me the courage was Love & Basketball. Every studio turned down that film, too. But I never gave up because I believed in it with my whole heart and soul. I had the same passion for this story. People ask me all the time if I feel discriminated against as a black female director and I actually don't. I get offered a ton of stuff. But I like to direct what I've written. I feel what's discriminated against are my choices, which is to focus on people of color as real people. Those are the films that rarely get made and those are the films that take a lot more fight. But I'm up for the fight, because if we don't fight for this we stay invisible. I want us to look up on the screen and see ourselves reflected beautifully. I want us to look up on screen and learn how to love the right way. I want us to look up on screen and see a black man who is strong, sexy, complicated, and real. I want us to look up on screen and see a black woman fighting to find her voice, find her authentic self and be brave enough to live an authentic life. I want us to look up on screen and be inspired to want more for ourselves, to want to love, and to love ourselves.