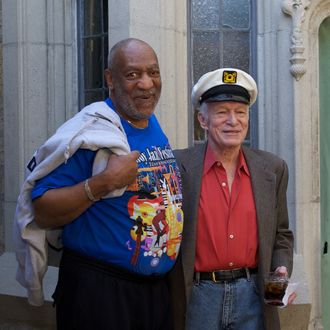 Photo: Earl Gibson III/2011 Earl Gibson III
A Las Vegas model has come forward as the most recent woman to accuse Bill Cosby of a sexual assault, telling the Daily Mail the comedian drugged her and took advantage of her roughly six years ago at the Playboy Mansion. Chloe Goins, 24, alleges she fell prey to Cosby in 2008, meaning her claim falls within the statute of limitations for prosecution in California. According to her story, a friend invited Goins to one of Hugh Hefner's summer parties in L.A. The two were reportedly excited to meet Hefner, as they were both wannabe-Playboy models at the time.
Goins, then 18, says she thought drinking was going to be off limits because of her age — security checked their I.D.s at the door. But after Goins and her friend were admitted, they were quickly introduced to both Hefner and Cosby, and they soon found drinks in their hands. The vodka mixer she had didn't taste spiked, just strong. She says:
Everything kind of went a little foggy, I started feeling sick to my stomach, and just dizzy … I started telling my friend and I was like where's the bathroom, but I could tell my friend just wanted to hang out, we were still talking to Hef … Then Bill offered to show me the room, he said he knew the way. He seemed nice and I don't remember feeling nervous or that it was weird … He had his arm around me to show me the way and I did notice he had been paying me a little more attention than my friend, but never thought anything of it.
After blacking out, Goins claims she came to after someone bit down on one of her toes. She alleges she then saw Cosby hunched over her, licking her other toes and playing with himself. A lawyer told the Daily Mail Goins has made contact with the LAPD and will likely give detectives a statement in the near future. These most recent allegations come on the same day that Spelman College dropped its endowed professor position named after the comedian, and that Cosby's wife, Camille, broke her silence.  She said:
The man I met and fell in love with, and whom I continue to love, is the man you all knew through his work … A different man has been portrayed in the media over the last two months. It is the portrait of a man I do not know. It is also a portrait painted by individuals and organizations whom many in the media have given a pass. There appears to be no vetting of my husband's accusers before stories are published or aired.
Police opened an investigation into Cosby almost two weeks ago, after accusations surfaced saying he had allegedly molested a girl when she was 15 years old. The LAPD said that it was planning on searching Hefner's L.A. estate as one place for potential evidence, and that it will take any filed complaints seriously.