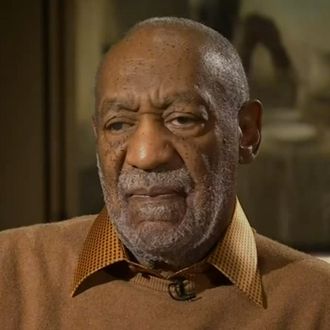 Bill Cosby, via his attorney Martin Singer, has begun firing back at the woman who accused him of molesting her when she was 15 years old. Singer, according to Variety, said that Judy Huth tried to blackmail the comedian before suing him earlier this week and that her case should be disregarded because it wasn't filed properly.
Cosby and his lawyer filed a notice of demurrer Thursday to get the suit dismissed and to levy monetary sanctions against Huth and her lawyer. In the filing, Singer shot down the abuse claims and alleged that the accuser, now in her 50s, tried to siphon off as much as $250,000 from Cosby:
Plaintiff Judy Huth filed a meritless and unsupported 40-year-old claim against Bill Cosby alleging decades-old sexual abuse immediately after Mr. Cosby rejected plaintiff's outrageous demand for money in order not to make her allegations public. … Recognizing that they committed extortion and could face significant consequences for their conduct, plaintiff's counsel Marc Strecker rushed to the courthouse to file this lawsuit on behalf of his client.
Singer added that Huth and her attorney violated California law by naming Cosby in the suit without the court's permission, reportedly a necessity for claims barred by the statute of limitations (the alleged incident took place in 1974 at the Playboy Mansion). Cosby's lawyers also say Huth and Strecker didn't include the proper medical documents:
Under California law, the only way that an alleged victim of childhood sexual abuse would be able to assert an otherwise time-barred claim is to allege that the psychological injury or illness had been repressed and was only discovered within the last three years. … Without providing any specific allegations, or the mandated certification from a mental health professional to support her claim, plaintiff alleges that she discovered her psychological injuries and illness "within the three years prior to the filing of the complaint." Conspicuously absent from her complaint, however, is the fact, confirmed by plaintiff's counsel, that plaintiff unsuccessfully tried to sell her story to the tabloids nearly a decade ago.
Cosby is demanding $33,000 in compensation from Huth and her lawyer, according to the Guardian, which adds that the U.S. Navy announced today that it is revoking Cosby's title of honorary chief petty officer because of this recent wave of sex-crime allegations. (Cosby served in the Navy for four years and was awarded the title in 2011.) L.A. Police Chief Charlie Beck told reporters Thursday that his department would investigate any reports of abuse — even ones outside the statue of limitations. So far, the department has no ongoing investigations tied to Cosby.
The list of Cosby's accusers has continued to grow this week, but so has the small chorus of people echoing the innocent-until-proven-guilty mantra. CeeLo Green, in a recent video clip posted on TMZ, said Cosby "hadn't said anything, which is, to some, an admission of guilt." Maybe CeeLo isn't the first person you want coming to your defense, but he waxed sincere in the interview: "The facts have to speak the loudest," he added. "I definitely can't judge him, but it's unfortunate because he's so beloved to so many people."