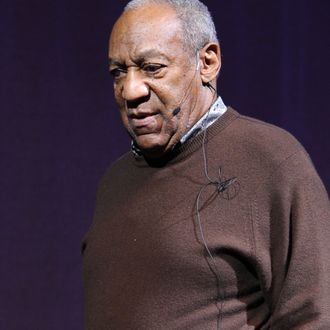 Photo: Splash News/Corbis
Another name has been added to the long list of women who say Bill Cosby sexually abused them — and this one includes the horrible note that the alleged victim was only 15 at the time. The L.A. Times reports that Judy Huth, now 55, is suing the comedian for an underage sexual-assault incident that occurred in 1974. According to the lawsuit filed in L.A. County Superior Court, Huth says she and a 16-year-old friend met Cosby when they wandered onto a movie set in a San Marino park. He invited them to his tennis club one week later and allegedly served them several alcoholic drinks as they played billiards. Then they headed to the Playboy Mansion, where Huth says Cosby molested her.
The girls were reportedly instructed to say they were 19 if "any of the Playboy bunnies asked their age." While at the mansion, Huth claims she emerged from a bathroom to find Cosby sitting on a bed. He asked her to sit next to him and began to "sexually molest her by attempting to put his hand down her pants, and then taking her hand in his hand and performing a sex act on himself without her consent," according to the suit.
The Times points out that under California law, "the most serious of sexual assaults involving minor victims can be charged criminally only when they occurred from 1988 onward." However, Huth suggests the statute of limitations should be waived because she only realized the effect of the assault within the past three years. "This traumatic incident, at such a tender age, has caused psychological damage and mental anguish for (Huth) that has caused significant problems throughout her life," the lawsuit states.
This is the first lawsuit over Cosby's alleged sexual misconduct since he was accused of drugging and groping a Temple University staffer in 2005. That case came to involve similar allegations from 13 other women, but it was settled out of court.
As usual, the man at the middle of the suit has remained silent. While 11 women have gone public with their sexual-abuse claims in recent weeks, Cosby has not been convicted or charged over any of the sex-crime allegations. Several celebrities, including Jill Scott, Raven-Symoné, and Stacey Dash, among others, have stepped forward to underline that fact in Cosby's defense.