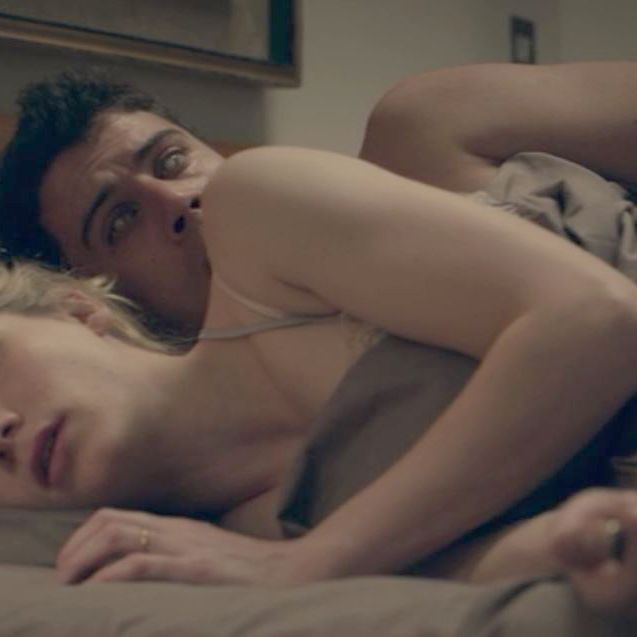 "They're all about the way we live now — and the way we might be living in 10 minutes' time if we're clumsy," said creator Charlie Brooker about his anthology show, Black Mirror. It's been quite a bit longer than ten minutes since the show first aired its second season in 2013, but everyone is once again talking about it now that it's available to stream on Netflix. And rightfully so: Since its debut in 2011, Black Mirror has been the British import that many have raved about despite the fact that it was near-impossible to watch in the U.S. via legal means. Nevertheless, now, with the entirety of seasons one and two easily accessible (and a Jon Hamm–starring Christmas special on the way!), you've likely already added it to your queue.

As an anthology series, each episode of Black Mirror lives on its own, an eerie tone being the only thing that connects all six. Which means you don't have to watch them in any particular order. The show is a great conversation starter, stuffed with big ideas and twisty plots. ("More than a few episodes will require a full, investigative 'What just happened?' recap conversation," writes Grantland's Emily Yoshida.) Here is a rundown of Black Mirror's hot topics, for once you've finished watching.

The Ones About Relationships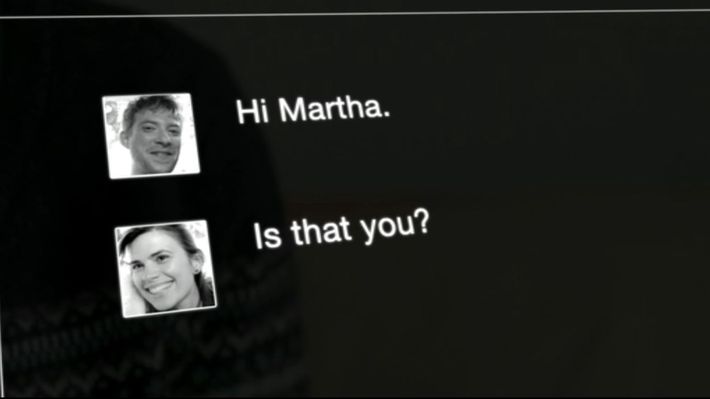 Episode 4: "Be Right Back"
Alternate Title: "Would You Have Sex With a Robot?"
Discussion Points:

"You can't help but be gripped with the unease of wondering how much the black mirrors know about you. If it's enough to resurrect you, how much of your essence have you divested onto the infrastructure?" —Leigh Alexander, BoingBoing

"Why not continue Gchatting and talking on the phone to your heart's content with the one that got away? Why not brew up a doppelgänger of them, even while the genuine article is still alive in the world, off having new experiences and seeing new people? … How will you ever continue with your life if you're not forced to?" —Emily Yoshida, Grantland
"It's a great examination of how much of ourselves we put into our technological creations and online profiles … The crucial question is whether if such technology existed, would it be a good thing?" —Alfred Joyner, International Business Times
Keep an eye out for: Hayley Atwell, who played Captain America's Peggy Carter and will soon play the same role in her own series,  Agent Carter; Domhnall Gleeson, Bill Weasley in Harry Potter, who co-starred in this year's Frank and will appear in next year's Star Wars: Episode VII.

Extra-credit reading and watching: Kazuo Ishiguro's 2005 book Never Let Me Go (and its 2010 Mark Romanek–directed film adaptation); 1972's Solaris (and its 2002 Steven Soderbergh–directed remake); Mary Shelley's Frankenstein; Alfred Hitchcock's Vertigo; Alan Turing's Computing Machinery and Intelligence (and the 2014 film about his life, The Imitation Game).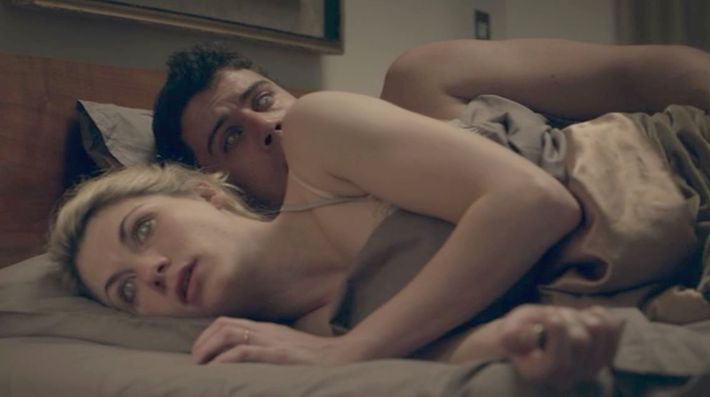 Episode 3: "The Entire History of You"
Alternate Title: "The One Where Google Glass Ruins a Marriage" 
Discussion Points:

"If life-replay technology was available, it asked, could we really be trusted not to drive ourselves mad with it, like poor old Liam? … Black Mirror has reminded us that the power lies with ourselves, every time we fire up our computers or switch on our smartphones." —Sam Richards, The Telegraph
"There's a tiny hint, early on, that it's used to combat terrorism, with airport security staff asking passengers to provide access to the last few days' memories before they're allowed to board. If citizens have no privacy over the memories, what does this mean for criminals?" —Ryan Lambie, Den of Geek
"In the end, Liam is left alone in his empty house – has she dumped him or has he dumped her … into a skip? [That's British for dumpster.] We never find out – with only his memories to watch, over and over again." —David Lewis, Cultbox
Keep an eye out for: Toby Kebbell, the guy who played evil monkey Koba in Dawn of the Planet of the Apes and Joy Division manager Rob Gretton in 2007's Control. He's also playing Doctor Doom in the upcoming Fantastic Four film. Also: Jodie Whittaker, who is Beth Latimer on the recently adapted British series Broadchurch; Tom Culle, who not only dates Orphan Black star Tatiana Maslany but plays Lord Anthony Gillingham on Downton Abbey.
Extra-credit reading and watching: 2004's Eternal Sunshine of the Spotless Mind; Neil Postman's Technopoly: The Surrender of Culture to Technology; 1990's Arnold Schwarzenegger hit Total Recall.

The Ones About Politics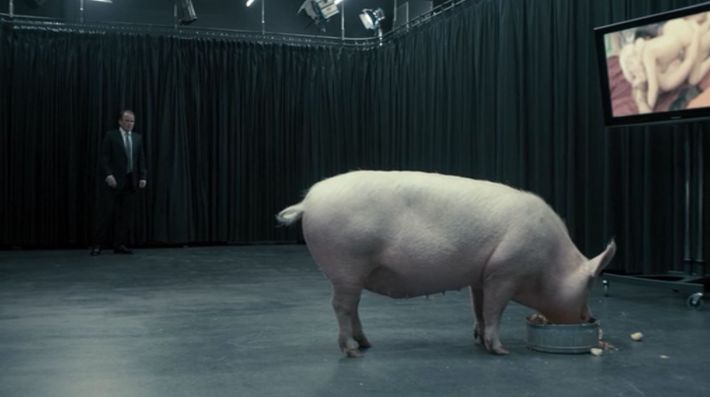 Episode 1: "The National Anthem"
Alternate Title: "The One With the Pig-Fucking"
Discussion Points:
"Was it worth it to blow up the fun bubble until it burst, just to see how big it could get? Does doing something 'for the story' mean anything if the story is just kind of boring and sad?" —Emily Yoshida, Grantland
"It was an event that was watched by 1.3 billion people and essentially something that everyone took part in. Is Brooker making a wry comment about the state of contemporary art?" —Neela Debnath, The Guardian
"In a world where public figures are under constant, microscopic scrutiny, they live in fear of the gaffe — and they realise that the internet now is beyond their control. Worryingly unfair, or just very funny?" —Jack Seale, Radio Times
Keep an eye out for: Lindsay Duncan, who also played Anjelica Hayden-Hoyle in The Honourable Woman; Donald Sumpter, who appeared on Doctor Who quite a few times in the early to mid-'70s; Allen Leech, who is Tom Branson on Downton Abbey (and Francis Dereham on The Tudors!).
Bonus reading and watching: BBC Four's The Thick of It (which has a similarly grim view about the British government in the post-Blair era); anything by comic-book writer Mark Millar, but start with Nemesis.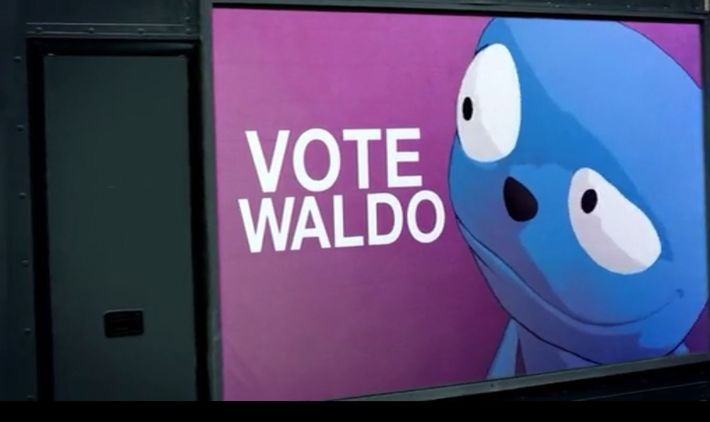 Episode 6: "The Waldo Moment"
Alternate Title: "What If Russell Brand Ran for Office?"
Discussion Points:
"There is something quite simply haunting about the idea that this glorified LOLbear might trick people into treating politics as fiction, and handing over the (now invisible) reins of their nations to anyone who controls Waldo's joystick." —Analee Newitz, io9
"Politics isn't like brick-and-mortar bookstores or movie theaters; just because young people don't flock to it anymore doesn't mean it will be phased out, even if the 2096 election is decided by 15 thumbs-up on FaceTube." —Emily Yoshida, Grantland

Keep an eye out for: You might already recognize Tobias Menzies as Edmure Tully from Game of Thrones or Frank Randall (and Randall's look-alike ancestor) on Outlander; Jason Flemyng ("Waldo"s producer Jack Napier) appeared in X-Men: First Class as Azazel. 

Bonus reading and watching:  The episode's premise is based on Charlie Brookers's 2005 series Nathan Barley, which does an arguably better job telling the same story; Brookers also worked on Channel 4's Brass Eye, which satirized but never proposed any new ideas (perhaps further inspiration for "The Waldo Moment"?); 1992's Bob Roberts, starring Tim Robbins; 1998's Warren Beatty satire Bulworth.
The One About "The Media" (Or Is It?)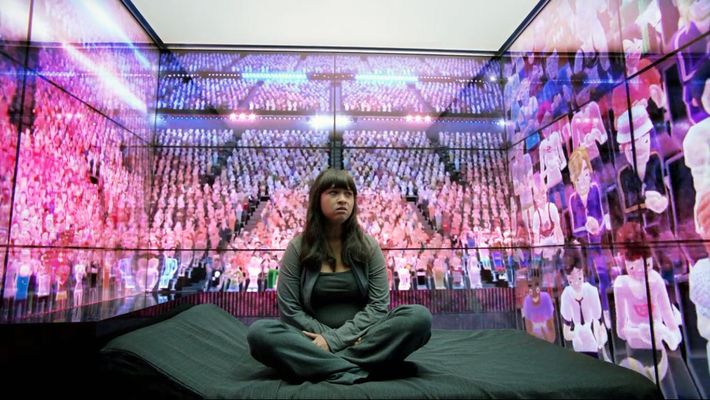 Episode 2: "Fifteen Million Merits"
Alternate Title: "Wait, Is This Not About American Idol?"
Discussion Points:
"The point, more or less, is to not contribute to intellectual pollution, like Bing spending precious merits to wave away commercials in an endless struggle to maintain some kind of neurological purity. But where do you draw the line?" — Emily Yoshida, Grantland
"Is the view of the forest at the end of the episode real? It can't be, can it? I'm trying to wrap my head around the future presented here." —David Sims, A.V. Club

"And there's also the question of how he feels about his position, and what he believes it to be. Simply put, has Bing sold out? Or has he been deceived? It certainly doesn't seem that he's being listened to – but is he aware of this? Is he screaming into the void with noble intention?" —Brendon Connelly, BleedingCool.com

Keep an eye out for: Jessica Brown Findlay, a.k.a. Lady Sybil Crawley in Downton Abbey; Rupert Everett (he plays the Simon Cowell–esque judge), best known for My Best Friend's Wedding, among other rom-coms; British rapper Bashy, who plays Judge Wraith; Julia Davis as Judge Charity, whose 2004 show Nighty Night is equally great.

Extra-credit reading and watching: Kurt Vonnegut's short story "Harrison Bergeron"; David Foster Wallace's "E Unibus Pluram"; Gary Shteyngart's Super Sad True Love Story; Aldous Huxley's Brave New World.

The One About Literally Everything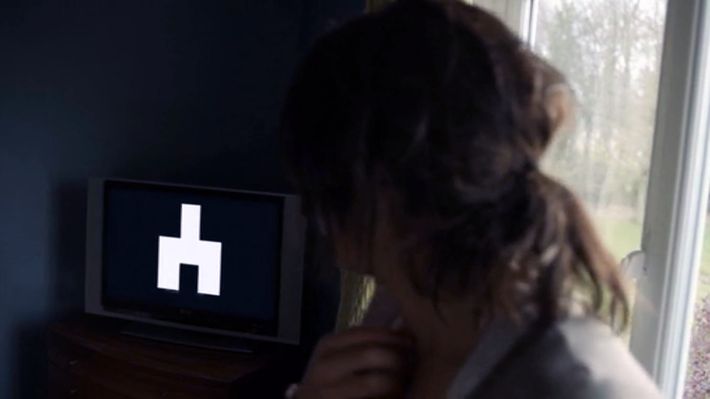 Episode 5: "White Bear"
Alternate Title: "You'll Need to Watch It Twice"
Discussion Points:
"We're being asked to sympathize with someone whose crime was unforgivable, and we're given very little context into her mental state, since her mind has been erased so many times that the crime is barely a memory." —David Sims, The A.V. Club
"Primarily, though, this episode is a critique of our deep, often-unexamined mass desensitization, or at least a dread portent of its potential to grow. It aims to ask: To what extent can you stand by and watch horror before you are complicit, punishable?" —Leigh Alexander, BoingBoing
"So the reason it all felt like a rubbish horror movie for 45 minutes is because that's what it was, just with a real person in the centre of it." —Sam Parker, Huffington Post U.K.

Keep an eye out for: Lenora Crichlow, who played Annie Sawyer in the British version of Being Human and Stephie in the just-canceled A to Z; Michael Smiley, who appeared with former real-life roommates Simon Pegg and Nick Frost in Undeclared; Tuppence Middleton, who is in The Imitation Game and will be in the upcoming film Jupiter Ascending.

Bonus reading and watching: Emlyn Williams's Beyond Belief: The Moors Murderers; 2012's Cabin in the Woods; 1997's Funny Games (and its 2007 English-language remake); 2003's Monster; The Twilight Zone episode "Five Characters in Search of an Exit"; Rebecca Gilman's 2001 play The Glory of Living; French philosopher Michel Foucault's Discipline and Punish: The Birth of the Prison.