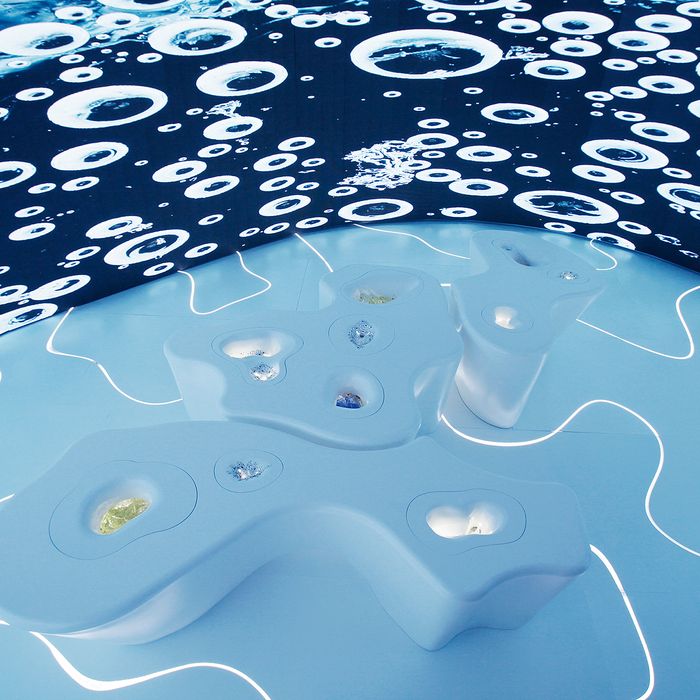 Architect Jeanne Gang and photographer James Balog's installation Thinning Ice, for Swarovski. Courtesy of Swarovski.
This week, as SEEN explores Miami's myriad of fairs over the next few days, we thought we'd take things in a new direction. How do these booths feel? Our first stop was the VIP opening for Design Miami, which is celebrating its tenth anniversary this year. At the commencement yesterday morning, Peter Marino — who is the first recipient of Design Miami's Design Visionary Award — said this: "Wherever I go, I touch everything." Which got us thinking. What if we, the hoi polloi, touched everything, too? Would we not get immediately ejected from the world's premier contemporary-design shopping event? Shockingly, no one stopped me as I sat on chairs, divans, couches, and stools, and ran my fingers across cabinets, armoires, and commodes. Perhaps the press pass hung around my neck gave me away: I didn't exactly look as though I was prepared to drop the Benjamins on the de rigueur Perriands and Prouvés pedestaled throughout the fair. But no matter. What follows are five reviews of booths that caught our eye.
Peter Marino
As Rodman Primack, the director of the fair, said of Marino: "Peter knows a lot about furniture." But Marino also appears to know a lot about Madame Tussaud's, as his booth contained a life-size wax figure made in his own image, replete with his signature leather-daddy garb. (Warning: There's another version in his Bass Museum show as well.) While there was a history of chairs by the greats such as Carlo Bugatti, Felipe Gomes, and Pierre Chareau, as well as Marino's own bronze cabinets, does it really even matter? The life-size Marino: The Action Figure says it all.
Swarovski
Climate change with crystals? Architect Jeanne Gang teamed up with photographer James Balog to create Thinning Ice, a commission from Swarovski that visualizes the melting of the Stubai glacier in the Austrian Alps. Balog is known for his documentary Chasing Ice, an award-winning film on the effects of global warming; he projected his photographs over LEED lights on the booth's walls while Gang created a table that used Swarovski crystals as symbolic pieces of ice, we think? We're not sure. While climate change is an important issue and art is certainly a mode by which we can communicate said issue, a lacquer-coated plywood table with rivets filled with chunks of crystals (according to a few Instagrammers, it looked like something else) might not make the message so clear.
mischer'traxler
It was barely noon when Champagne began to flow, and next to the Perrier-Jouët station was, to our utter surprise, the Perrier-Jouët–sponsored booth! One VIP had the designers mischer'traxler in a bit of a fright when one used her very full Champagne flute to "activate" their Ephemera installation, which, despite looking like a foosball table, was, in fact, not a table. Or at least one off which anyone could eat or drink. The mechanical piece is inlaid with flora and fauna that pop up when human heat and energy are near. Our VIP, on the other hand, was convinced it was the Champagne flute that possessed the power to make the flowers go pop. We'd prefer to think that French Champagne has a little more subtlety than that.
Demisch Danant
Ever dream of living the 1960s executive life? Joseph Andre Motte and Demisch Danant have the desks for you — their 1962 wood-and-glass version was a public commission for La Maison de Radio, while a 1971 plush purple chair was created by the director of the seaport of Dunkerque. No surprise that Aby Rosen, sporting Converse, was seen considering the latter for purchase.
Johnson Trading Co.
While George Nakashima and John Rogers Hopkins could be considered old by design years — they're represented by pieces from 1973 and 1980, respectively — the walls at this booth contained no signs indicating which was the old and which was the new. Luckily, the Nakashimas were next door to the premier Nakashima dealer, Moderne Gallery. Other prime examples of contemporary offerings included Chris Shanck's beautiful neon alufoil and resin chairs, which, to be quite honest, bear a striking resemblance to stalagmites — and, well, that really is old.