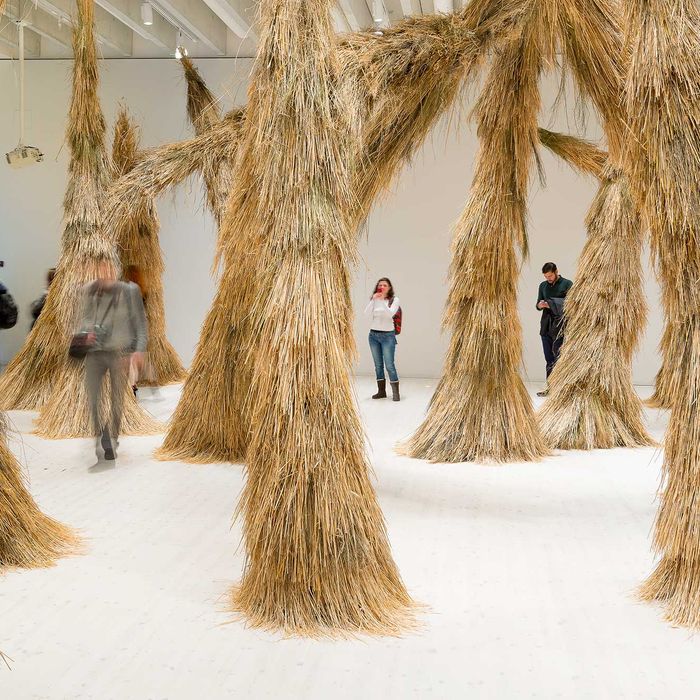 Installation view of the Campana Brothers exhibition at Bildmuseet. Photo: Bild I Norr / Mikael Lundgren. Courtesy of Bildmuseet and Estudio Campana.
Photo: BILD I NORR - MIKAEL LUNDGREN/Bilderna frik?pta f?r vidaredistribution utanf?r Ume? universitet enligt ?verenskommelse, OBS: ej kommersiell anv?ndning! Non commersial use only.
It may be cold, but one place we wouldn't mind hightailing to is Brazilian duo Humberto and Fernando Campana's new exhibition at the Bildmuseet, in Umeå — their first ever in Sweden — which runs until February 8. Perhaps their tropical blood brings the heat to the Scandinavian winter, but "I wanted to bring nature indoors, because more and more people need to be close to nature in order to heal their souls from daily life stress," says Humberto, who emailed SEEN exclusively from his flight back from Europe to São Paulo.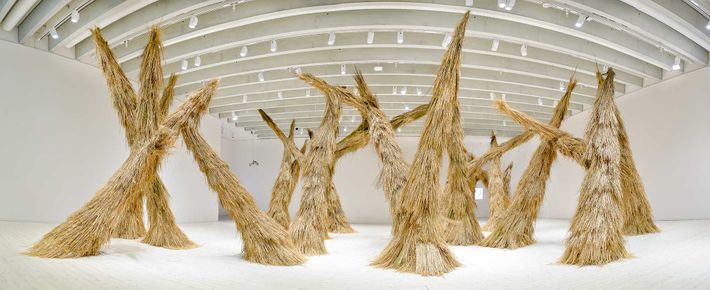 For the site-specific installation, titled "Wood," the duo spent many hours in the Swedish countryside to source the flax and wood materials that comprise the sculptures. "Whenever we start a project, the first element that comes to my mind is the material, playing with it; the shapes start arriving in my mind and tell me what it wants to be transformed into. They are characters in need of an author." Intended to be shaped like cyprus trees, the objects have an almost mythical appearance — part story-tale haystack, part otherworldly creature. It's a transformative experience. "This is one of [the] key elements in our works: Alchemy. The first impulse that came to me was the transformation of something too banal, ordinary, into 'gold.'" Gold, you say? Off to Sweden we go!