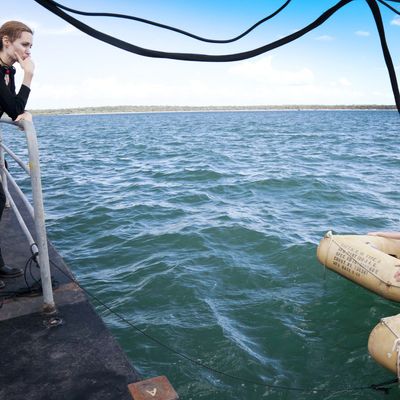 Photo: Vince Valitutti/Universal Pictures
Yesterday the Angelina Jolie–directed World War II epic Unbroken finally screened for press, and as the very last major contender of Oscar season to bow, the film both clarified the field and introduced yet more ambiguity into the race. Though it was respectfully received, Unbroken didn't immediately assert itself as a Best Picture frontrunner in a year that's so far been lacking a dominant contender. What this means, then, is that we have an unusually wide-open Oscar race, though I still expect that Unbroken will factor into a wide variety of Oscar races, its chances buffeted by potential box-office success.
A Best Picture nomination seems very likely. This is a movie that has the traditional, persuasive scope of Oscar-friendly biopics, telling as it does a triumph-over-adversity story about a real man, Louis Zamperini (played by Brit actor Jack O'Connell) who broke Olympic records as a track star, endured weeks of starvation at sea after his plane crashed into the ocean during World War II, and then came in for even more wrenching pain when he was captured as a P.O.W. by Japanese forces. Unbroken is based on the best-selling book by Seabiscuit author Laura Hillenbrand, and the movie could experience a similar surge at the box office, particularly if faith-based audiences respond to Zamperini's religious curiosity and Passion of the Christ–like endurance of pain. In a year where most of our Oscar contenders are struggling to even hit the $25 million mark, the bearing of a populist hit could help Unbroken distinguish itself with voters.
The most intriguing question is whether Angelina Jolie will crack the Best Director field. It's a category that seems to have only two sure-shot nominees — Richard Linklater for Boyhood and Alejandro González Iñárritu for Birdman — and then a great many strong contenders including Selma's Ava DuVernay, The Imitation Game's Morten Tyldum, Whiplash's Damien Chazelle, and The Theory of Everything's James Marsh. Though Unbroken is only her second directorial effort, Jolie obviously commands a profile that swamps most of her competition, and at the Q&A that followed yesterday's screening in Los Angeles, she leavened her regal bearing with a beguiling dash of humility. It will be difficult for voters to resist Jolie's star power, especially since she has delivered such a technically impressive effort. Should both she and DuVernay make the final five, we'll have a Best Director category for the record books: They'd be only the fifth and sixth women ever nominated for the award, and it would be the first time that two female nominees came in one year.
To my mind, Jack O'Connell has a far more difficult task, penetrating a Best Actor category so packed that plenty of worthy contenders will be snubbed. He'll face off with two other young Brits in biopics, The Imitation Game's Benedict Cumberbatch and The Theory of Everything's Eddie Redmayne, while trying to knock off two American comedians gone dramatic, Birdman's Michael Keaton and Foxcatcher's Steve Carell, plus a late-breaking, fast-riding contender in Selma's David Oyelowo. It favors O'Connell that he's the face of this film; if Unbroken's fortunes rise, so will his, as he's in virtually every scene. Still, Zamperini is conceived here as solid and dependable but not exactly bursting with personality. The character's rough edges are mostly sanded off in childhood flashbacks before O'Connell ever gets a hold of him, which is too bad, given the rambunctious charisma O'Connell has showed off in projects like Starred Up and Skins. I also couldn't help but feel that the film is missing a final emotional scene to put a capper on O'Connell's performance; instead, when the war ends, the movie rushes through his reunion with family in order to zip to archival footage of the real Zamperini's return.
Best Supporting Actor is another matter. While this field is nearly as packed as Best Actor, it's far less settled, and there's plenty of room for an Unbroken actor to squeeze in. The film's best bet is Miyavi, a Japanese rock star who makes his film debut in Unbroken as a cruel POW camp torturer, doling out his most vicious punishments to Zamperini. If newcomer Barkhad Abdi could score a Supporting Actor nod last year as the antagonist in Captain Phillips, I think the compelling Miyavi will make it in, too, especially since he's poised to be one of the warmest, most engaging actors on the awards circuit: Though he's only become fluent in English over the last few years, Miyavi speaks it like a pro and has impeccable comic timing, razzing the Derby-born O'Connell yesterday for his sometimes-indecipherable Northern accent. (After one garbled statement from the Brit, Miyavi joked, "Email me.") Domhnall Gleeson is also impressive in the movie as Zamperini's most constant companion during their at-sea sojourn; the Irish actor dropped an alarming amount of weight for the role, even though the character doesn't seem to have many traits (it's telling that both The Hollywood Reporter's and Variety's reviews of Unbroken, which praised Gleeson's commitment, could only describe the character as "blond").
And that brings us to Best Adapted Screenplay. The movie is credited to the Coen brothers, Richard LaGravenese, and William Nicholson, but it's oddly devoid of the tasty, idiosyncratic dialogue that the Coens make their stock-in-trade, especially in period pieces. There are a great many young men in this film, but few are memorable besides Zamperini and Miyavi's torturer, and the most compelling moments are all nonverbal, visceral cues. (Yes, the torture is arduous, but the movie's biggest jolt is an out-of-nowhere and howlingly effective shark attack.) If voters take the entire film as a package, the debits of the screenplay may not matter to them, but Unbroken has already come in for some carping after omitting several big moments from Hillenbrand's book, including a reluctant handshake with Hitler after Zamperini's Olympic triumph.
Further below the line, Unbroken's chances look best. The film has a strong shot at nods in the Makeup, Editing, and Sound categories, and it will surely be nominated for Best Cinematography, which will mark the 12th nod for director of photography Roger Deakins, a longtime cinematographer for the Coen brothers who has never taken home the Oscar. His work here is beyond handsome, and he's surely Jolie's most important collaborator (yesterday, she said that they plan to reteam for her next movie, Africa), but he'll face strong competition from Emmanuel Lubezki, who won in this category last year for Gravity and filmed Birdman in a series of astounding long takes. Still, maybe it's better for Unbroken to be perceived as the gainer in most races, rather than the frontrunner. It's true in spirit to Zamperini himself, who liked to lag behind while running, waiting for just the right moment to surge ahead and catch all of his competitors off-guard.