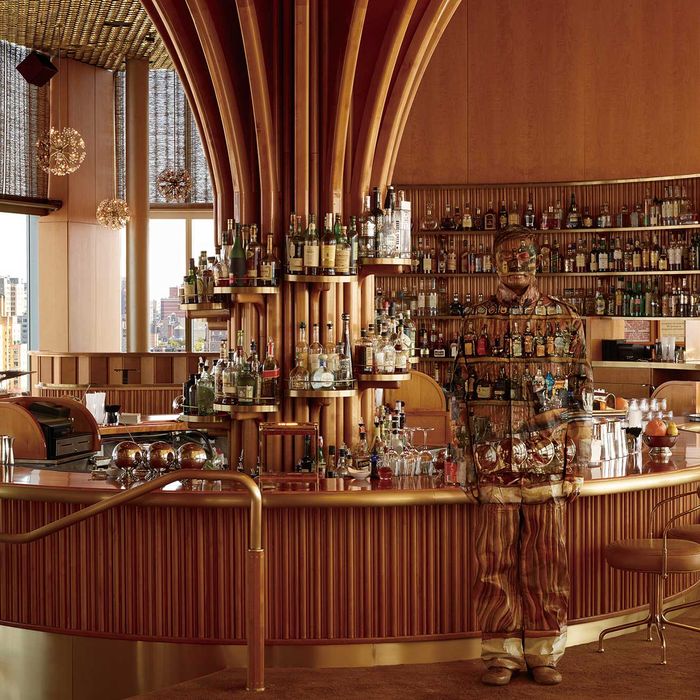 View of the Boom Boom Room at the Top of The Standard. Courtesy of The Standard.
Photo: Courtesy of The Standard
Talk about the best artist you've never seen! Known as the "Invisible Man," Liu Bolin, who has been a vocal critic of China alongside his contemporaries such as Ai Weiwei and Zhang Huan, has made a career by blending in — quite literally. Bolin chooses a backdrop (a supermarket, a bulldozer, the Great Wall of China) and paints his body to match and then poses for up to ten hours in situ. In essence, he's human camouflage. And though his practice can be political, and rightly so, we hardly need reminding that the holidays are upon us — and even the most serious of folk need a bit of levity and humor at the moment.
So Bolin has teamed up with the Standard to make a puzzle! And we have the exclusive first look and read of the collaboration. The artist painted himself into the Boom Boom Room at the Top of the Standard — you know, the swanky club that has remained one of the tightest doors in New York for more than five years — and the image of his disappearing act is now the mystery for you to solve. It will be available for guests to use at each of the five hotel properties, as well as online at www.standardculture.com.