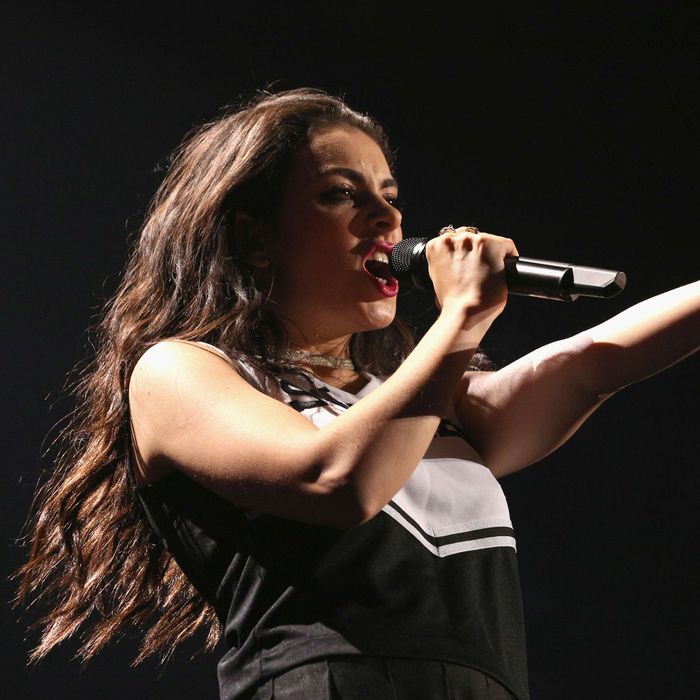 Recording artist Charli XCX performs onstage at KIIS FM's Jingle Ball 2014 Powered by LINE at Staples Center on December 5, 2014 in Los Angeles, California.
Photo: Rich Polk/Getty Images
On Tuesday, British pop-star Charli XCX will release her highly anticipated Sucker. Though she exploded into mass consciousness this year with her guest vocals on Iggy Azalea's "Fancy," the 22-year-0ld has been kicking around for a decade. Her breakout has been a long time coming. Here's how it happened:
1. Charlotte Emma Aitchison is born on August 2, 1992, in Cambridge, England. Her mom is Indian and grew up in Uganda, while her Scottish dad dabbled in the music business, including a stint booking acts such as Bob Marley and Siouxsie Sioux at a club in Hertfordshire. "She worries about me going and taking drugs," Charli said of her parents' personalities, "whereas my dad advises me on what drugs to take and what ones not to take."
2. Growing up, the aspiring star listens to everything from the Spice Girls to ELO and eventually discovers French electronic label Ed Banger Records via its MySpace page, broadening her tastes to include the likes of Justice, Uffie, and Breakbot. In 2006, 14-year-old Charli borrows money from her parents to start recording her own music, which she posts to MySpace. In 2008, a local promoter asks her to play a warehouse rave. She performs as Charli XCX, her MSN Messenger screenname. Her parents stick around at the party until 6 a.m. "It was me," she recalled, "standing on a crate or a speaker or just the floor with my iPod and everyone would be so fucked up and vomiting over each other, and there were so many drugs and that kind of thing, just a total hipster mess basically."
3. Also in 2008, XCX finishes her first album, the techno- and rap-inflected 14, anchored by "!Franchesckaar!"and the double A-side single "Emelline"/"Art Bitch." Though it's never properly released by a label, promotional copies of the LP are given away, and her growing talents as a performer land her a record deal with Atlantic subsidiary Asylum. She later refers to the songs on 14 as "gimmicky dance tracks" and "fucking terrible MySpace music."
4. Feeling stifled by the pressure of a recording contract, she stops concentrating on music and enrolls in art school. "When I got signed I hated pop music; I wanted to make bad rap music. I didn't know who I was. I didn't know what I liked," she says. Eventually, Asylum flies her to Hollywood for writing sessions with other artists and producers, and after many unsuccessful pairings, she has a 2010 meeting with Ariel Rechtshaid, who would go on to win Grammys for his work on Usher's "Climax" and Vampire Weekend's Modern Vampires in the City. They write the icily beautiful synth-pop ballad "Stay Away" in two hours, and the rekindled inspiration leads to her working with Rechtshaid, co-producer Patrik Berger (Robyn's "Dancing On My Own," for starters), and '70s rock favorite Todd Rundgren on her first EP, You're the One. After its June 2012 release, she opens for Coldplay in stadiums and arenas throughout Europe.
5. While working with Berger, she takes one of his beats and writes "I Love It" around it. Feeling like it's not a fit for her own style, Charli lets Berger give the song to Swedish duo Icona Pop. Their hard-charging version, featuring XCX as a guest vocalist, slowly finds an audience after its May 2012 release. Early the next year, it blows up after appearing in an episode of HBO's Girls, eventually peaking at No. 7 on the Billboard Hot 100 in the States. Still, Charli feels left out by Icona Pop's success. "With 'I Love It,' there was never a plan for me to go and write for Icona Pop — they were just there, and it happened, and no one really knew what was going on," she says. "They were traveling the world and it was great, but I never felt part of that process … I never really felt like it was my song."
6. In April 2013, she releases her first proper album, True Romance, which is named after the Christian Slater movie and features "Stay Away." Reviews, including a Best New Music nod from Pitchfork, are good, and she opens for Ellie Goulding and Paramore, though sales are meager. Despite the lukewarm public response, she's eager to record more music, and by June has already begun working on her next LP, collaborating with the likes of Weezer's Rivers Cuomo, Vampire Weekend's Rostam Batmanglij, and producer Benny Blanco, as well as her old friends Berger and Rechstaid. In December, she has her first charting solo song with the perky, slyly drug-referencing "SuperLove," which reaches 62 on the U.K. singles chart.
7. Charli unites with Iggy Azalea to sing the hook on the Aussie rapper's monster hit "Fancy." The music video, released in March 2014, features the pair reenacting scenes from the classic teen comedy Clueless. It becomes VEVO's most-watched video of the year with over 389 million views, tops the U.S. and Australian singles charts, sells millions of copies, and is nominated for Record of the Year and Best Pop Duo/Group Performance at the 2015 Grammys. "At that point, people still saw me and Iggy as underdogs," Charli says. "Neither of us had real big shit popping off, we were just doing our thing. That's why 'Fancy' worked so well: It was so genuine."
8. Originally written during the True Romance sessions, Charli's "Boom Clap" was offered to, and rejected by, Hilary Duff's management. In May 2014, her own rendition, with her now-trademark huge choruses and tender verses, appears on the soundtrack for the tearjerker The Fault in Our Stars. The single tops the Mainstream Top 40, but its success becomes so massive that Charli ends up delaying the release of Sucker.  "I need to put the date back so I can launch the album properly," she tweets. She keeps fans satiated with poppy, punky, '80s-influenced singles "London Queen," "Break the Rules," "Gold Coins," and "Breaking Up."
9. Sucker is set to be released on December 16 of this year. The effort, with its sonic and melodic nods to Sleigh Bells, the Spice Girls, and the Pretenders, among others, earns favorable reviews from Rolling Stone, Billboard, and Grantland. With her first SNL performance in her back pocket and an upcoming European tour with Katy Perry planned for early 2015, she's poised to continue her upward trajectory. "I really just want to change the way women think about themselves," Charli offers. "I'm not clean-cut and perfect, I say dumb shit and I fall over — and I want girls to know that's cool."