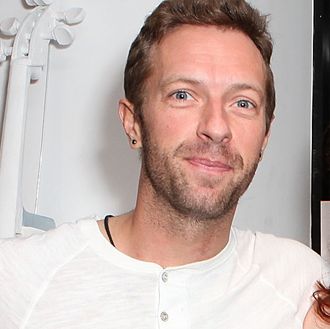 Chris Martin.
Photo: David M. Benett/Getty
Scratch beneath the surface of our most mainstream male musicians, and you'll find the soul of a stand-up comedian. John Mayer would rather tell jokes than sing earnest love songs, while Josh Groban's witty Twitter account will make you like him even more than your mom already does. Add to their ranks Chris Martin of Coldplay: When Vulture caught up with Martin this past weekend at a Hollywood luncheon meant to celebrate his song "Miracles," which plays over the closing credits of the film Unbroken, a very simple question put to the star — how did Angelina Jolie ask him to write the song for her second directorial effort? — became more of an improv-comedy prompt in Martin's hands.
"I got a message that said, 'Meet in this undisclosed location. You'll be blindfolded and picked up by seven ex–Navy SEALs,'" Martin deadpanned. "So they kidnapped me, hit me over the head, and sprayed me with Mace. When I woke up, I was in an office, and Brad Pitt was doing push-ups as Angelina Jolie was just sitting there with her crown on. There was also a guy holding a knife to my throat, and she said, 'Write me a song, or else.' And Brad Pitt said, 'Yeah. What she said.'"
Mm-hmm, mm-hmm. And how did that go?
"We wrote a song and then she said, 'It's through to the final eight,' and then we had live eliminations at her house," Martin continued. And in this scenario with Angelina Jolie cast as Simon Cowell, did Coldplay triumph? "We came in second, but the main guy chickened out."
In all seriousness, "Miracles" is Coldplay's second song written for a film soundtrack, after last year's "Atlas," composed for The Hunger Games: Catching Fire. Martin says he likes the discrete challenge of writing a single tune within strict parameters rather than creating an entire album. "I find that a little bit of limitation is really helpful when you're trying to create," he told Vulture. "Let's say you come up with an idea — like, 'I want to have a school for wizards' — then you've got a nice parentheses to put everything in. It's the same way when someone says to me, 'Here's the film and the book. Write something about that.' It's really nice to have those limitations because otherwise, where do you start?"
And what movies has Martin responded to this year? "Boyhood," he replied immediately. (The Coldplay song contained in that Richard Linklater film surely didn't hurt.) "I've only seen that, and … well, I haven't seen the finished version of Unbroken yet, but I can't comment on it anyway, as I'd be biased." And perhaps abducted once more by Navy SEALs, should he fall out of line.