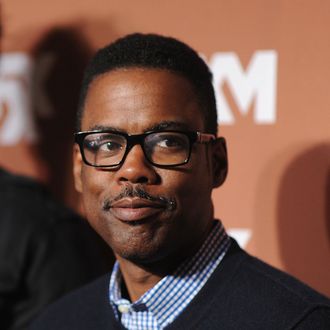 Photo: Dimitrios Kambouris/Getty Images
At last night's New York City premiere for the new movie Top Five, members of the cast spoke briefly with New York about their emotional reactions to the grand jury's decision not to indict an NYPD officer for performing the illegal chokehold that killed Staten Island resident Eric Garner. Here's what they had to say.
What is your immediate reaction to the lack of indictment for the Eric Garner case?
Chris Rock
"It's horrible; it's on videotape. How much more can you say? I don't know what else you or I can do."
Gabrielle Union
"I have been in tears. I have been in a rage. I have been ranting. I have been pacing. I do not understand how a man can be murdered in broad daylight, it's videotaped, and he had said repeatedly, 11 times actually, I cannot breathe, and there's not even a trial? I don't understand how … a human being's life can be snuffed out in such a way … a father of six … a husband, a son. I don't know and I hope we all make it out of here after we leave. Because that's how real it is."
Rosario Dawson
"I just want to say that I give my condolences to the Garner family, give my love to the family. I've had my voting organization for the last ten years, and this what we've been talking about with people for a long time. We are just starting to get some progress on immigration reform, so we can stop breaking up families, and we were finally implementing progress in terms of health care, so people can stop losing their homes just because they got sick and couldn't work. This shows you again, that there is a lot more progress that needs to be made, and when you look at what happened in Ferguson and realizes less that 10 percent of the people in that county were voting in the last election, you go, Okay, there's a big divide. I really hope people see that this is an opportunity to not just get angry, but to get mobilized and start changing things, because this is our opportunity to do so."
Hayley Marie Norman
"I'm absolutely devastated. I felt like throwing up. I was getting my hair and makeup done [for the premiere] when I heard about it and it left me speechless. It's absolutely devastating to stand here and know that these police offers are being protected and they clearly shouldn't be and it just reminds you that … I mean, we have a black president and still black lives seemingly are not valuable. Especially the lives of black males, and it's so apparent to me now that when I have children, I have to raise my son how to respond to police and what to do in those situations where he interacts with law. I mean, he doesn't even have to have a toy gun or absolutely nothing in his hand when he comes in contact with police and there's a chance that my son could be brutally murdered by a police officer and I'll know that the police officer can get away with it."
Ben Vereen
"I think it's sad that we live in a society that has not learned to put a hold on that behavioral reaction when something like that happens. I understand he was choked to death, and that it in itself is wrong and I think it's wrong that we live in a society where we don't love each other enough. I just want to bring love to the planet, that's what I'm standing for. And I'm proud that people are standing up as well, and I'm even prouder that people need to understand that we need these officers in order, to sadly … in order to do what they must do. But, we must draw the line somewhere and help one another as a people and as a country."
Cedric the Entertainer
"I'm from St. Louis, so you know — and to have this and Mike Brown verdict come up, and it's unfortunate, you know. It seems to me that the "authority" is backed up by further authority and the citizens are always wrong; no matter what the situation is, the government and the city powers seem to back up the police no matter how wrong the situation is or appears. And it's unfortunate that we have to live in a society where people have to live in this constant sense of fear when interacting with authority. They are exerting that authority to the point of death and still have not had to explain themselves."