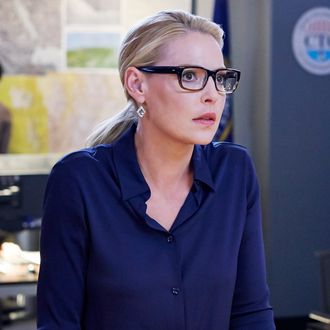 Like many people on Twitter, the CIA just can't stop correcting female strangers whenever they get something wrong. In this case, the female stranger is CIA analyst Charleston Tucker (Katherine Heigl), whose adventures are broadcast on NBC in the form of okay-rated drama State of Affairs. Every Monday night, the CIA is ready at the keyboard, just in case something about Tucker's experience doesn't ring quite true.
When Tucker briefed the president (Alfre Woodard) with a stack of papers, the CIA had an #Actually:
When Tucker had a face-to-face meeting with another agent, the CIA had an #Actually:
And then, just in case, the CIA decided it needed to define the term dead drop for its audience:
This is without a doubt the 574th worst thing the CIA has done this week.

* The original version of this post incorrectly implied that the CIA's Tweets were being written by a man. Though the CIA is 54 percent male, the agency's Twitter account is run by a woman.