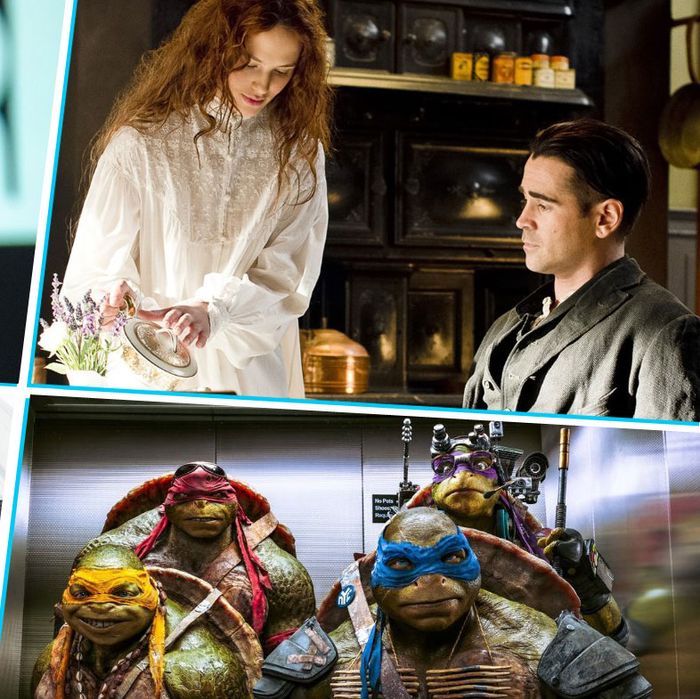 Photo: Peter Mountain/Alcon Entertainment, David C. Lee/Warner Brothers, Lorey Sebastian/Universal Pictures, Industrial Light/Paramount Pictures
As Vulture celebrates the finest films of 2014 (you can see critic David Edelstein's top 11 here), so must we celebrate the worst. Welcome to the 8th edition of our annual worst-movies roundup, as voted on by critics, where soon-to-be-forgotten misfires earn a last turn in the spotlight. This year, Vulture polled film critics on the year's most torturous moviegoing experiences (some publications submitted collective ballots). Those responses, combined with a number of notable worst-of lists published elsewhere, were tallied to produce the final ranking of the ten worst films of 2014.
10. Teenage Mutant Ninja Turtles
Warning: If you need a reminder that nostalgia's a bitch, then rent Teenage Mutant Ninja Turtles. In this overedited, manically paced, and generally misconceived action-comedy, four benevolent steroid-enhanced monsters with no noses attempt to rescue well-meaning-but-journalistically-challenged TV reporter April O'Neil (Megan Fox) while fighting William Fichtner and a big Japanese man in a knife-suit. Teenage Mutant Ninja Turtles may not be as bad as Transformers: Age of Extinction, Michael Bay's latest entry in another film series based-on-popular-'80s-cartoon-characters-cum-action-figures. But Bay did produce Ninja Turtles, and director Jonathan Liebesman (Battle: LA, Wrath of the Titans) apes way too many of Bay's worse creative impulses. "TMNT's juxtaposition of the serious and the stupid is never as hilariously incongruous as it should be," writes Nathan Rabin for the Dissolve." It can't even manage to be the right kind of terrible movie.
9. Sin City: A Dame to Kill For
Robert Rodriguez and Frank Miller's xerox-copy adaptation of Miller's hyperviolent and super-sexual film-noir comic books is … pretty much like their previous Sin City. The main difference between that earlier film and this one is that the new film is one long narrative with three interrelated subplots. So if you ever wanted to be stuck watching Mickey Rourke run around in a terribly awkward make-up job nearly all of 102 minutes, or watch Eva Green swim naked in a swimming pool while Miller/Rodriguez's airless, pseudo-hard-boiled narrator murmurs about how she looks like "a goddess," boom, here's your film. Vulture's David Edelstein wrote, "In Sin City: A Dame to Kill For, schlock director Robert Rodriguez and dark-souled graphic artist Frank Miller indulge in the crudest kind of nihilism, but they sure create some purty pictures. This movie, in black-and-white with judicious daubs of color, is the highest-gloss revenge porn imaginable."
8. Left Behind
In a year full of Rapture-rific Christian panic horror stories like God's Not Dead, The Leftovers, and Saving Christmas, Left Behind stands apart as the worst of the bunch. It's not only the most panicked, but it was also apparently made on less than a shoestring budget. Extras look confused, CGI effects are amateurishly bad, and even leading man Nicolas Cage looks lost. The best part? Hearing supporting characters mansplain to Lea Thompson what the Rapture is, and why it's not as hysterical as it sounds (rejoice, heathens: Apparently, anyone that's been "left behind" isn't completely forsaken!). Vulture's Bilge Ebiri argues that "shoddy execution [kills] Left Behind. All the nutter-butter end-times stuff might have been tolerable if the film could string together a few scenes that weren't laughably written and directed."
7. The Legend of Hercules
This soapy, Eurotrash answer to Gladiator is not Cliffhanger director Renny Harlin's finest hour. While not as disastrous as Harlin's Cutthroat Island, it's also not as endearingly insane as a latter-day Harlin joint like Mindhunters. Susan Wloszczyna, writing for RogerEbert.com, slammed the film as a mishmash of sword-and-sandal clichés, particularly borrowed from Zack Snyder's adaptation of Frank Miller's 300. "De-saturated color scheme? Check. Annoying stuttering slo-mo action sequences? Check. Legions of faceless warriors who don't require a SAG card? Right on."
6. Transcendence
Directed by Wally Pfister, Christopher Nolan's regular cinematographer, this dramatically inert science-fiction story thrums with big ideas that ultimately don't go anywhere interesting. Starring a top-notch cast including Johnny Depp and Morgan Freeman, Pfister's film starts off with heady speculation about what makes us human and turns into a sleepy evil-computer-program-tries-to-take-over-the-world action flick. Time Out New York's Joshua Rothkopf writes that "While Transcendence has tons of money to spend on unpersuasive digital effects and dronelike music, it shows little interest in exploring the potentially tricky benefits of a computer-enhanced intellect."
5. I, Frankenstein
The title alone inspired much hilarity ("'I, Frankenstein?' No, you, Frankenstein," being the most popular retort). And the rest of the movie, in which Aaron Eckhart takes his shirt off, and fights demons alongside gargoyles and angels, is no less ridiculous. Vulture's David Edelstein wrote, " With Eckhart's slow-motion running, the whole things feels stuporous. I wanted to yell, 'Reanimate this movie, motherfucker.'"
4. Men, Women, & Children
Jason Reitman's latest milquetoast examination of the human condition concerns technology, and how it only serves to further alienate us while purportedly uniting us. A desultory cast — Adam Sandler, Jennifer Garner, and Dean Norris! — tries to liven up Reitman's ostentatious, and totally clumsy attempts at putting his finger on The Way We Live Now. But as Mike D'Angelo wrote in the A.V. Club, the film "depicts the Internet with an alarmist hysteria capable of making Reefer Madness look levelheaded by comparison." He adds that "While many of the individual storylines are ludicrously melodramatic, building toward emotional meltdowns (and one suicide attempt), it's the cumulative fear and loathing of everything digital that crosses the line into absurdity."
3. Winter's Tale
Just try to describe Winter's Tale, an adaptation of Mark Helprin's novel, with a straight face: Colin Farrell plays a thief in 1916 New York who, with the guidance of a winged horse/guardian angel named "Horse," falls in love with Downton Abbey's Jessica Brown Findlay, a rich woman dying of consumption. Farrell's character tries to go straight, and love Findlay's heroine, but Russell Crowe, as Farrell's demon-gangster mentor, won't let him. Also, Will Smith is the Devil? Rolling Stone's Peter Travers "[called] bullshit" on the film and dismissed it as "preposterous twaddle. Use it as a date movie only if you don't love the one you're with."
2. Transformers: Age of Extinction
You may ask yourself how Michael Bay went from steroid-enhanced auto-critique satire Pain & Gain to another Tranformers movie. I mean, a new leading man (Mark Wahlberg), fewer racist robots, and more dinosaur-robots sounds like a smashy-smashy good time right? Wrong! In his review, Vulture's David Edelstein wrote, "Transformers: Age of Extinction is basically a shambles. If you do see it, I suggest you savor each image on its own terms as a work of CGI art. Dig the bombardment. Forget trying to figure out who's zapping whom and why. Free your mind — or risk having it transformed into porridge."
1. A Million Ways to Die in the West
After making much money with proudly juvenile and mostly terrible manchild-bromance Ted, Seth MacFarland returns with a deadly musical-comedy that makes Cat Ballou look like Shakespeare. It's got frat-house jokes about boobs, gay-panic gags, and a starch-stiff lead performance from MacFarlane, the poster child for disingenuous "nice guys" around the world. Vulture's disappointed David Edelstein, who was "was primed to love it," wrote, "MacFarlane serves up over-the-top gore, expulsive diarrhea, Sarah Silverman's vagina, and A-list actors dressed like Western archetypes against glorious wide-screen vistas using dirty words. The thinking must have been: Add "fuck" to a line and it's har-dee-har-har."
INDIVIDUAL BALLOTS

Bilge Ebiri, Vulture
1. Left Behind
2. The Expendables 3
3. A Haunted House 2
4. The Protector 2
5. God's Not Dead
6. That Awkward Moment
7. The Identical
8. Into the Woods
9. The Quiet Ones
10. Moms' Night Out
Honorable Mention: The Hobbit: The Battle of the Five Armies, in 48fps. The movie is bad enough as it is, but in the high-frame-rate presentation – which, let's not forget, is how Peter Jackson actually thinks we should be watching it – it's actual physical agony.
Simon Abrams
1. Brush with Danger
2. The Little Tin Man
3. The Decent One
4. Reach Me
5. But Always
6. We Are the Giant
7. The Final Member
8. Jake Squared
9. I'll Follow You Down
10. Stage Fright
Sam Adams, CriticWire
First things first: "The worst movie of 2014 is probably one you haven't seen." I should fucking hope so. The point of these lists — and I don't know if there is one, yet here I am complying — is to single out movies that are either offensively bad, not just random pieces of underfunded crap. No one needs to be steered away from a movie they've never heard of in the first place. These may not be the absolute most worthless movies I saw in 2014, though they are certainly among them, but they are the ones that drove me closest to the edge of sanity.

Birdman: The dramatic equivalent of one of those latter-day Metallica songs where every instrument is cranked into the red and compressed to shit. Everything's in your face and pressed flat so the (barely) subtext pokes out like a flooring nail under a thin carpet.

Wish I Was Here: Zack Braff's smug and odious roman à chump should be the object of the first class-action suit in Kickstarter history.

Winter's Tale: You know that Ghost World line about art so bad it's gone past good and back to bad again? This preposterous fable, whose possessory credit should read "By Akiva Goldsman, Age 8," catches the pendulum on the upswing: It's so bad it's good it's bad it's almost good again. A movie in which a floppy-haired Collin Farrell has a magical flying horse named "Horse" deserves a category, perhaps a universe, all its own. 

Magic in the Moonlight: Woody Allen has made movies worse than this sugar-free trifle, but you have to go back at least as far as The Curse of the Jade Scorpion to find one so utterly useless. 

Left Behind: This Apocalyptic thriller is a like a negative master class: If you want to make a decent movie, just do the opposite of everything Left Behind does. Not only is it a persistent eyesore, it's fundamentalist propaganda devoid of anything remotely resembling Christian values. You know you're making a sky-high dungpile when even Nicolas Cage looks like he's questioning his decision to show up.
Ali Arikan, RogerEbert.com
1. I, Frankenstein
2. Miss Violence
3. Hercules
4. The Bag Man
5. The Amazing Spider-Man 2
6. Transformers: Age of Extinction
7. Sin City: A Dame to Kill For
8. Ouija
9. Walk of Shame
10. That Awkward Moment
The A.V. Club
1. Left Behind
2. 3 Days to Kill
3. Septic Man
4. Lullaby
5. Winter's Tale
6. Labor Day
7. The Bag Man
8. Dark House
9. Drive Hard
10. If I Stay
11) Hector and the Search for Happiness
12) Legend of Hercules
13) Miss Meadows
14) Best Night Ever
15) America: Imagine The World Without Her
16) Third Person
17) A Million Ways to Die in the West
18) Saving Christmas
19) Devil's Knot
20) Atlas Shrugged: Who is John Galt?

Richard Brody, The New Yorker
I had already picked the worst of 2015, expecting that nothing would come forth after its scheduled January opening to dislodge it, when word came that Mommy was given a stealth release in Los Angeles last week to qualify for 2014 Oscars in all categories, not merely Best Foreign Language Film. This makes the voting easy: Mommy, Mommy, Mommy, Mommy, Mommy, Mommy, Mommy, Mommy, and Mommy, with tenth place reserved for Whiplash. Xavier Dolan's film is a faux melodrama full of prefabricated spontaneity that generates exactly the effects and events required for  mechanistic and insight-free psychological portraiture, filmed with a nearly total absence of vision but an absolutely total vanity–the cinematic proclamation of auteur-hood in the form of (not even a signature but) a logo the size of the screen. I can't remember who used this line first and about whom, but it's worth borrowing here: in this film, Dolan comes off not as an auteur but a prom-auteur (or a self-prom-auteur). It's all the more disappointing inasmuch as Laurence Anyways showed a little actual invention. Then there's the anti-artistic trickery of Whiplash, in which the director, Damien Chazelle, doesn't bother to see his characters in life because he reads them in his script; seeing the director pick up the pages spewing from the entrails of a laser printer would make for a better film, because it would be more honest about the activity of an artist (of whatever talent).

Sean Burns, Movie Mezzanine
1. Labor Day: The erotic reverie of two hands mashing together within a peach cobbler. Entwined forever. And ever.
2. Men, Women & Children: Jason Reitman's Cassandra complex comes home to roost. Nobody ever cheated on their spouses or bullied anybody before the internet. This is all brand-new, and would be the worst thing I've ever seen were it not for Jason Reitman's Labor Day.
3. The Amazing Spider-Man 2: I was trying to live by my friend Dignan's Law, which is "Don't go see sequels to a movie you didn't like in the first place." But a pal offered to buy me beer if I could sneak him into a screening. Wasn't worth it, and I live for free beer.
4. Tusk: Things that ended in the 1990s we're all still ashamed of: Apartheid, mom-jeans, Kevin Smith.
5. The Judge: For all I know, this movie is still going on right now.
Dennis Dermody, Paper
Transformers: Age of Extinction
Third Person
Legend of Hercules
The Homesman
Robocop
Noah
Transcendence
A Million Ways to Die in the West
Edge of Tomorrow
The Fault in Our Stars

The Dissolve
1. Sin City: A Dame to Kill For
2. Jersey Shore Massacre
3. Sex Ed
4. Men, Women & Children
5. Septic Man
6. A Haunted House 2
7. Transformers: Age of Extinction
8. Comet
9. Reach Me
10. Field of Lost Shoes
11. The Giver
12. Let's Be Cops
13. Teenage Mutant Ninja Turtles
14. Legend of Hercules
15. Premature

Alonso Duralde, The Wrap
1. The Identical: To its credit, this was the only 2014 shit-heap so very terrible that it deserves to live forever as a midnight movie. In a year of strange faith-based movies — God's Not Dead, Saving Christmas, Nicolas Cage in Left Behind — this Elvis-flavored disaster stood out as being particularly shoddy and ridiculous. Also, essential viewing.
2. Atlas Shrugged: Who Is John Galt?
3. Sin City: A Dame to Kill For
4. Gambit: You say you never heard of this one? And you wonder how a movie written by the Coen Brothers and starring Cameron Diaz and Colin Firth could slip past your notice? Given the fact that Diaz proudly stumped for Annie and Sex Tape, do the math on just how crappy this one had to be to merit being shelved for two years and then hidden from the general public.
5. Transcendence
6. A Haunted House 2
7. Single Moms' Club
8. Pompeii
9. I, Frankenstein
10. Blended
Kenji Fujishima, In Review Online
Cold in July
Deepsea Challenge 3D
Fading Gigolo
Frank
I Origins
Men, Women & Children
Mistaken for Strangers
Supermensch: The Legend of Shep Gordon
The Legend of Hercules
V/H/S: Viral
Ed Gonzalez, Slant Magazine
1. Nothing Bad Can Happen
2. Nurse 3D
3. The Hero of Color City
4. Million Dollar Arm
5. Foxcatcher
6.  If I Stay
7. Dark House
8. Still Alice
9. Unbroken
10. Tusk
Tim Grierson, The Concourse
Annie: With the exception of the pretty hilarious Twilight parody MoonQuake Lake, this new version of the Broadway musical doesn't contain much of anything that's clever or even campy-fun. When Willow is the voice of reason in the Will Smith family, we should all be concerned.
I, Frankenstein: Wherein Aaron Eckhart makes a deal with the devil. He gets the best abs of his life to be in the worst film of his career. Also starring Bill Nighy, the lady from Chuck, some truly terrible CGI, and the rotting corpse of Mary Shelley's great story.
Sex Tape: Jason Segel and Cameron Diaz star in this witless romantic comedy based entirely on the belief that nobody in the audience understands anything about how "the Cloud" works.
Teenage Mutant Ninja Turtles: Green testicles with masks crack dumb jokes, hang out with Will Arnett, make Megan Fox seem charismatic by comparison.
Words and Pictures: A reminder that even your favorite actors can make terrible movies, this one stars Clive Owen and Juliette Binoche as coyly feuding prep-school teachers waging a stupid contest to see which is superior: words or pictures. (He's a poet! She's a painter! What are the odds?!?!) The whole thing is so saccharine it's practically a PSA-type warning about the dangers of middle-aged sophisticates meeting cute.
Odie Henderson, RogerEbert.com
1. Birdman: Critics scream and rend their clothing when Paul Haggis makes movies like this, but Iñárritu somehow always gets a pass. So this director is the last person to make a movie-length whine about being maligned by reviewers. I'm still wondering who thinks of Michael Keaton when they hear Batman, and Willie Best's estate should sue Emma Stone for stealing his bug-eyed shtick. Every year there's a movie critics love that completely eludes me. This is 2014's edition of that, and also the year's worst.
2. A Haunted House 2: This isn't even a movie. It's a cynical cash-grab that trades in the original's reprehensible homophobia for equally reprehensible animal cruelty. The inept, lazy movie parody genre will only die if you guys stop patronizing its output. So stay the hell home!
3. Girl on a Bicycle: The worst romantic comedy ever made, this features a French bus driver who runs over the object of his affection, then nurses her back to health while telling her kids he is their absentee father. Manages to be convoluted, stereotypical, unfunny, unromantic, absurd, sitcomish and insulting to several European ethnicities.
4. Endless Love: This sanitized PG-13 remake has so little to do with the R-rated original that it doesn't deserve its title. It should have been called "Rejected Pilot From the CW Network." The filmmakers are so apathetic they couldn't even toss me a Macklemore–Taylor Swift remake of the Lionel Richie–Miss Ross title song.
5. Need for Speed: This sluggish, 2+ hour movie has the most honestly descriptive title of 2014. As exciting as getting a tow from AAA, and just as slow.
6. Fading Gigolo: Director John Turturro squanders the deliciously ripe possibilities of a subplot featuring co-star Woody Allen's Black grandchildren to wallow in some uninspired nonsense about being a middle-aged man hoe.
7. Transformers: Age of Extinction: The only good thing I can say about this overlong, overstuffed and interminable sci-fi nonsense is that it inspired Kevin B. Lee's Transformers: The Premake.
8. Hercules: Dwayne Johnson is the perfect choice for Hercules. Someday, someone will make a movie that appreciates this a lot more than this poorly staged CGI battlefest.
9. Maps to the Stars: HOLLYWOOD BAD! CRONENBERG SMASH! This film's 30-year-old script acts as if it discovered Tinseltown corruption. While the ghost of Nathanael West (Day of the Locust) rolls his eyes, a hideously awful Julianne Moore straddles a toilet onscreen and serves as her own towel boy.
10. Magic in the Moonlight: Sure, it looks gorgeous, but that matters little when what's being shot is unwatchable. Woody Allen's latest old man's bitchfest is sleazy, grumpy and plays like a first draft. Colin Firth's pompous ass of a character appears in yellowface and leers lustily at an actress who could be his granddaughter. It's this year's Hyde Park on Hudson.
HitFix
1. Transcendence
2. Winter's Tale
3. Amazing Spider-Man 2
4. The Giver
5. Transformers: Age of Extinction
6. A Million Ways to Die in the West
7. The Judge
8. Sex Tape
9. I Origins
10. The Captive
11. 3 Days to Kill
12. The Other Woman
13. Dracula Untold
14. Hercules
15. Teenage Mutant Ninja Turtles
16. A Haunted House 2
17. Sin City: A Dame to Kill For
18. The Best of Me
19. Under the Electric Sky
20. Exodus: Gods and Kings
21. Jack Ryan: Shadow Recruit
22. Tammy
23. I, Frankenstein
24. Ouija
25. Miss Julie
Eric Kohn, indieWire
1. Transformers: Age of Extinction: Everything deplorable about movies made on a big scale for reasons that have nothing to do with art. Enough already.
2.. Exodus: Gods and Kings: The source material has a lot more imagination, better character development, and scale. So did Demille.
3. Dying of the Light: Whatever movie Paul Schrader intended to make would have been better than the low-rent B-movie Lionsgate put together without him.
4. The Captive: Wither Atom Egoyan?
5. Fury: Shout. Kill. Shout. Blood! Fire! With a small dose of pathos. But mostly death! The most absurdly unsubtle war movie in ages.
Will Leitch, The Concourse
Exodus: Gods and Kings: So wasteful and pointless that it feels like a tax write-off, like 20th Century Fox had were pulling a Producers to balance a debit sheet somewhere. I'm not sure I've ever quite seen an actor look quite as ridiculous in ancient Egyptian garb as John Turturro in this movie. Seems specifically designed to appeal to absolutely no one.
The Expendables 3: Never mind the law of diminishing returns: With this second sequel, we find out what happens when old movie stars not only don't have the strength to make it through their action scenes, they don't even have the gumption to try. How old is too old for a cynical money grab? Movies like this are why Sylvester Stallone has had to make half a dozen comebacks already. This movie can't even muster up the energy to give Mel Gibson a great bad-guy role to play.
A Million Ways to Die in the West: I said it in my review and I'll say it again: This movie couldn't have been worse for the reputation of Seth MacFarlane had it been made by someone who was specifically attempting to do him harm.
Monuments Men: I like George Clooney, you like George Clooney, we all like George Clooney. But maybe it's time to stop encouraging him to direct movies? This is his third dud in a row after the promising start of Confessions of a Dangerous Mind and Good Night and Good Luck, and this is the worst of a bunch, an earnest dramatically inert, and profoundly dull saunter through the most boring parts of World War II. Gathering a cast like this and giving them nothing to do feels like a crime against nature. Clooney's a great guy, but as a director, he's his own worst enemy.
Tammy: Shockingly unfunny and directed like it was randomly assembled in the truck on the way to the projection booth, Tammy seems to fundamentally misunderstand Melissa McCarthy's appeal, which is why it's that much more surprising that she wrote the script with her husband (who also directed). You can almost sense a smarter movie in there, somewhere, but that version was far too many permutations ago to have any effect here. I saw more offensive and obnoxious movies this year, but nothing was truly more "what in the world are these people doing?" than this one.
Annie
The Other Woman
Sex Tape
Exodus: Gods and Kings
Saving Christmas
Left Behind
Moms' Night Out
Persecuted
Let's Be Cops
Lullaby
Pompeii
Walk of Shame
Winter's Tale

Craig Lindsey
1. Sex Tape: By far, the worst moviegoing experience I had this year. An unfunny, unsexy, incomprehensible, insufferable mess that, even though it tanked at the box office, briefly acquired another 15 minutes of media time when a lot of starlets got their phones hacked over the summer. When Cameron Diaz's ass can't save a movie, you know it's simply the worst.
2. RoboCop: Yet another awesome film from the '80s that got pitifully rebooted for today's audiences, which means all the dirty, ass-blasting fun was taken out of it and replaced with smothering pathos and weak conflict. Come back, Paul Verhoeven — all is forgiven!

3. Transformers: Age of Extinction: The latest loud-ass installment from the robot-movie franchise couldn't have revealed Michael Bay's contempt for the human race more vividly, as he assumes people would pay to watch wall-to-wall catastrophe and endless product placement. Sadly, he was right.

4. Need for Speed: Once upon a time, I thought all the movies in the Fast & Furious franchise were dumb. Then, this came along. Aaron Paul's attempt at leading-man status gets sideswiped in this never-ending wreck of a film that mostly bites (and, man, it does!) from much cooler, '70s car-chase movies.

5. Lucy: Even though this made a lot of money, and people I respect actually love the hell out of it, I DON'T GET IT! And considering that ScarJo played voluptuous, dead-eyed badasses in other, better movies this year, I will continue to not get it.

6. Pompeii: Director Paul Anderson (the other one) brought back the swords-and-sandals epic by ripping off all the good ones (Spartacus, Ben-Hur, Gladiator), CGI-ing the hell out of everything, and making Kiefer Sutherland camp it up in his least menacing role to date as a fey villain.

7. And So It Goes: Rob Reiner's descent into making horrible movies you and your grandmother can sit through continues with this Hallmark Channel–quality dreck with Michael Douglas as an old asshole and Diane Keaton as an old hot mess who fall in love at some point.

8. Enemy: The art-house con job of the year. Jake Gyllenhaal reunited with Prisoners director Denis Villeneuve to make some faux-mind-bending bullshit about doppelgängers, spiders, and secret sex clubs. I know this sounds fascinating, but it's so not.  

9. Endless Love: The creepy-as-fuck '80s version starring an underage Brooke Shields is still worse. However, was there really any other reason to bring this safe and sappy remake to multiplexes besides to get lonely-ass ladies' money this past Valentine's Day? 

10. Into the Woods: At first, I thought this movie repelled me because it was a musical. But since I liked Muppets Most Wanted earlier this year, I realized this is just a repellent movie. Perhaps the rapiest musical I've ever seen in my life.
Matt Lynch, In Review Online, Scarecrow Video
1. All Cheerleaders Die
2. Sin City: A Dame to Kill For
3. Stretch
4. Expendables 3
5. Jack Ryan: Shadow Recruit
6. 3 Days to Kill
7. Amazing Spider-Man 2
8. Raze
9. I, Frankenstein
10. Legend of Hercules

Nell Minow, RogerEbert.com
1. Left Behind: It was marketed as Christian entertainment, but it is neither. The original version with Kirk Cameron at least had sincerity — and a point. This one has special effects a high school media studies class would be ashamed of and a musical score that sounds like the music you are stuck with on hold waiting for tech support. And if a movie has Nicolas Cage, we want to see him yelling, not moping.
2. Blended: Sandler gives up his usual winning spot to come in second on a worst-of-year list for once, just because he does not do that awful baby-voice or force Rob Schneider into another disgusting cameo and no one has sex with an old lady. On the other hand, the retro humor crosses the line from lazy to skeezy, with locker-room-style gender and sexual-orientation jokes that were outdated 20 years ago. Intended to be a laugh riot: a child repeatedly having his head slammed into walls and doors when his mother tries to carry him, a young teenager who puts his babysitter's face on a nude fold-out that he keeps under his bed, and a "meet cute" involving the two leads' mutual inability to cope in the drugstore as Jimmy is trying to buy tampons for his daughter and Lauren is trying to buy porn for her son.
3. Labor Day: On the surface, it feels like would-be Nicholas Sparks, a syrupy romance about two people with damaged hearts finding a healing love in a picturesque setting. But like a pretty chocolate candy with a filling that turns out to be rancid, this film is poisoned by author Joyce Maynard's trademark narcissism. This film's depiction of perfect love is endless worship by a hunky guy who can literally and metaphorically clean her gutters, change her oil, and bake overripe peaches into a swoon-worthy pie, no measuring cup needed.
4. Legends of Oz: Dorothy's Return: Why why why why why take the most beloved family film of all time, based on a cherished book, and make a charmless sequel based, not on the other books by the original author, but on a story by the original author's stockbroker grandson?
5. Tammy: This is so derivative of every road-trip comedy ever made it appears to be written by spambots. And a hint for next time: If Tammy is supposed to learn to love herself the way she is, why does she need that ultimate cornball cliché, the makeover?
6. The Identical: An incompetent mishmash of mawkish sentimentality is larded with a few passable musical numbers and some random product-placement-style commentary on the importance of supporting Israel.
7. The Other Woman: It's intended to be a merry little tale of female empowerment and grrrl power. Instead it is soggy, haphazard, mansplaining slapstick that makes fun of Kate Upton's character for being a dumb blonde and makes fun of Cameron Diaz for wishing she had Kate Upton's figure.
8. A Million Ways to Die in the West: By the time the sheep is peeing on Seth MacFarlane's face, the audience may feel that in the Old West, as ever, dying is easy but comedy is hard.
9. Transcendence: Johnny Depp is so mechanical playing a human at the beginning of the film that nothing much changes when he turns into a computer.
10. The Nut Job: I miss the days when the economics of animation were so daunting that we were assured a certain level of quality. In this dumb root-for-the-robbers story, the focus (literally) seems to be on making every hair distinct rather than in finding a visual way to unfold the plot.
Alison Nastasi, Flavorwire
Winter's Tale
Atlas Shrugged: Who Is John Galt?
Left Behind
Blended
A Million Ways to Die in the West
I, Frankenstein
Men, Women & Children
Sex Tape
The Other Woman
Annie
R. Kurt Osenlund, Managing Editor OUT Magazine, South Philly Review
1. That Awkward Moment
2. Gimme Shelter
3. Pompeii
4. Magic in the Moonlight
5. Begin Again
6. Maleficent
7. The Imitation Game and The Theory of Everything
8. What If?
9. Snowpiercer
10. Birdman
Matt Prigge, Metro New York
America: Imagine the World Without Her
The Bag Man
The Hero of Color City
The Identical
Left Behind
Legends of Oz: Dorothy's Return
Men, Women & Children
Son of God
Teenage Mutant Ninja Turtles
3 Days to Kill
Claudia Puig, USA Today

As Above, So Below
Ouija
Dumb & Dumber To
Endless Love
Expendables 3
The Other Woman
Sex Tape
Need for Speed
Teenage Mutant Ninja Turtles
Labor Day
Winter's Tale
Are You Here
Blended
Joshua Rothkopf, Time Out New York
1) Pompeii
2) Let's Be Cops
3) Winter's Tale
4) Transcendence
5) Men, Women & Children
Nick Schager, Village Voice
Chef
Winter's Tale
Mood Indigo
Labor Day
A Million Ways To Die In The West
Unbroken
Lullaby
Drive Hard
Septic Man
Sex Tape
Alan Scherstuhl, Village Voice
1. America: What Would We Do Without Her: Dinesh D'Souza's smartest-loon-in-the-room act inspires right-wing anger bears to think there's something rigorous or academic about his dopey jeremiads. His latest pretends that his conviction for violating campaign-finance laws, laws he admits he willfully flouted, was the result of a prejudicial and overzealous government — essentially, that he's being punished for his previous anti-Obama screeds. In the back-half of 2014, D'souza has had nothing to say about the actual problem of prejudicial and overzealous policing. Can we at least hope that North Korea's assaults against The Interview might remind D'Souza's audience what tyranny actually looks like? Any president or government as fascistic as the one D'Souza makes his money pretending we suffer under would have put him to death years ago.
2. A Million Ways to Die in the West: The impulse to be the dirtiest little satirical imp does not jibe well with the need to have everyone think you're a really great, sweet, handsome dude who deserves a life with Charlize Theron. Among other horrors, 2014 will always stand to me as the year I sat in miserable silence with 500 other people watching Seth McFarlane try to set off something like a twinkle in his cold, dead, Coraline button eyes as he said, again and again, something about making his gun "shoot" all over Theron's "cans."
3. Saving Christmas: I'd carp that this one offered an aggrieved, mostly white majority the opportunity to gather together and ritualistically playact that they are the oppressed in America, but to their credit even they avoided Kirk Cameron's latest stinkbomb.
4.  Magic in the Moonlight: "The heart wants what it wants," Woody Allen has taught us, and apparently what his heart wants these days is not to have to bother with writing second drafts of film scripts.
5. I, Frankenstein: Not significantly worse, in its beats and beatdowns, than other violent CGI time-killers the studios burnt off this year, or even Dracula Untold, that other failed effort at monster-hero franchise birthing. But I, Frankenstein seems to have been made by people with no idea how much goofy fun a movie titled I, Frankenstein should be.
6. 22 Jump Street: Self-aware gay-panic jokes are no better than the unreconstructed kind. At root lingers this miserable belief: Gayness — and male gay sex — is hilarious.
7. St. Vincent: "Bill, how about this — if you bother to be funny for a reel or two, we'll let you play a man fighting through a tragic health crisis, and we'll have everyone in the movie give him a happy-ending standing ovation for no reason whatsoever. Sound good?"
8. Into the Storm: Tornadoes killed 348 Americans in three days in 2011. Doesn't it usually take longer before everyone's eager for FX-candy spun from trauma? Either way, the movie's wretched, and the hilarious Matt Walsh doesn't get a single good line.
9. The Amazing Spider-Man 2: Five movies in 12 years, and Sony's Spidey is still figuring out how he got his goddamn powers.
10. Citizen Koch: Chumming liberals' water with truths liberals already know. Shouldn't an exposé documentary have more information than, say, a magazine article?
Matt Singer, ScreenCrush

Drive Hard
A Haunted House 2
I, Frankenstein
The Legend of Hercules
A Million Ways to Die in the West
Sin City: A Dame to Kill For
Teenage Mutant Ninja Turtles
Transcendence
Tusk
Winter's Tale

Scout Tafoya, RogerEbert.com
Ironclad: Battle for Blood: The Moundsview Junior High School Production of Game of Thrones.
Frank: Sure, the idea of a guy who won't leave his papier-mâché head is interesting. But what about the shrill garbage humans who want to exploit him? They deserve a movie, too, right? RIGHT?!?!
Sabotage: I kinda get the sense that David Ayer has a script in a desk drawer that's just big bearded dudes with shaved heads shooting each other's intestines out while making racist jokes for 120 pages. I'm sure he thinks it's gonna be his masterpiece.
X-Men: Days of Future Past: A calculated, smirking, plastic horror show. There may be no greater pleasure than hearing Patrick Stewart list preposterous names, but he's all named out by the end of the first reel anyway.
Coherence: If you were really anxious to play a game — Scattergories, say — but the only people around to play were your worst nightmare of posh, smug, upper-middle-class, wine-drinking, Bon Iver–listening white people, would you get the box out anyway? How many rounds could you last if you had to hear these people yammer and guffaw like blind goats trapped in a box with blind parrots. The whitest movie I saw this year, hands down.
Vic + Flo Saw A Bear: Unfair, I guess, as it is formally adventurous cinema. But by the time the third act reared its awful head, I wanted to claw my way out. A lot of movies hate their characters; few decide at the last minute that absolutely none of them deserved a feature-length movie's attentions to begin with.
Exists: In which Bigfoot heroically tries to murder horrific subhuman stereotypes. The film doesn't really get into Bigfoot's perspective until it's much too late, so it's tough to identify with him as a character. What are his wants and needs? Where did he come from? He ultimately remains an unknowable man-with-no-name type, doing God's work by murdering underwritten movie characters who represent the rampant id of L.A. screenwriters everywhere.
Into the Storm: In which a tornado heroically tries to murder horrific subhuman stereotypes. The film doesn't really get into the tornado's perspective until it's much too late, so it's tough to identify with him as a character …
Beneath: There's a Watson Family song in the closing credits. I don't really remember anything that happened before the song because it's all a blur of under-lit sets and people sitting very purposefully, refusing to take part in anything you might call action or story. In fact, even putting it on this list is more than this film deserves because it makes it seem slightly more interesting than it is. Bad movies have to give me something in return. Expendables 3 had the good grace to be hilariously awful. This is dull as sin.
Jersey Boys: It's super well-lit. Beyond that, it gets absolutely nothing right. It unforgivably rerecords the Four Seasons' hits, losing the crackle of the original songs, and the sense that Valli was always on the verge of blowing out the microphone with his voice. Valli had a powerful wail that seemed to hint that greater things lay in store for popular music, that something could emerge from the too-perfect production. Jersey Boys wishes Auto-Tune and Starbucks-friendly production had been invented 50 years earlier. And this from the man who directed Bird and Honkytonk Man.
Brian Tallerico, RogerEbert.com
1. And So It Goes
2. I, Frankenstein
3. V/H/S: Viral
4. Winter's Tale
5. A Haunted House 2
6. The November Man
7. In the Blood
8. The Possession of Michael King
9. What If?
10. Wish I Was Here

Anne Thompson, Thompson on Hollywood
Worst movie of the year:
Sin City: A Dame to Kill For
Runners-up: 
Jack Ryan: Shadow Recruit
The Monuments Men
300: Rise of an Empire
1. Blended
2. A Million Ways to Die in the West
3. Men, Women & Children
4. Walk of Shame
5. Let's Be Cops
6. Legend of Hercules
7. Winter's Tale
8. The Nut Job
9. Transcendence
10. Hateship Loveship

Peter Travers, Rolling Stone
1. Transformers: Age of Extinction
2. The Expendables 3
3. Godzilla
4. Men, Women & Children
5. Amazing Spider-Man 2
6. The Judge
7. Divergent
8. Transcendence
9. Annie
10. God's Not Dead
Susan Wloszczyna, RogerEbert.com
1. Transformers: Age of Extinction: My eardrums still haven't forgiven me for deciding that, in order to be better informed about the current state of cinema, I should finally subject myself to at least one robot-related outbreak of "Bayhem" on the big screen. Just my luck that I would pick the longest, loudest, and lousiest one. Banal badness incarnate for the full 165 minutes running time and a huge waste of Stanley Tucci, too.
2. The Legend of Hercules: The first of the year's two epics devoted to the legendary hero — a.k.a. the One Without the Rock — was a poorly tossed Greek salad made out of stale leftovers from 300, Gladiator, Spartacus and Ben-Hur and topped with too much cheese.  A suggestion to future makers of such epics: Slowing down gratuitous CGI violence doesn't make it cool. Just more painful to watch
3. Legends of Oz: Dorothy's Return: Someone should have tossed this insipid, charmless and unnecessary 3-D animated sequel to the classic story way, way, way over the rainbow. That the flying monkeys now sport neon-hued Mohawk hairdos is all you need to know.
4. Vampire Academy: You can imagine the pitch. Hey, let's do a film based one of those young-adult book series that is like Twilight but set at Hogwarts. And then make sure all the dialogue is devoted to endless exposition that feels like a stake to the ear. Oh, and be sure not to screen it for critics just to ensure they know this is garbage.
5. Are You Here: Matthew Weiner created Mad Men. Now he has created angry audiences with this dreadful addition to the man-child-gone-amok genre. Anyone who somehow sat through his feature directing debut about a contested will and expected a comedy with actual laughs (a natural assumption since it stars Owen Wilson, Zach Galifianakis, and Amy Poehler) could easily make a case for a class-action lawsuit.
6. The Best of Me: The latest serving of typical Nicholas Sparks romantic mush is most notable for having an actor play the younger version of James Marsden's character who neither looks, acts, nor sounds like Marsden. In fact, he appears older. Audiences actually laughed when, after 20 years, he reunites with high-school squeeze Michelle Monaghan and she observes that "somehow you've gotten better looking." Darn right, sweetheart. It's surprising she recognizes him at all.
7. Men, Women & Children: Question: Who should not see Jason Reitman's overwrought and underwhelming cautionary tale about the dangers of online porn, Facebook, and texting whose script feels as if it were written by someone who still has a landline, thinks tweets are for the birds, and writes thank-you notes on a typewriter?
8. Locker 13: This anthology featuring four stories plus a wrap-around tale set in an Old West theme park marginally tied together by the titular haunted storage unit aims to emulate The Twilight Zone but is more like a Don't-Go-Zone. It does deserve points for boasting one of 2014's most bizarrely eclectic casts, which includes the guy who played Uncle Rico in Napoleon Dynamite, Ricky Schroeder, David Huddleston of The Big Lebowski fame (in a wheel chair, no less), and Baywatch babe Krista Allen, who once dated George Clooney.
9. Very Good Girls: A very not-good movie about two friends on the verge of going to college who decide they need to dispose of their virginity post haste. Not even the presence of Elizabeth Olsen and Dakota Fanning can justify watching the two actresses fight over a sorry Ryan Gosling wannabe. Besides, we liked this movie better when it was called Little Darlings.
10. Big Eyes: I suspect there is some eye rolling going on right now. But as a fan of both Tim Burton and those kitschy waif portraits from the '50s and '60s, I was hoping for more than a straight-forward biopic about Margaret Keane, a reserved stay-at-home painter who allows smarmy husband Walter to take credit for her art. But save for a few Burton-esque visual detours, there is little of the darkly flavored and bittersweet essence that is at the core of director's best work. As Margaret, Amy Adams smokes a lot and sighs in between brush strokes. As Walter, Christoph Waltz dances and prances all over the place. The biggest disappointment of the year.