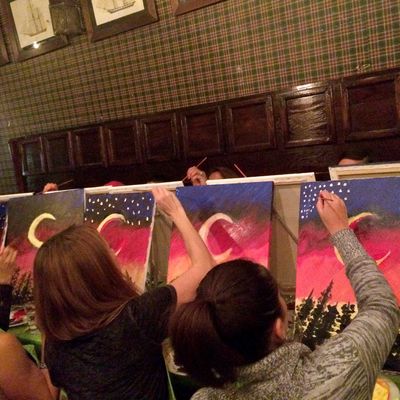 1. Here are the facts about Paint Nite, presented in the order in which you realize them when you come across a photograph taken at Paint Nite:
Paint Nite has a hashtag, and that hashtag has 58,286 posts as of this writing. The majority of tagged photos show groups of twentysomething women wearing aprons to protect their sweaters. Some images show similarly young couples holding canvases with the "We made this!" grin you've seen on people posing with their baby. Paint Nites are held in bars nationwide, and everyone in each class makes an identical painting. Most paintings are of trees or landscapes. More recently, participants made paintings of martini glasses strung with Christmas lights, and snowpeople in a magic-seeming swirl of frost, presumably because these are symbols associated with the holidays.
This progression may reflect my own process for judgement, which is an art in itself. (For example, when I see an apron, I first wonder what the wearer felt they had to protect and not what the protection allowed them to make).
2. The particular painter who first shared Paint Nite with me, but not me specifically, is a relative of mine. Recently, she posted a photo of herself with two friends, one of whom is pregnant. Her caption for this group photo was: "3.5 basic bitches."
3. In her 1978 essay "Soho: Or Not at Home with Mr. Art," Fran Lebowitz describes going to Soho to check out the art; the enormity of it all is something she finds ridiculous. She writes about "big artists" moving into big lofts to make "big art." She brings a friend, Mr. Art, whom she describes as having "a chronically curled upper lip" with her and the two are deeply disappointed. She begins the essay "SoHo is a real place," and as you might imagine, her narration proves that it is not.
In downtown Manhattan in late 2014, there are Paint Nite events nearly every night. Paint Nites may be the most active studios in the borough.
4. I convinced a friend I'll call Ms. Art to attend Paint Nite with me. She does not have a chronically curled upper lip. Hers is kept at a restful spot that makes for successful selfies; it also means it's not easy to tell when she is disgusted. I tell her the tagline for Paint Nite is "Drink Creatively." It's true. It is.
5. While choosing a night to be our Nite, Ms. Art and I discovered that it is possible to book up to six months in advance, and one can select their date based on the painting to be created that night. Here are just some of the painting titles available during the week we wanted to attend:
Frosty's Holiday (sold out)
Amber Glow Brooklyn Bridge
The Crescent Moon
Warm Winter Snow (sold out)
Moonlit Tree of Life (sold out)
Fireflys 4 (sold out)
Is It Spring Yet
We select The Crescent Moon but attend Paint Nite on the night of a full moon.
6. I paid $130 for two tickets to Paint Nite. Ms. Art PayPal'd me $65 with the message: "Paint Nite Woot!" We both assumed the fee included alcohol. This was not the case. Upon arrival, we learned that most of our fellow painters purchased their studio time with Groupon. Hearing this, I felt myself shrink down to 1/2 a basic bitch. I felt very small.
My deep shame was alleviated by observing that our painting instructor — himself an artist, as all Paint Nite leaders are; I'll call him Jordan — was pacing up and down the bar/studio with his fly down. If this was intentional, then both Ms. Art and I agree that Jordan is the most brilliant performance artist of our time.
He begins "Welcome-to-Paint-Nite-how-we-doin'!" and claps by himself.
7. One woman attending is in a black-and-white-stripe shirt and a red beret.
8.  Two values. Three Primary Colors.
9. Jordan anthropomorphizes the three brushes we are given. Though they are used consecutively and are three sizes (large, medium, and small), he opts to grant them roles in the heteronormative patriarchy: Papa Brush, Mama Brush ("It's rounder," Jordan notes), Baby Brush. We start with Papa Brush; Jordan reminds us that he "fills up space very quickly." We use Papa Brush to lay a band of red across the middle of our canvas. Then, it's time to rinse. We use the wet brush to blend out the red. "I want to hear those brushes swirling. Keep Papa Brush wet," Jordan instructs. "Dip Papa Brush every four to five strokes."
Later:
"We don't need a lot of pressure with our Mama Brush."
10. There are a handful of couples in the room. But it's the women whose hands shoot up first when Jordan asks who wants to trade their dirty water for clean water.
11. Jordan asks if there are any Type-A personalities in the room. "Raise your hand and let Jordan know."
Jordan does not understand that a true perfectionist, wanting to exemplify the idea of an artist, would strive to seem comfortable with the artistic process, confident in their ability and inability to work with the materials, and committed to their creation.
I am filled with rage when we begin and Jordan suggests I apply pigment more liberally. To salve my ego, I abandon the painting to which I was committed and cover the entire canvas in black paint. I remove myself from the realm of his criticism. Once it's covered, I carve into the canvas with the back of a brush. I write: #canilive?
12. Hey. Here's advice from a painter with experience:
There is your water cup, and then there is your wine cup. In one you dip, the other you sip.
There is only one way to know you have the authority to give advice, and that is when you've made mistakes.
13. Fran and Mr. Art — attending openings in a time we now idealize as the height of creativity in New York — were dismayed at Big Artists taking up as much space as possible for their work under the assumption that the bigger the art, the more valid it was. Paint Nite's physical setup is the opposite. Canvases are packed tightly on tiny bar tables; one mis-flick and Mama Brush might get a speck of red on the nice, newlywed Jewish couple behind you.
Paint Nite is the space we give up for the image of a creative life. Art, it seems, is too big.
14. After Paint Nite, the company sends us a survey.
Question 1 is:
Artist Score: Was the Artist Entertaining and Encouraging?
Question 2 is:
Painting Score: Was this painting easier to create than it appeared on the website?
The subject of the email is: How was Paint Nite?

It's the same desperation you sense if someone asks how they were in bed the first time you have sex. Everyone made a painting. What is your question?
At the conclusion of Paint Nite, Ms. Art has rendered the most successful copy of the original in the class. Jordan encourages her to spread her painting on her social-media networks. We take photos. Then, she leaves her painting — a blazing sunset with a little yellow lick of crescent moon in the middle — on a grate on the Lower East Side. I keep mine. It is currently backwards facing on my bookshelf, and I plan to give it to Ms. Art when she moves into a new apartment in a few weeks. So much of what makes art art is a connection.