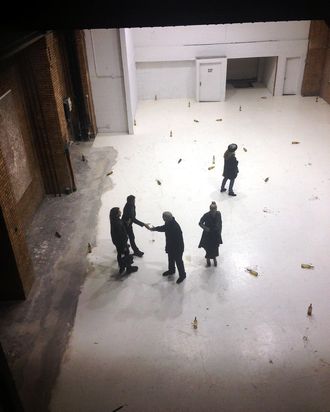 Dan Colen's installation inside a former Con Ed building.
Photo: Jerry Saltz
"Did you know that Walter De Maria invented Burning Man?" asked a clean-looking young blonde woman in a svelte black coat to her equally sartorially conscious friend in a peacoat with a popped color. The question was not an isolated one. That rumor circulated around Dan Colen's show — if you can call it that — in Walter De Maria's former studio, a mysterious onetime ConEd building on East 6th Street just off Avenue A that was purchased in August by power-patron Peter Brant. Well, we are here to set the record straight: No, Walter De Maria did not, in fact, invent Burning Man. The closest association we can find is that in 1969, he shot the art film Hardcore in the Black Rock Desert, which is where the burn has gone down every year since 1986.
Brant reportedly has big plans to turn the space — an amazing relic of a former version of New York, more Blade Runner than Burning Man — into an art center. Brant still has yet to confirm or deny his intentions or issue an official statement. But the collector, model husband, and father was there last night, in camel cashmere, along with fellow Colen collectors Jane Holzer, Dr. Frederic Brandt, and Tony Shafrazi, amid the installation — again, if you can call it that — that consisted of studd paintings, strewn (hand-blown glass) cigarette butts and empty glass bottles. Colen tripped multiple times over the bottles, as did his mother.