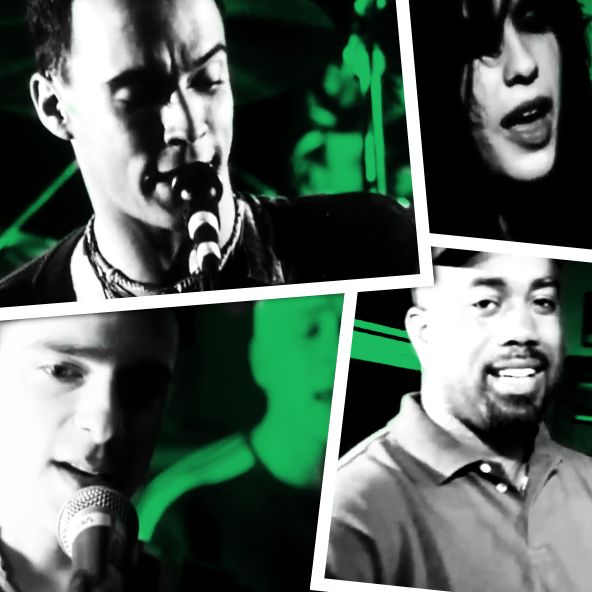 In the summer of 1995, Cheryl Strayed pulled on her boots and took off for some kind of long, important hike (spoiler alert!) that provided the basis for her Oprah-endorsed book Wild, and the Reese Witherspoon film adaptation that opens this weekend. Cheryl seems like an alternative kind of gal to me, so this week, let's hop in my DeLorean GIF and take a gander at the Billboard Modern Rock charts from the week of July 16, 1995. There is much to love! There is also Chris Berman doing comedy. Enjoy.
40. "Can't Cry Anymore," Sheryl Crow
Modern rock radio didn't really know what it was in the post-Cobain, pre-Durst landscape of 1995, so it simply played whoever was new and white. Hence this song — by my calculations exactly as provocative as a Kelly Ripa Electrolux commercial — got some spins alongside the Butthole Surfers. 1995 was weird.
39. "Need You Around," Smoking Popes
But listen: If it gets a song like this on commercial radio, then throwing everything against the wall is an excellent strategy. Smoking Popes were a punky-poppy Chicago band whose lead singer sounded like Mel Tormé, and who might have gotten somewhere if their label had supported them (and if they looked 40 percent less like your co-worker's improv team). Watch this video and reflect on all the Chandler Bing shirts you have worn.
38. "What Would You Say," Dave Matthews Band
It's hard to remember a time before human hemp necklace Dave Matthews was a part of our lives, and harder still to imagine that this is the song that broke him. (My money was on "Best of What's Around," and this is why I rarely bet.)
37. "Lightning Crashes," Live
True story: Just after I'd moved to Los Angeles a decade or so ago, I met some friends for drinks at Barney's Beanery, a giant, noisy West Hollywood bro-bar that smells like how they describe Valerie Cherish's trailer on the new season of The Comeback. It was karaoke night, which it somehow almost always is there, and sometime around midnight we all heard the opening chords to "Lightning Crashes." "Oh, dear God," I said. "Who would do this?" And seriously: Who wants to sing a song about death in childbirth underneath a TV with SportsCenter on it? Who gets drunk and sings the word placenta? I turned toward the stage and felt a twinge of recognition, and when he began singing, it hit me: The person who would unleash Live's "Lightning Crashes" on a karaoke night crowd was Live's own Ed Kowalczyk. I walked toward the stage in disbelief, as did about half the crowd. And as he sang, we all scanned each other's faces for cues so we'd know how to react: Like, is this the coolest thing we have ever experienced, or is it unspeakably sad? You guys, I still have no idea.
36. "Fake Plastic Trees," Radiohead
Just as the world can be divided into those who like Star Wars and those who prefer Star Trek, Lettermans and Lenos, Jolies and Anistons, I would argue that there are The Bends people and OK Computer people. I am a Bends. (And a Wars and a Letterman and an Aniston.)
35. "River of Deceit," Mad Season
Okay, back to The Comeback for a moment. Seems like nobody's watching it, and I understand that because I loved the first season but couldn't watch more than two weeks in a row without wanting to move back in with my parents. It's painful, you guys. It is the truth behind this ridiculous industry where you set yourself up to be personally rejected several times a day for the opportunity to be recognized and rejected by a wider audience, and then, if you're lucky, you chase that rejection for the rest of your life (and then go meet some friends to unwind over some drinks and Ed Fucking Kowalczyk is karaokeing his own song). It's stressful. It's a really beautifully-made snuff film, and while I absolutely believe that there are those who can watch it week after week and genuinely laugh out loud, I also believe that the word for those people is sociopaths. It is a great show and I love it, and for my own emotional health, I am going to save the rest of this season for next spring.
34. "Heroin Girl," Everclear
And honestly, if you had to name a '90s alternative-rock star whom you'd expect to see karaokeing his own work, you would almost have to go Alexakis.
33. "I Don't Want to Grow Up," Ramones
Did everyone watch NBC's Peter Pan Live! last night? Can't you name, like, 9 million beloved family musicals before you even remember that there's Peter Pan? Next year at this time, I fully expect to see Patrick Warburton and Jewel in NBC's Nick & Nora Live!.
32. "Immortality," Pearl Jam
I would actually watch the shit out of Patrick Warburton and Jewel in NBC's Nick & Nora Live!. Related: Eddie Vedder would have made an awesome Captain Hook.
31. "Sick of Myself," Matthew Sweet
There is nobody more tiresome than the guy who was into your favorite thing before you were, but indulge me: I went all in for those pre-"Girlfriend" Matthew Sweet albums. It was a lucky break, really: In 1986, local St. Louis zine JetLag called his first record Inside a perfect cross between Marshall Crenshaw and Scritti Politti, and since those were at the top of my personal charts, I bought that shit, no questions asked. (And God help me, I compiled actual weekly personal charts.) Click and hear how on-the-money that assessment was.
30. "Hurt," Nine Inch Nails
Whom would they cast in an NBC's Into the Woods Live!? Is there any chance Kathie Lee Gifford wouldn't be the Witch? (Again, I am all kinds of in.)
29. "Ants Marching," Dave Matthews Band
Fun fact: That's Grey's Anatomy's Justin Chambers in this video! Also, men's clothing apparently only came in XXL in 1995!
28. "Vow," Garbage
Years later I interviewed Shirley Manson, and before the cameras started rolling, she said, "I'm told you're a bit of a boffin." I said, "Yeah, well, you know," and then quickly changed the subject because I had never heard that word. As soon as the interview was over, I thanked her, excused myself, and sprinted through the halls of MTV looking for someone who spoke Scottish so I could find out whether I'd been insulted. I hadn't, really; it's a term of endearment for an egghead or a nerdy type, which I clearly am, and also I might be imagining the "endearment" part because I want her to like me so badly.
27. "She," Green Day
Billie Joe Armstrong has some dreamy eyes, can we agree? Jacked-up teeth and horrendous tattoos, but the area between the forehead and the nose is straight-up Tiger Beat.
26. "Connection," Elastica
On the eye tip, nobody works a Justine Frischmann brow anymore, and that saddens me.
25. "Only Wanna Be With You," Hootie and the Blowfish
I think this video is why we all turned on Hootie so savagely. If there's one thing we want to see less than rock stars golfing, it's sportscasters doing comedy. That shit will get you banished to the country charts. Beware.
24. "Run-Around," Blues Traveler
Apparently John Popper searches for his own name on Twitter pretty regularly, because I have friends who have tweeted about him and he replied within the hour. Try it yourself! Be kind!
23. "Stutter," Elastica
Elastica is the perfect example of the "one-album wonder."
22. "In the Blood," Better Than Ezra
Kevin Griffin of Better Than Ezra just straight-up stole Sarah McLachlan's face.
21. "Ridiculous Thoughts," Cranberries
That's Elijah Wood in this video! On the "early work from future stars" tip, this chart is basically Fast Times at Ridgemont High.
20. "Better Than Nothing," Jennifer Trynin
You know, I was wondering what ever happened to Jennifer Trynin. There were a few minutes in 1995 when we were sure she was going to be the next big thing — that voice! That sneer! Those Goodwill slacks! — yet like so many major-label gambles in the wake of Nirvana, it failed to come together. Well, as it happens, she turned her story into a memoir (Everything I'm Cracked Up to Be, Harcourt Press, 2006). Book club, anyone? (If you can't commit to the whole 368 pages, at least listen to her lost classic "Getaway (February)."
19. "Waydown," Catherine Wheel
Okay, now I might be looking too hard for future stars in these videos, because I'd swear that's Abby Miller from Dance Moms at 1:17.
18. "Tomorrow," Silverchair
Silverchair never did much for me when they first came out, but their 2007 song "Straight Lines" is absolutely stunning and deserved more attention. Also, Daniel Johns needs to play a Bond villain.
17. "Smash It Up," the Offspring
I don't want to talk about the Offspring and you don't want to hear about them. Instead, here's a fun story: One day in summer 1995 — two whole summers after I had come out of the closet to my family — I was sitting in my cubicle at my very respectable advertising agency in New York City and my phone rang. I picked it up — Hello, Dave Holmes — and my mom skipped hello and went directly, breathlessly into her pitch: "Dave, I have an idea. How about a really masculine girl?" I sighed, pinched the bridge of my nose, and for the first and only time in my life, hung up the phone on my mother.
16. "Carnival," Natalie Merchant
Then as now, Natalie Merchant is a long, gray braid in human form.
15. "Wynona's Big Brown Beaver," Primus
We do not allow this kind of thing in 2014, and I think we're better for it.
14. "Good," Better Than Ezra
This is a performance from Letterman, and the first few seconds are a little fuzzy while the uploader adjusts the VHS tracking. Nobody under 35 has any idea what I'm talking about, and I only partially do myself.
13. "Stars," Hum
I just barely remember this song, but if I needed to explain to someone what 1995 sounded like, this is what I'd play for them.
12. "I Got a Girl," Tripping Daisy
Tripping Daisy lead singer Tim DeLaughter went on to form the Polyphonic Spree, the massive, robe-wearing, symphonic pseudo-cult he's been with ever since. One look at his face in this video and it is clear: Tim DeLaughter is a gentleman who follows through on the ideas he has on mushrooms.
11. "More Human Than Human," White Zombie
Similarly, if you were to tell me that Rob Zombie would go on to be an acclaimed director of especially brutal horror films, I would say, "Yeah, that sounds about right."
10. "Hey Man, Nice Shot," Filter
This song, as you're probably aware, was written about Budd Dwyer, a Pennsylvania state senator who had been busted for receiving a bribe and then shot himself in the head at a press conference. I have a friend who has this press conference on video, and in the days before YouTube, people used to ask to borrow it. I am not a Faces of Death guy myself, but one day when he was at my apartment, my curiosity got the better of me. He asked if I was sure, and I said that I was, and he pulled it out of his bag — it was on his person at all times, so popular was this video — and put it in my VCR. It is twice as gruesome as you are imagining, and the act of watching a desperate human being take his own life — in front of his wife and children — is so utterly harrowing, I can honestly say I haven't been exactly the same since. Anyway, we are now in the days of YouTube, so if you think you can handle it, I won't stop you.
9. "Say It Ain't So," Weezer
Mainstream radio was doing some very odd things in 1995 — power ballads by nerds in sweaters, for one — but it was business as usual on television. Check out this promo for Fox's new fall season, which manages to sell Scott Wolf, Homer Simpson, and Eric Shaeffer's Too Something like they're Chevy trucks.
8. "Little Things," Bush
I just read Boy George's autobiography Take It Like a Man, which is all kinds of entertaining, and two things stand out: (1) The book leaves off in 1993, which leaves me starving for a sequel, and (2) it blithely outs Gavin Rossdale as the longtime boyfriend of George's best friend and fellow genderqueer Marilyn, who in his prime looked like a small-town drag queen doing Gwen Stefani. Here's Marilyn performing his 1983 semi-hit "Calling Your Name" on U.K. kids' show Razzmatazz, then standing onstage awkwardly as the kids have a competition to see who can read the fastest. Winner gets to open the Pirate Plunderbox. U.K. kids' television is my kind of party.
7. "This Is a Call," Foo Fighters
I didn't watch any of Sonic Highways. Should I catch up on Sonic Highways?
6. "Misery," Soul Asylum
The opening lines of this song — "They say misery loves company / We could start a company and make misery" — is the sound of a very good band running out of ideas.
5. "All Over You," Live
Now, if I were Ed Kowalczyk, and I were meeting friends for draft beers and potato skins at a bar that smells like throw-up, and it were karaoke night, and I were determined to sing my own song, I'd go with this one. This is your crowd-pleaser, Kowalczyk; keep your placenta to yourself.
4. "December," Collective Soul
I like this song. And I can't think of a second thing to say about Collective Soul, and this doesn't really belong here, but I don't know where else to put it and it needs to be said: Someone is going to die on The View this season. I mean, look at this clip. Whoopi and Rosie O. make Mariah and Nicki on American Idol look like Click and Clack from "Car Talk." (RIP, Click or Clack.) Rosie Perez is scared out of her mind. Nicolle Wallace, to her credit, seems content to sit back and watch the carnage. Chompin' on that gum, rage in her eyes: I am legitimately afraid of Rosie O'Donnell, my friends.
3. "Molly," Sponge
Just as there are Bends and OK Computer people, there are those who pronounce vase as "vayce" and those who pronounce it "vahz." And I know it was in service of a rhyme, Sponge, but nobody has ever pronounced it "vass." Get the fuck out of here with that shit. (Oh, right — you did, immediately after this song.)
2. "You Oughta Know," Alanis Morissette
So this song either is or isn't about Dave Coulier; I have no idea, and I'm not here to do the investigative reporting (though I think we can agree that if there were a Vulture and a Twitter in 1995, we would have the facts). But I will tell you this: If you live in Los Angeles, Coulier's Out of Control sidekick Diz McNally works the afternoon shift at the newsstand on Cahuenga and Hollywood, she still wears multiple rubber bracelets and brightly colored socks, and she will make the Diz noise if you ask her to and also if you do not ask her to.
1. "Hold Me, Thrill Me, Kill Me, Kiss Me," U2
You know, ultimately, I don't think I care as much about Batman as American culture seems to want me to. (Still: Tracey Thorn and Massive Attack and PJ Harvey and Eddi Reader on the soundtrack of a massive summer blockbuster? Sign me sort of up!)