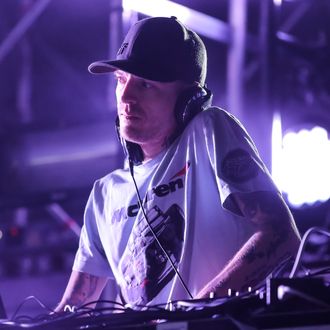 Photo: Chelsea Lauren/2014 Chelsea Lauren
There's some beef brewing in the EDM world: DJ Deadmau5 and now-duo Krewella don't seem to see eye to eye about the industry the two acts work in. In an op-ed published by Billboard, Krewella's Jahan Yousaf responded to a lawsuit she and her sister have been embroiled in for the last few months, and detailed how she says the turmoil has affected them in terms of internet harassment and shaming. (Earlier this year, Krewella's Kris Trindl — the only guy in the group — was ejected, and he sued the sisters for kicking him out unfairly.) The highly publicized suit prompted many fans and disgruntled people of the internet to unleash their feelings at the sisters. Many of these feelings happened to be pointedly misogynistic and sexually degrading, as Yousaf notes in her piece. Some haters even recommended that the two pursue a career in pornography because they had failed at being Krewella.
Deadmau5 was among those commenting on Trindl's departure. In November he took to Twitter to say, "Krewella does not deliver. All hype. No drop." And: "EDM protip: If you're going to make a group/trio act … don't fire the guy who actually does shit." The sisters facetiously thanked Deadmau5 for convincing them to stay in the music industry rather than taking up porn. In Yousaf's takedown, she calls out cowardly internet sexists and rallies to stop online bullying:
I am asking for everyone to think about the impact this unwelcoming online environment has on our youth wanting success, respect and acceptance. Isn't that what we all want? I am asking for everyone to think about girls who are looking at this public reaction who might now be discouraged to pursue an authentic place in a male-dominated industry. I am asking you to think about boys who internalize messages that vulnerability, sensitivity and standing up for gender equality means they are a pussy. This is for boys and girls, parents and children, straights and gays, because social rejection affects ALL of us. And if you think I am bringing up societal problems of the past or blowing this out of proportion, then you are living in a fantasy world where sexism, discrimination and homophobia don't exist. I ask that you step outside your little bubble — or do your research — and understand that a huge portion of our youth's depression, self-destructiveness and cognitive behavioral disorders are a result of societal rejection and shaming that occurs on the internet.
Shortly after the op-ed was published Monday, Deadmau5 fired off a string of tweets in response: