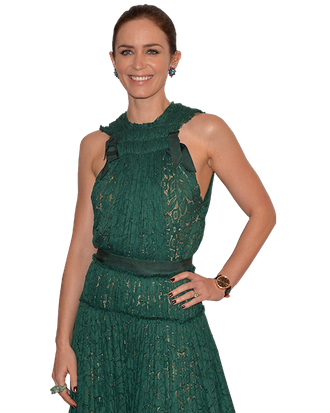 Photo: Anthony Harvey/Getty Images
In between cups of tea ("That's how British we are!"), Emily Blunt is reveling in "the ultimate irony" of her playing the Baker's Wife in the film adaptation of Into the Woods while pregnant. For those new to the musical, the character is so desperate to have a baby, she enters a bargain with a witch — played here by Meryl Streep — which sets the couple on a path that sees them collide with Cinderella, Rapunzel, Little Red Riding Hood, and Jack (soon to be of the Beanstalk). During a conversation started at a Peggy Siegal–hosted luncheon for Into the Woods and continued afterward, Blunt chatted with Vulture about hiding behind trees, why Meryl Streep took it upon herself to call "Cut!," and pranking Jimmy Kimmel.
So you discovered you were pregnant the same week you found out you would be playing this part?
Yeah! Yeah. It was a surreal, bizarre, lovely, profound, and slightly ironic situation to be in, and to be playing this barren woman, and to be with child myself. [Laughs.] And I think it did help me a great deal, that I was going through such a life shift at that time. Before I even arrived to shoot, I was preparing for the role, but also kind of preparing myself that [director] Rob Marshall might say, "You know what? We can't make this work." I think [costume designer] Colleen Atwood was the first person to figure out I was pregnant! She came to my house, and she had all these drawings for what she wanted the costumes to be, like really lovely and fitted. And I was like, "Do you know what? Maybe we should do something loose and dowdy." She told me later that as she was driving out, she said to herself, "She's pregnant." [Chuckles.]

But I waited for a while, a good ten weeks, two weeks before we started the main rehearsals, before I called Rob Marshall and had to tell him. And he was amazing about it and supportive and, probably deep down, really concerned that I was going to blow up like a balloon over the course of his film. [Laughs.] I'm just glad Rob Marshall let me do it and hid me behind lots of objects. Lots of trees! And I did a lot of stuff where I was sort of creeping behind James [Corden, who plays the Baker], and he would put his arms out as if he was trying to protect me from what was in front of us, but really, it was just to cover my stomach.

Something's always kind of nagged me about Into the Woods — why do you think the Baker doesn't run off to find Rapunzel, given that he's just discovered she is his long-lost sister?
Wow! [Laughs.] You are the only person to ask me that, and now I'm like, "Seriously, why didn't he find that out?" I guess because they're under the clock here to have a kid. So does he find out who his sister is, or does he get a baby with his wife? And his wife is like, "You can find out about your sister later!" This is their opportunity for something they've yearned for for years. He's sort of getting pressure from the ball-and-chain. It's all my fault.

This is your second time working with Meryl Streep, after The Devil Wears Prada.
Meryl was like a mama bear on set. She was always on pee patrol, making sure I got time to pee whenever I wanted to. "Guys, cut! Emily needs to use the bathroom — again!" [Laughs.] It was that kind of thing.

And you kind of returned the favor? When you saved her life?
[Laughs.] That's been completely blown out of proportion. I kind of caught her arm when she was falling off a table, but it's not as big of a deal as everyone's made it out to be. That's not just me being modest. It's really not. But the guys just kind of stood there, with their jaws open. You know when scary things happen and everything kind of slows down? It was one of those, but it was totally fine.

Okay, because you could have used saving Meryl Streep's life as a reason for them to cast you as Captain Marvel. You could have used that as prior superhero experience.
Oh! No one's offered me that officially, so it's … [laughs] very unofficial. I think it's fan-casting, which is always very nice. But nothing official has been offered, for sure. If I get it, thank Meryl for it!

They talked to you before for Black Widow and Peggy Carter …
Yeah, but it was never the right time, really, and it just didn't work out scheduling-wise with those two. It's always a difficult thing to talk about, because it's not fair to the actresses who ended up playing them, you know? It just wasn't the right time.

Perhaps some day it will be the right time, if they recast the parts for different productions.
Maybe! Who knows? There's pressure enough living up to Joanna Gleason as the Baker's Wife. She was amazing, and the musical's beloved, and she was beloved in it. So I remember watching a little bit of what she did in it online before the audition, and then I decided I shouldn't watch anymore because I had to do something different and something that's not derivative of what she did. So instead, I listened to a lot of Broadway music on Sirius. I do love Cabaret, Chicago, and Forum — A Funny Thing Happened on the Way to the Forum.

You said you were a little nervous about how your singing would be received, because of that leaked karaoke video.
I have to say, I am feeling better about my singing, because I'm hearing people don't mind it! So that's good. That's a relief. I used to do "Total Eclipse of the Heart," which was a mistake. I probably should have done "Me and Bobby McGee" by Janis Joplin back then. That's my go-to karaoke song now. I love that song so much. It's a standard.

So would you feel comfortable doing a live production of Into the Woods? Maybe not a full theatrical production, but a reading?
To take it on the road? Or on Broadway? I wonder if we would be allowed? That would be kind of amazing! I would be up for it. I'd be terrified, but I'd be up for it. And then you'd really be put to the test, to sing live. But we'd have to get the whole gang.

I'm sure that could be arranged. In the meantime, you prank Jimmy Kimmel every Christmas.
I know! It's the best.

How much of your most recent series of pranks — where you gift-wrapped his car and filled it with various surprises — were you able to do yourself? How much help did you need?
We were helped a lot by his show. We came up with the pranks with Molly, his wife, and then the show helped us facilitate that. Like the timing, when he's in his office, when he's coming out. But he genuinely didn't know about any of it. And he was so concerned when he thought his actual computer was going into the car! He's really hard to prank, so when you get him good, it's really lovely.