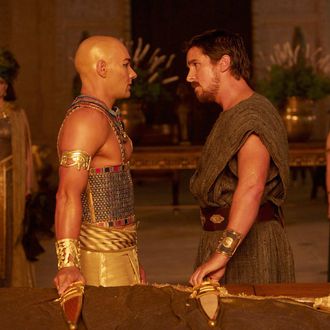 Photo: Kerry Brown/Twentieth Century Fox
Ridley Scott's racially tone-deaf Exodus didn't fare so well at the box office, bringing in just $24.5 million despite opening in wide release at more than 3,500 locations. Meanwhile, Chris Rock's much-anticipated (at least around these parts) Top Five opened with $7.2 million in 979 theaters. The Hunger Games: Mockingjay — Part 1 dropped down to second place with $13.2 million, bringing its cumulative total to $277.4 million. The family-friendly films Penguins of Madagascar and Big Hero 6 held strong, with $7.3 and $6.1 million to come in third and fifth, respectively.
Opening in just five theaters, Inherent Vice brought in $330,000 for a per-screen average of $66,000. Wild expanded its theater count slightly for its second week and continued to do well with $1.6 million for a PSA of $13,362. The Cumberbitches also continue to turn out for The Imitation Game, which had the highest PSA again with $35,000 in its third week.