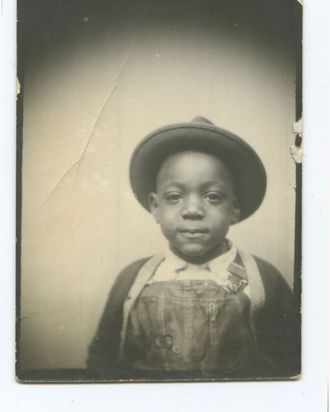 Somewhere in the American South, as seen in Lead Kindly Light.
Photo: From the collection of Sarah Bryan
I knew I was not a collector when I dropped that Charlie Patton 78 of "Pony Blues" on the floor. Recorded at the Gennet studio in Richmond, Indiana, on June 14, 1929, the disc came to me from a friend who, as any real collector would, had wrapped it in several layers of bubble wrap for safe travels through the U.S. Postal Service. Now the record lay about my feet, 50 shards of blackened shellac, the famous Paramount label split down the middle. All these years, through who knew how many owners, stored in uncounted garages and basements, across time and space, the neo-sacred object had persisted. Less than 60 seconds into my custodianship, its journey was at an end. There was nothing left to do but to stare in disbelief, cry in mortification. I was a slob. I could not be trusted with the past.
The recall of this painful episode only heightened the pleasure of thumbing through the recent Lead Kindly Light by Sarah Bryan and Peter Honig, a nifty package consisting of a hundred or so old photographs, many of them found in secondhand stores throughout the Carolinas, and a pair of CDs containing digital remastering of primarily country-fiddle 78s from the 1920s and '30s. Here, at least, were some people who knew how to take care of what's gone by.
There are other compilations not unlike Lead Kindly Light.  The same publisher-packager, Dust-to-Digital, offers Parchman, a collection of photos and field recordings made at the Mississippi State Penitentiary by the unmatched Alan Lomax during the 1940s and '50s. Not to slight the magisterial contributions of someone who was the first to record Muddy Waters and got Jelly Roll Morton to recount, self-aggrandizingly, his life and times, but works by Lomax and other professional folklorists often smack of the museum. The template of the maniacal, sweaty-browed collector who will do almost anything to lay his hands on a Maltese-falcon-like 78 was set for all time by the cartoonist R. Crumb, the best known of these backwoods record stalkers. Lead Kindly Light takes a more joyfully relaxed approach to its beloved materials.
The attitude is established in the introduction written by Honig, who put together the CDs from his collection of 78s (Bryan, the curator of the photo archive, has her own essay). Harking back to a July 27, 1927 recording session featuring the Blue Ridge Corn Shuckers, Honig imagines a scene in which the group's leader, Ernest Van Stoneman, tells his fellow pickers that the storied Victor Records producer Ralph Peer believes more money will be made if the Shuckers can come up with a proto–Hee Haw skit to accompany the music. None of the musicians are too crazy about this, but fiddler Eck Dunford suggests everyone can play a bit and then pretend to take a swig of corn liquor.
"Aw hell," complains Stoneman, "what kind of idiot would enjoy listening to that?"
"Peter Honig will," Dunford returns. "I just know he will."
Reached at the home where he lives with Ms. Bryan near Durham, North Carolina, Honig told me, "Ole Eck was right about that. Just can't get enough of it." A fiddler himself, Honig, 61 — who grew up in the less piney confines of Westport, Connecticut — takes a good-natured if unsentimental tack on the 46 recordings in Lead Kindly Light. "There are a lot of fiddle tunes because that's mostly what I've got, and you don't hear them as much on much of archival reissues the way you do guitar and blues records. I've been acquiring this stuff for more than 30 years, but I don't have a giant collection by most standards. I am not encyclopedic. I have what I like and play them often. I'm not romantic about the past or think that things used to be better than they are now. I just think the music was better. Or I like it better."
While no more awash in reflexive nostalgia than her husband, Bryan is more willing to entertain the transcendentalist aspect of what is sometimes called "vernacular" photo collecting. "It's true — most, maybe all, the people in this book, the subjects and those who took the pictures, are likely dead. But having the proof that they were once alive and stood in front of a camera at that particular time is very moving to me.  I particularly like the light leaks on the photos. What might have been a mistake leads to any number of interpretations, spiritual and otherwise, which impress me."
The reward of a project like this is open-handedness. Bryan and Honig are canny, heartfelt aggregators of their respective takes on technology's first wave of self-representation, the early record-making devices and Brownie cameras. But that's as far as they go. They are presenters, not commentators. You are left to view, say, a faded picture of three young children standing in what looks to be an empty desert landscape and read the handwritten commentary, seemingly written by one of the subjects now grown up. "Where we waited till they paved the road," it says.
The image begins to fill in when you accompany it with a playing of the work's titular title tune, "Lead, Kindly Light," an a-cappella hymn recorded in Camden, New Jersey, in 1927 by the Loveless Twin Quartet, a group composed of identical-twin brothers Herman and Harmon Loveless and identical-twin sisters Lela and Lola Teague. You find out that both Herman and Harmon became veterinarians, and both couples would later appear together on Groucho Marx's You Bet Your Life.
It is hard to ignore the ghosts in the system, the persistence of these seemingly arcane images and sounds in the digitalism of now. Hints and collective dreams abound, surreptitiously snaking through the culture. When lyrics from "I Wish I Was a Mole in the Ground" ("Oh, I don't like a railroad man / a railroad man, they'll kill you when they can / drink up your blood like wine"), sung here by Amos Baker, morph into Bob Dylan's "Mona tried to tell me / to stay away from the train line / she said the railroad men / just drink up your blood like wine," can that really be called stealing any more than a particularly creative hip-hop sample? The gift just moves on down the line.
I asked Sarah Bryan whether collecting photos of people she didn't know made her happy or sad, and she said, "A little of both, I guess. Finding the photos and appreciating their beauty and strangeness is an overwhelmingly positive experience. What makes me sad is that here were the faces of so many anonymous people, and the pictures were sold, given away, or thrown out, that there were no surviving relations to keep them and hold onto them. But I guess that's how it is with these things."