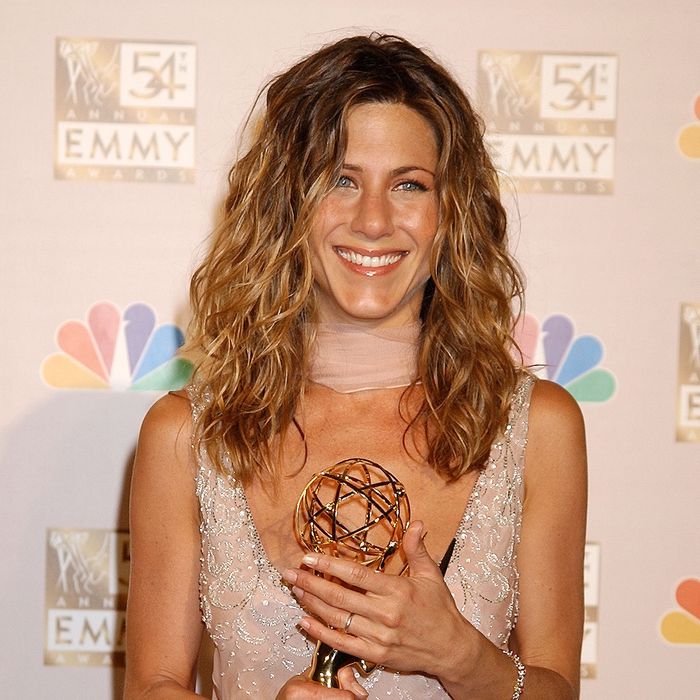 656678
Photo: Gregg DeGuire/Getty Images
For a show that was both megapopular and highly regarded, Friends has a strange Emmy history. In 1995, Lisa Kudrow and David Schwimmer were the only regular cast members nominated, both in supporting categories. In '96, no cast members were nominated, but then, in '97 and '98, Kudrow was the only Friend to get a nomination (again, as a supporting actress). She also became the first one to win an Emmy, in '98. In 2000, Kudrow and Jennifer Aniston were both nominated, though they lost to Megan Mullally, and in 2001, Kudrow and Aniston lost to Doris Roberts. But then, in 2002, Jennifer Aniston won — for lead actress in a comedy — and Matt LeBlanc and Matthew Perry were both nominated, both as lead actors. LeBlanc and Aniston were both nominated again in 2003 and '04, but no dice.
Beyond the core cast, Friends generated several nominations and wins for its guest-stars: Christina Pickles was nominated in '95 for playing Ross and Monica's mom, Marlo Thomas in '96 for playing Rachel's mom, and Tom Selleck in 2000 for playing Richard. Bruce Willis won that year, for his role as Paul, the high-strung father of Ross's student-girlfriend. Gary Oldman and Susan Sarandon were both nominated in 2001, Brad Pitt was nominated in 2002, and Hank Azaria in 2003. Christina Applegate won for guest actress in '03, and she was nominated again in '04, as was Danny DeVito.
Friends won its only Best Comedy Emmy eight seasons in, in 2002, beating out Curb Your Enthusiasm, Sex and the City, Everybody Loves Raymond, and Will and Grace. Season eight, in which Rachel is pregnant, is not the show's best if you're going episode by episode, but it does include "The One with the Rumor," a.k.a. Brad Pitt Thanksgiving, which is impossible not to love. It's not that Friends was unfairly snubbed all those years — it lost to Frasier, Will and Grace, Ally McBeal, and Everybody Loves Raymond, which were all major shows — but for a series that holds such a place of affection, it's strange think it has only one series-wide Emmy to its name. Even stranger? Same goes Seinfeld.
Dying for 31 Days of Friends? Well, we'll be there for you. Click on over here.