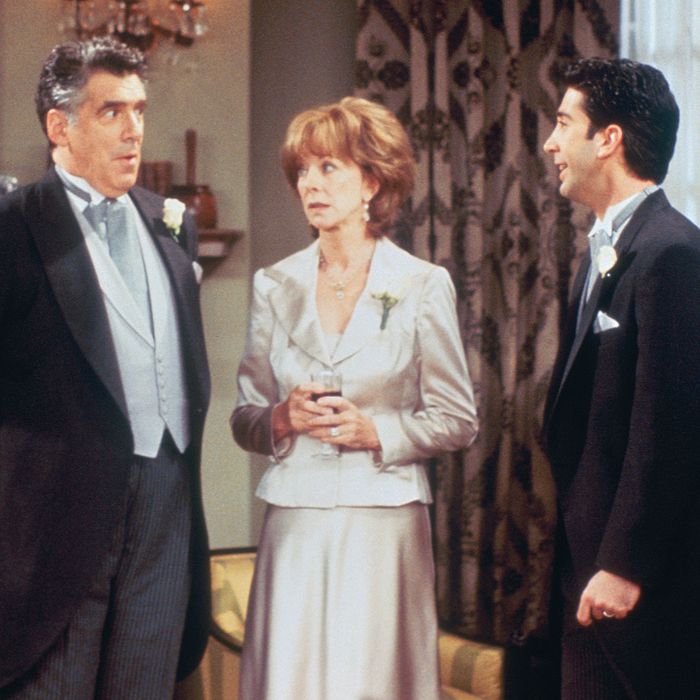 FRIENDS – "The One After Ross Says Rachel" Episode 1 – Pictured: (l-r) Elliott Gould as Jack Geller, Christina Pickles as Judy Geller, David Schwimmer as Ross Geller – Photo by: J. Delvalle/NBCU Photo Bank
Photo: J. Delvalle/NBC
The Central Perk Six were there for each other (especially when the rain started to pour), and that's probably because most of their family members were pretty damn crazy. Their siblings, like Phoebe's half-brother Frank (Giovanni Ribisi), and Rachel's sisters Jill (Reese Witherspoon) and Amy (Christina Applegate), had their fair share of drama, but as any therapist will tell you, you have to look at the parents. So we decided to rank them. The Gellers might have appeared on the series the most, but does that make them the best parents?
10. Frank Buffay Sr. (Bob Balaban)

Phoebe finally reunites with her deadbeat dad when he shows up at her grandmother's funeral. He might've skipped out on the family (His excuse? "I was a terrible father"), but he did give one great gift to Phoebe. The lullaby he used to sing to baby Phoebe and baby Ursula bares a striking resemblance to "Smelly Cat."

9. Leonard Green (Ron Leibman)
Rachel is terrified of her overbearing and often rude father, even though it turns out that she's the only one of his children whom he's actually proud of. But he also really hates Ross and is a terrible tipper!

8. Charles Bing/Helen Handbasket (Kathleen Turner)
Chandler's drag-queen father really did a number on his son. He had an affair with the pool boy and started attending Chandler's high school swimming events dressed as different starlets before moving to Las Vegas to headline "Viva Las Gaygas." But Chandler wouldn't be the sarcastic, lovable Chandler we know and love without these experiences, right?

7. Nora Tyler Bing (Morgan Fairchild)
Chandler's mother, a best-selling erotic novelist with a book called Mistress Bitch, isn't going to win any Mother of the Year awards. She tried to seduce Ross that one time, and is half of the reason why Chandler hates Thanksgiving.

6. Joseph Tribbiani Sr. (Robert Costanzo)
5. Gloria Tribbiani (Brenda Vaccaro)
Joey's parents get lumped together because they only appeared on the series once. (Although Joey Sr. did show up one time on the ill-fated spinoff Joey.) In season one's "The One With the Boobies," Joey tries to get his father to stop having an affair, but his mother actually doesn't mind because her husband has been unusually nice to her since he started cheating on her. What a great example to set for one's son.

4. Phoebe Abbot (Teri Garr)
Sure, Phoebe didn't even know she had a birth mother until she finally met Phoebe Sr. (believing she was just a friend of her mom's). But the two eventually hit it off, and the older Phoebe came bearing life lessons with adorable puppies as props, so bonus points.

3. Judy Geller (Christina Pickles)
Judy tells it like it is. ("Rachel, no, you weren't supposed to put beef in the trifle. It did not taste good.") Most of her criticism is geared toward Monica, dating back to when Monica had weight issues as a teen. Monica turned out okay, so maybe all the snarkiness worked in her favor?

2. Sandra Green (Marlo Thomas)
Rachel's overprotective mother offered to move in with Ross and Rachel when they were having their baby. But years before that, Rachel was there for her mom when Sandra was divorcing Rachel's dad. She brought her to a lesbian wedding, where her mom danced with a "wonderfully large woman." When it seems like Ross is basically just a version of Rachel's dad in "The One With Two Parties," she tries to give Rachel relationship advice.

1. Jack Geller (Elliot Gould)
Even though Ross and Monica's parents clearly favor their son, Jack offsets it by giving Monica, or "Harmonica," as he affectionately calls her, some special attention. He consoles her after her breakup with Richard and, um, gives her a Porsche (after all the objects from her childhood were ruined by a flood … Ross's stuff was unaffected). It's no wonder she named her son after him.
There's a whole month of fun Friends tidbits and trivia. Join us.