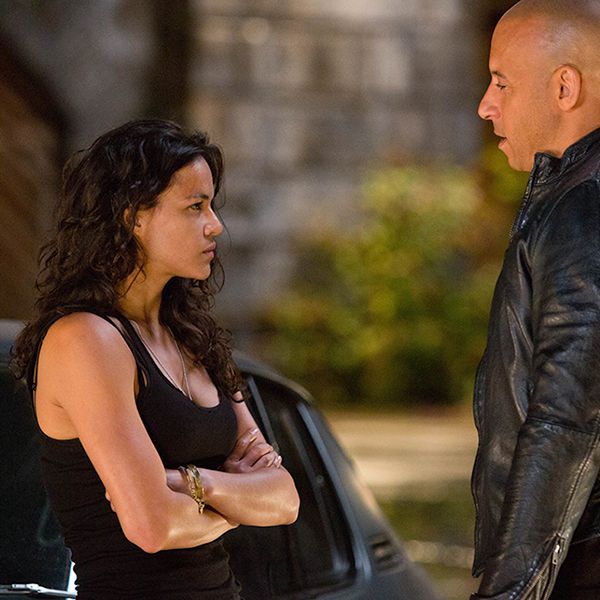 Photo: Universal Pictures
With this week's Sound and Visions series, Vulture explores the future of movies and the movie industry. We hope you'll plug us directly into your cerebral cortex.
When Instructions Not Included, the Mexican breakout hit that quickly became the U.S.'s highest-grossing Spanish-language film ever, was released over Labor Day weekend in 2013, it was written about with mild surprise, the way that successful movies starring predominantly black casts are often categorized as unexpected hits. The movie debuted in fifth place with $10 million on the back of its social-media-savvy director-star Eugenio Derbez and did extremely well in Texas and California, both states with heavy Mexican populations.
It was a wonderful example of the power of one segment of the "Latino market," which is a diverse collection of many different nationalities, as opposed to the single bloc that it is often portrayed as. Yet, at major Hollywood studios and production companies, Latino representation is shockingly low. We'll cede the floor for a minute to Chris Rock, who addressed the issue in last week's Hollywood Reporter cover story about race and the movie industry.
"You're telling me no Mexicans are qualified to do anything at a studio? Really? Nothing but mop up? What are the odds that that's true? The odds are, because people are people, that there's probably a Mexican David Geffen mopping up for somebody's company right now. The odds are that there's probably a Mexican who's that smart who's never going to be given a shot. And it's not about being given a shot to greenlight a movie because nobody is going to give you that — you've got to take that."
It's a sad state right now, but the future of movies will be more Latino. Currently, Latinos make up 17 percent of the nation's population and bought 25 percent of movie tickets in 2013. They make up a third of the nation's frequent moviegoers, defined as people who attend movies at least once a month. Yet, in the last six years, only 4.9 percent of the characters in Hollywood's biggest movies were Latino, according to a USC study released in August. Most projections say Latinos will make up 29 percent of the U.S. population by 2050.
Those are the kind of numbers studios notice. "It's glacial, but it's happening," says Manny Alfaro, executive director of the Hispanic Organization of Latino Actors. Over the past several years, there are signs that Hollywood is including more Latinos, even if the statistics remain dire. Among those signs are increased marketing in Spanish-language media, major studio releases with heavy Latino casts and themes (Halloween's animated The Book of Life, for example), and in at least one case, the hiring of an executive tasked with "focusing on projects driven by diverse filmmakers."
"They're not blind. They're seeing the numbers and they're saying, 'We need to go after this population, otherwise we're going to be left behind,'" says Alex Nogales, president of the National Hispanic Media Coalition. Is Hollywood finally getting it right with regard to Latinos? "If you would have asked me that ten years ago, I would have said, 'Hell, no,'" Nogales says. "It's a different ballgame now. It's driven by the demographics."
So far, studio efforts to include Latinos have primarily focused on simply getting them to buy tickets. Highly targeted Spanish-language ads for mainstream releases have become common. For last summer's Maleficent, Disney hired an outside company called Soda Creative to cut a Latino-friendly trailer. "The last thing you wanna do is scare … Hispanic moms," Soda Creative's Jaime Gamboa told The Wrap. "We started to go fun, more action-driven." The resulting trailer is decidedly less dark than the original, with less ominous music and more Angelina Jolie.
Effective though it may be, there's still something off-putting about marketing a movie full of white people to a Latino audience. It's as if Disney is saying, We'd like your money but not your participation. Universal, at least, cast a Latina in Identity Thief before organizing a Spanish-language media day. According to The Wall Street Journal, the studio "worked with multicultural marketing executives to select Génesis Rodríguez, a telenovela actress and the daughter of a popular Venezuelan singer, for a role not originally written for a Latina."
It would be easy to criticize Universal's casting of a token Latina as a crass move motivated by the bottom line. But let's not do that. Instead, let's celebrate it as a crass move motivated by the bottom line. Market forces dictate change, sometimes for the better. If studios didn't think they'd cash in, Paramount would have never released a version of Paranormal Activity with young Latino characters and an Oxnard, California, setting. Fox distributed The Book of Life, which is about Día de los Muertos and features the voices of Diego Luna and Zoe Saldana.* And Universal wouldn't keep churning out Fast & Furious sequels, beloved by Latino audiences because, Nogales says, "we're included."
Taken together, these films provide an encouraging picture of where Hollywood is headed. But large-scale, dramatic increases of the number of Latinos on camera will likely require a change in the director's chair first, says Alfaro. "To me, talent has to come from behind the camera and the pen," he says. In that regard, there might be some reason for hope. The Mexican trio of Alfonso Cuarón, Guillermo del Toro, and Alejandro G. Iñárritu, who has been praised this year for his movie Birdman, are all well-established directors. Lesser-known Latino directors are getting shots, too. Brazilian José Padilha made Robocop, Uruguayan Fede Alvarez made last year's Evil Dead reboot, Universal hired Chilean director Pablo Larraín to head up its Scarface reboot, and Mexican Gerardo Naranjo is bringing back Death Wish for MGM. And yet, Latino participation behind the camera is still seriously lagging. A Columbia study from earlier this summer found that from 2010 to 2013, "Latinos accounted for 2.3 percent of movie directors, just over 2 percent of producers, and 6 percent of writers."
Increasing those numbers would increase Latino representation in front of the camera. Black directors have proven that. According to the USC study mentioned previously, black directors cast black actors in 46 percent of speaking parts. Meanwhile, white directors cast black actors in just 10.8 percent of speaking roles.
Stepping even further back, increasing the number of Latino directors and writers will likely take an increase in the number of Latino executives who know where to find talent. "They don't know us," Nogales says of Hollywood's current ruling class. "They don't know where to turn to find the talent, to look at scripts that include Latinos." That's why Relativity Media's formation of a multicultural division, headed by producer Matt Alvarez, is so encouraging. Lionsgate also teamed up with Mexican media company Televisa to start Pantelion Films, the Latino-focused studio behind Instructions Not Included.
After decades of underrepresenting Latinos, Hollywood is slowly starting to come around to the idea that the America we see on the silver screen should look more like the America we see in everyday life. That means more than the simple inclusion of Latino characters. It means meaty roles in important movies for Latino actors. It means Latino writers and executives and producers and stories. Let's hope we get there long before 2050.
* This article previously stated that the animated movie The Book of Life was produced by Disney. It was not.