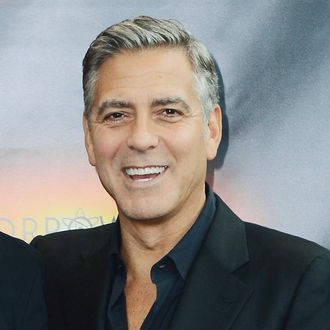 Photo: Stephen Lovekin/Getty Images
George Clooney, who shot to stardom in the 1990s, is headed back to the decade for a new TV project. The actor/producer/director, whose Smokehouse Pictures production company signed an overall deal with Sony Pictures Television last summer, has teamed up with Foxcatcher director Bennett Miller and Rescue Me creator Peter Tolan for a one-hour comedic drama that will explore the movie business of the early 1990s, Vulture has learned. Details of the project are scarce right now, but people familiar with the project call it a dark comedy looking at the movie business through the eyes of the studio executives running it.
Though it's likely the characters in the show will be fictional, Clooney's experiences in the business at the time seem like a logical source of inspiration for Tolan, who will write the script and executive produce with Clooney and Smokehouse partner Grant Heslov. Tolan also has plenty of experience chronicling the craziness of Hollywood, having served as head writer (with Garry Shandling) on HBO's iconic The Larry Sanders Show. Miller, whose directorial credits also include Moneyball and Capote, is set to direct the pilot. Not surprisingly, given the auspices involved, the project has drawn strong interest from network execs who've heard the pitch from Clooney and Tolan this week: Two people familiar with the potential series tell Vulture the only question now is where it will land and what sort of financial commitment it will generate. Sony has had meetings with basic and premium cable networks, as well as at least one streaming service. If and when the project goes to series, it won't be the first time Clooney has put his name on a TV show about Hollywood: He, Heslov, and Stephen Soderbergh produced 2005's Unscripted for HBO.