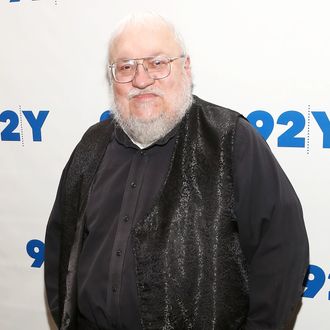 "Current Mood: infuriated"
Photo: Taylor Hill/Getty Images
Game of Thrones author George R. R. Martin is pretty upset about the whole Sony thing. So upset that he wrote about the cancellation of The Interview on his LiveJournal ("Current Mood: pissed off"):
The level of corporate cowardice here astonishes me.  It's a good thing these guys weren't around when Charlie Chaplin made THE GREAT DICTATOR.  If Kim Jong-Un scares them, Adolf Hitler would have had them shitting in their smallclothes.
And to protest Sony's decision, he was hoping to show Trey Parker and Matt Stone's Team America World Police at his movie theater in Santa Fe, the Jean Cocteau Cinema — an idea that a few independent theaters, including the Alamo Drafthouse, had suggested. So you can only imagine what happened after he discovered that the movie studio that owns Team America, Paramount, has no interest in having its film be screened: "The cowardice is contagious, it would appear," he wrote in another blog post. "I guess I should contact our new North Korean masters to ask them what movies we will be allowed to show at the Cocteau." Hm, how about Annie?