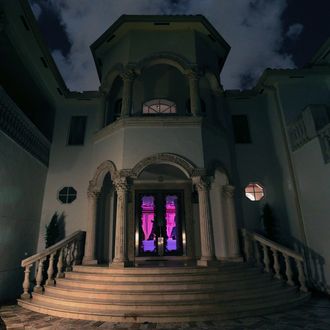 PPP Muzik Mansion, Miami Beach. Photo: Ben Rosser/BFAnyc.com.
Photo: Ben Rosser/BFAnyc.com/BFA NYC
Our Uber driver warned us to avoid "the creeps" as we stepped out of the car. The taxi we had hailed earlier didn't even want to attempt leaving the strip, and we had now driven out of South Beach proper to Miami's archipelago of manmade islands where — as we passed the security booth onto one called Hibiscus, and turned down a quiet suburban street lined with mansions decorated in Christmas lights — he informed me, "Madonna owns a house here and like, LeBron — no, Dwyane Wade and his whole family own a bunch of houses!"
Money is important in Miami. So is silicone. And a nice tan. We entered the mansion — a rental, clearly, because despite it being the occasion of Art Basel, the walls were bare and unadorned — where women wearing skimpy blue dresses offered us bottles of Bud Light on a tray. Outside, a DJ stood under a canopy, playing "Champagne Supernova" a little too loudly for so few guests, and people milled about the patio, which contained small pools of water from the afternoon downpour earlier that day. Editors from a British magazine smoked cigarettes on lawn furniture without the cushions.
We were there for a dinner cooked by Ghetto Gastro, a two-year-old food collective composed of Jon Gray, Malcolm Livingston, Lester Walker, and Dan Levin — all young, enthusiastic chefs who hail from the Bronx and who have clocked serious time working in some of New York's top kitchens, such as ~wd50, Le Cirque, and Jean-Georges. As Gray told me last night in the kitchen, "We're bringing the South Bronx to the South Beach." Livingston, in particular, has attracted some attention because of the recent announcement that he would be leaving New York this month to join René Redzepi's world-class restaurant Noma in Copenhagen. "I like this house," Livingston said. "I dunno whose it is, I'm hoping it's mine."
Twigs was supposed to show up later that evening to give a short performance. Earlier that day, she had been in conversation with Alex Israel and Hans-Ulrich Obrist, where she had shared her thoughts on Instagram (she finds it an instantaneous way to understand someone's aesthetic) and Israel had shared his on pop music (it's constantly innovating in a way he finds inspiring — you fall in love with a new song every three months). But halfway through the dinner, which was good but long — cornbread and caviar, spicy ceviche, cucumber and kale sherbert ice cream — a curator from a large New York museum showed the table a photo she'd just seen on Instagram. It was of the Brooklyn Bridge that very same night, showing people marching in protest over the decision not to indict the police officer whose apparent chokehold led to the death of Eric Garner. Because in the midst of so many parties, and so much celebrity, and well, so much money, there is still art — and one has to wonder if anyone down here seems to care. "You'd think, maybe," the curator said. "That there would be some response. From someone. I feel so disconnected, being down here." "Oh!" said the guest two seats to my left, glancing the curator's phone. "I need to Instagram this party!" So much for that.