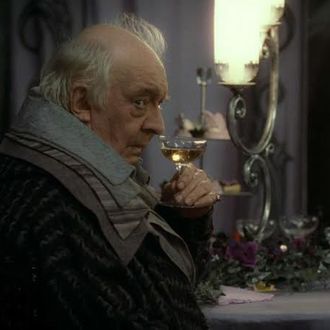 Veteran British actor David Ryall died Christmas Day at the age of 79. While he was probably best known for his role as the wizard Elphias Doge, a friend of Dumbledore in Harry Potter and the Deathly Hallows: Part 1, his career spanned five decades, from the stage to the big screen. Sherlock creator Mark Gatiss tweeted out the news that Ryall had passed away.
Most recently, Ryall appeared in ensemble crews on British television series like The Village, Trollied, and Outnumbered. He played one of the more memorable villains on the long-running Inspector Morse. His daughter, Charlie Ryall, has asked that people remember him for more than just his role in Harry Potter. She tweeted:
Ryall began his career on the stage, including work at the National Theater, during which time he was involved in several production such as Rosencrantz and Guildenstern Are Dead, Guys and Dolls, Animal Farm, and others.
Ryall is survived by his children, the aforementioned Charlie, who is also an actor; music manager Jonathan; and singer Imogen.