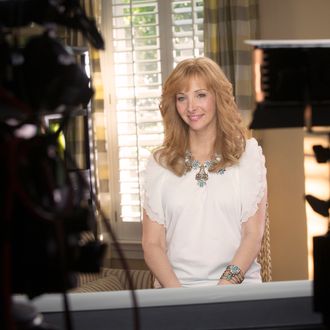 Photo: JOHN P JOHNSON/HBO
Apparently audiences don't cherish HBO's The Comeback as much as reviewers. Despite critical kvelling on its behalf, HBO's revival of the Lisa Kudrow comedy has turned out to be a ratings dud. After debuting to a disappointing 368,000 viewers on November 9 — and that's counting same-day viewing as well as three days' worth of DVR replays as tallied by Nielsen — The Comeback averaged just 230,000 viewers for its November 16 episode and 260,000 viewers on November 23. To put that number in perspective, for the past two weeks, The Comeback has ranked as the least-watched original scripted series on all of cable, drawing fewer eyeballs than Starz's Saturday import The Missing (279,000 viewers on Nov. 23) or BBC America's Atlantis (431,000). Even HBO's own ratings-challenged comedy Getting On has pulled a larger crowd, with the November 23 episode bringing in 400,000 viewers and building on its Comeback lead-in. DVR data for Sunday's episodes won't be available until Friday at the earliest, but given lower audience levels for most shows due to the holiday weekend, it's unlikely The Comeback will suddenly surge.
There's no way to sugarcoat the disappointing nature of the Nielsen numbers for The Comeback. Sure, nobody at HBO was likely expecting massive tune-in for a show which had a tiny following when it first aired back in 2005 (and often scored just below one million viewers, sans any DVR replays). And yes, a big chunk of the HBO subscriber universe no longer watches the network in a linear fashion; the actual audience for Kudrow's collaboration with Michael Patrick King could triple or even quadruple once HBO Go, VOD, and rerun stats are tallied. Even if that happens, however, The Comeback will still rank below most HBO Sunday-night series of recent years.
But it's also important to remember that HBO doesn't measure success strictly, or even mostly, with a Nielsen yardstick. Like Netflix or Showtime, it's a subscriber-based network whose financial model depends on convincing TV consumers its program offerings are worth spending an extra $8–$13 per month, and on keeping a variety of different audience bases satisfied. A massive hit such as Game of Thrones is one (very expensive) way to do that, but programming smaller shows with intensely loyal constituencies (Girls, Veep) has historically been part of the HBO game-plan as well. The network also craves publicity, critical love, and awards in the way broadcast execs covet viewers ages 18 to 49, and by that measure, The Comeback was much more successful. Critics were mostly kind, and its return was greeted by a slew of feature stories celebrating HBO's commitment to reviving a cult favorite. Resurrecting The Comeback won't count as the unqualified triumph HBO and those involved in the project might have wanted, but it's also not the unmitigated a disaster it might have been on an ad-supported network.