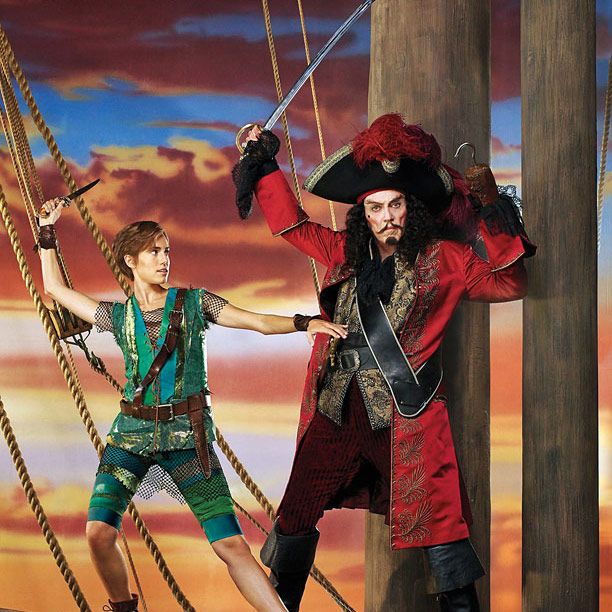 NUP_165234_0363.jpg
Photo: Nino Munoz/NBC
Well, that didn't go as bad as many thought it might. Props to NBC for pulling off another live-televison musical event — despite the haters. Thanks to what appears to have been a budget increase from last year's Sound of Music Live! and the star power of Allison Williams and the ever-dancing Christopher Walken, Peter Pan Live! earned that damn exclamation point. Let's relive the three hours we spent together in Neverland. 
LOW: Tinker Bell, the real-fake CGI fairy.
Instead of the traditional blinking flashlight (which actually works quite well in a theater setting!), NBC decided to go full CGI for Tink — and the effort didn't pay off. It's not like it added any soul to the rather bitchy fairy. Next time, go Tonker Bell or go home.
HIGH: Nana, the real-life dog.
The short amount of time we got to spend with Nana was just lovely. And maybe it was because NBC decided to spring for an actual dog. (Considering the live-TV situation, you'd think they'd go for some sort of man in a dog suit.)
LOW: Christopher Walken's sword-fighting.
Oof. During the final fight scene between Peter Pan's Lost Boys and the pirates of the Jolly Roger, there were lots and lots of swords thrown around. More accurate, there were lots and lots of swords aimlessly stabbed into empty air. This is the theater! But even when it was Peter versus Hook, both went through their sword-fighting choreography so … incredibly … slowly. Meanwhile, Hook's got a sharp object literally stuck on his arm and still can't figure out how to use that as a dangerous weapon! Walk the plank, all of you.
HIGH: Christopher Walken's eyebrows (and his beauty mark!).
Whoever drew those seriously fleek, arched, and pointed eyebrows on Christopher Walken's face deserves an Emmy. Bravo. Not only did they add to Captain Hook's not-so-subtle gender fluidity (just me, or is he more of a drag queen than Peter?), but they also gave him the most perfect Captain Hook beauty mark. Pair that with dark flowing locks and a shiny red headband, and he looked more prepared for a night out with Mr. and Mrs. Darling than for a fight at Neverland. We recommend Walken keep the look.
LOW: Young Wendy, a.k.a. Taylor Louderman.
The role of the young girl essentially kidnapped by Peter Pan to act as "mother" to a crew of misfit lost boys is a tough one to play. Is she initially excited about the prospect of spending all her days free from responsibility? Sure. But once she realizes that she is no longer playing house but actually serving as Neverland head of household, it's not so much fun. Taylor Louderman certainly looked and sounded the part of the eldest Darling child, but she couldn't match Allison Williams's earnestness and wasn't quite exasperrated enough when she all of a sudden was made responsible for all those boys.
HIGH: Old Wendy, a.k.a. Minnie Driver.
It was a treat to hear Minnie Driver doing live narration of the story, but the best part came when she appeared onstage as Older Wendy Darling in arguably the musical's most moving moment. Driver's sadness as a grown-up Wendy who would never fly again really clicked as she explained to a confounded Peter (who apparently hasn't seen Interstellar over in Neverland) that she had already grown up and even already had a young daughter of her own. Good thing Peter's not picky.
LOW: The truly unrecognizable Tick-Tock the Crocodile.
The Peter Pan Live! set was incredible: a starry-sky set above miniatures representing the city of London below; a Neverland filled with Dr. Seussian flora and fauna; a decked-out Lost Boys clubhouse complete with communal bathtub. Even Captain Hook got the Jolly Roger of his dreams. But as soon as we were introduced to Peter Pan Live!'s psychedelic interpretation of Tick-Tock the Crocodile, all was lost. This half-CGI, half-men-in-a-suit croc was anything but intimidating.
HIGH: Allison Williams, all around. Really.
What can we say? The Girls star went in knowing that there were low expectations (made even worse by her pleas for the audience not to "hate-watch" her performance) and pulled it off. No falling, no obvious missteps — she even managed not to mangle a British accent while singing and dancing her way through the show's constant clipping and unclipping of her flying wires. Peter Pan is quite the earnest character, and thankfully, so is Wiliams. Even when she looked directly into the eyes of the audience, urging them to clap and save Tinker Bell's life (all while NBC simultaneously urged them to tweet #SaveTinkerBell), she somehow remained endearing. This is no easy task. How will this affect the likability of the actress known for playing the extremely unlikable Marnie Michaels on Girls (whose own singing exploits bled into the audience's pre-judgment)? See — we didn't hate-watch at all.